The Queen Experienced This Special Day For The First Time Without Her Husband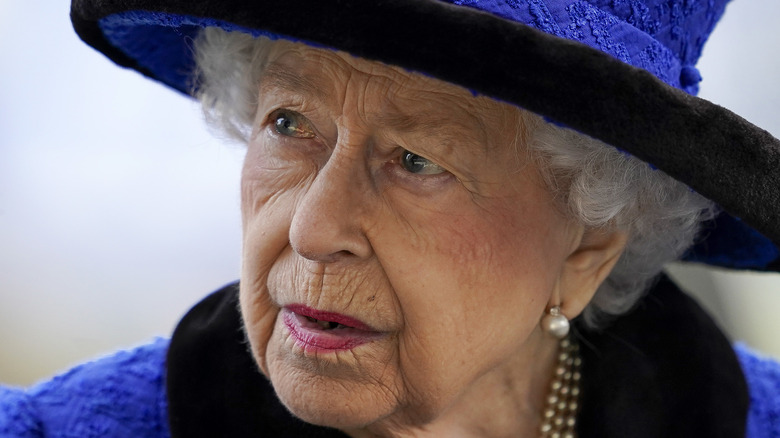 Alan Crowhurst/Getty Images
Back in 1947, over 2,000 guests attended the royal wedding between Queen Elizabeth II and Prince Philip at Westminster Abbey, while over 200 million people from across the world listened in on the wedding through BBC radio, according to Insider. They first met at the wedding of Princess Marina of Greece and Denmark and Prince George, the Duke of Kent, when the queen was only a child and Prince Philip was a teenager. Their enduring romance officially began, though, five years later when Queen Elizabeth traveled with her parents to the Royal Naval College in Dartmouth.
According to Daily Mail, Prince Philip won over the future queen by jumping over tennis nets at the college. "To have been spared in the war and seen victory, to have been given the chance to rest and to re-adjust myself, to have fallen in love completely and unreservedly, makes all one's personal and even the world's troubles seem small and petty," the prince wrote in a letter to Queen Elizabeth in 1946, per Harper's Bazaar.
In 1947, the pair were married. The couple then enjoyed 73 years of marriage, which is far longer than any other member of the British monarchy, Today reported. Their marriage ended when Prince Philip died at 99 years old in April.
Queen Elizabeth celebrated her wedding anniversary without Prince Philip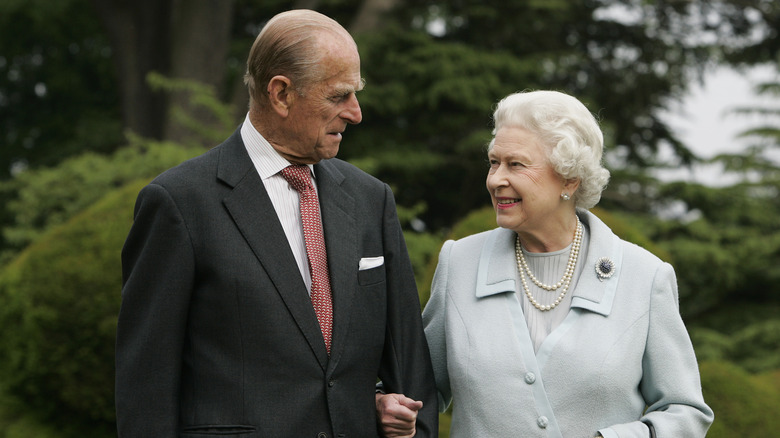 Tim Graham/Getty Images
On Saturday, Queen Elizabeth II celebrated her 74th wedding anniversary. This is the first year that the queen has celebrated her long marriage without her husband, Prince Philip. As Daily Mail reported, Queen Elizabeth celebrated her first anniversary since her husband's death in private. This private anniversary celebration also comes a month after the queen was hospitalized. She is currently carrying out a lighter load of royal duties due to an apparent back strain. Throughout the years, the couple has celebrated their wedding anniversaries in private and in public through sharing photos of their life behind closed doors, releasing stamps, and even by holding official anniversary events. For their 73rd wedding anniversary, Buckingham Palace shared images of the couple looking at a homemade card made by their grandchildren, according to USA Today.
At the couple's Golden Wedding Anniversary in 1997, Queen Elizabeth spoke about the impact that her husband had on her life. "All too often, I fear, Prince Philip has had to listen to me speaking," Queen Elizabeth said during the anniversary celebration, according to Harper's Bazaar. "Frequently we have discussed my intended speech beforehand and, as you will imagine, his views have been expressed in a forthright manner. He has, quite simply, been my strength and stay all these years, and I, and his whole family, and this and many other countries, owe him a debt greater than he would ever claim, or we shall ever know."