Fashion Moments You Need To See From Pippa Middleton's Wedding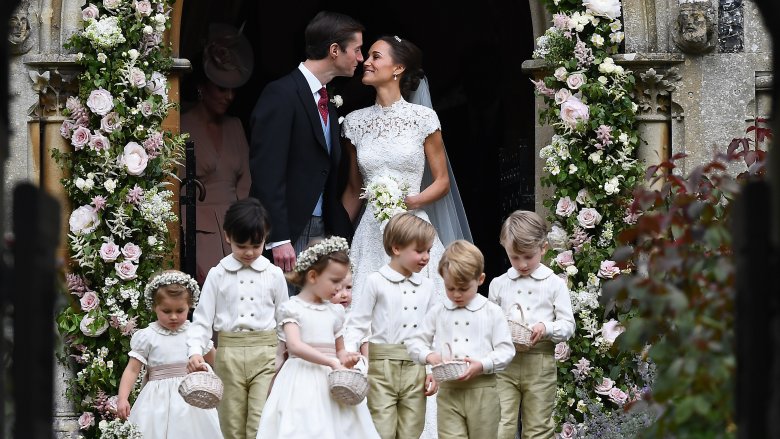 Getty Images
Pippa Middleton and James Matthews tied the knot on May 20, 2017 and, as we all expected, everyone looked amazing. There was a lot of anticipation leading up to the wedding which took place in a private ceremony at St. Mark's Church in Englefield, England.
Guests, which included royal family member Princess Eugenie, tennis star Roger Federer, and reality television personality Donna Air, were treated to a champagne brunch at the Bucklebury Village Hall where security was reportedly very tight. Invitees reportedly had to provide personalized passwords and photo identification just to make it through the door!
The festivities did not end there, of course. Roughly 300 well-wishers, including Prince Harry's girlfriend, Meghan Markle, made their way to the Middleton family's home for a post-church dinner and evening reception which featured an acrobatic aerial performance by Royal Airforce World War II fighter plane, Supermarine Spitfire, and a dance party to songs such as The Isley Brothers' staple "Shout." Sounds like a blast!
While this all might, in some ways, seem like typical extravagant wedding fare, one thing about these particular nuptials set them apart — high fashion. Everyone's look seemed perfectly planned right down to the most minute of detail so, without further ado, let's review what everyone wore to this spectacular shindig. 
Pippa, the bride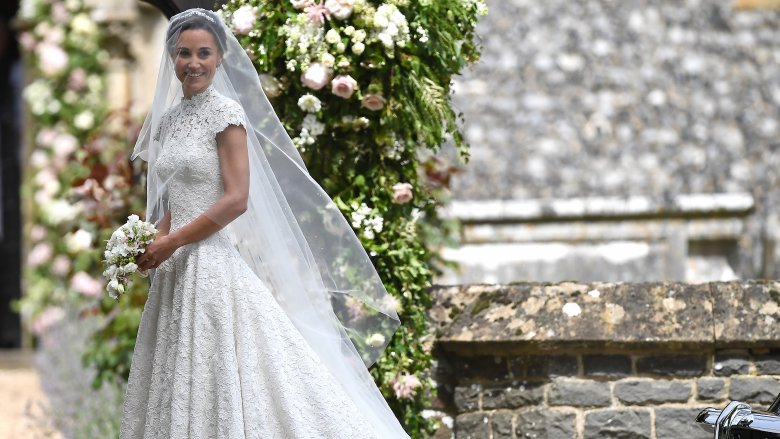 Getty Images
Six years ago, Pippa almost stole the show when her older sister, Kate, married Prince William. As she trailed behind the future Duchess of Cambridge, ensuring that her train flowed beautifully, the younger Middleton daughter gained attention for her sense of style and, ahem, delightful derriere. This time around, she didn't have to share the spotlight, though — it was all about her!
Glowing in her custom-designed Giles Deacon silk cotton lace gown, Pippa gave a nod to the "something old" tradition by resurrecting the Robinson Pelham pear-cut diamond drop earrings she wore as a bridesmaid back in 2011. She completed her look with Manolo Blahnik Seneca shoes.
On her hand, the 33-year-old new bride sported an antique Asscher-cut engagement ring alongside a simple, elegant Welsh gold band. This style has been popular among British royal bridges for almost a century!
Pippa's bouquet was a mixture of peony, sweetpea, freesia, waxflower, asilbe, green bell, and alchemilla mollis and was made by Lavender Green. 
Kate, the understated sister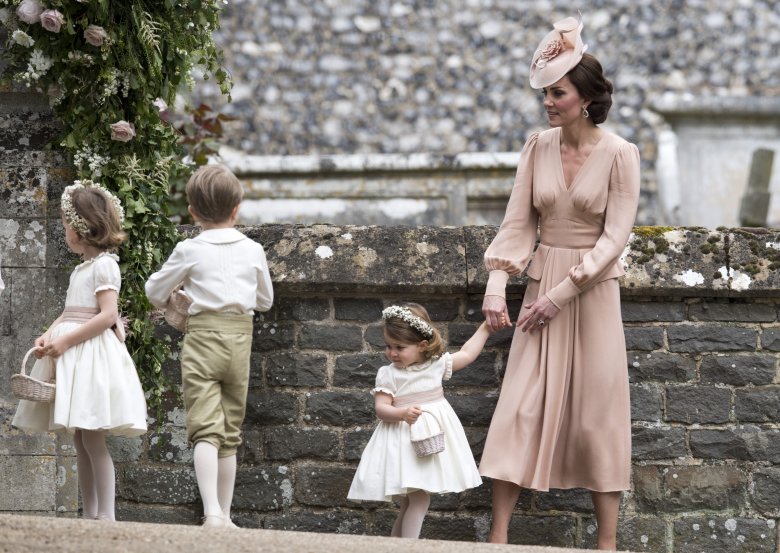 Getty Images
Ever the thoughtful big sister, it appears that Kate Middleton went through a lot of effort to avoid taking attention away from Pippa on her special day. Reports suggest that she and Prince William arrived far from the crowds (and prying paparazzi), although, Kate was regularly seen wrangling the youngest participants (including her own children, Prince George and Princess Charlotte) throughout the event.
While 35-year-old Kate may have been managing chaos and smoothing her sister's train, she still managed to look gorgeous in a blush-colored Alexander McQueen dress, matching Jane Taylor fascinator, and pointed-toe nude heels. While her neat updo, deep v-neck, and billowy sleeves might seem a bit matronly for some, this understated look elegantly avoided taking attention from where it belonged — on Pippa. 
Princess Charlotte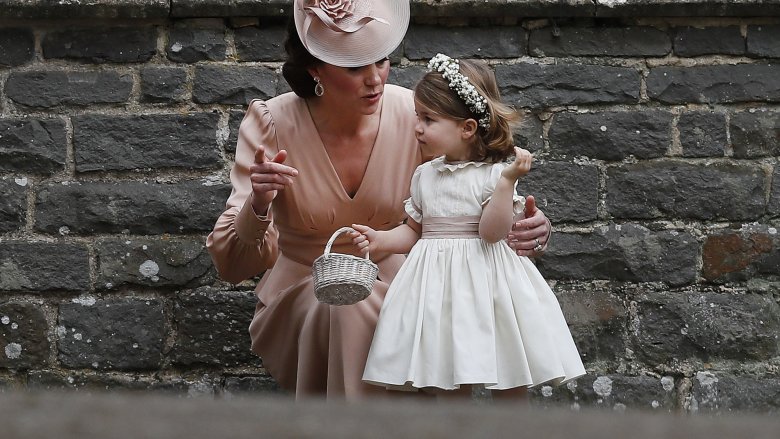 Getty Images
Although, she just celebrated her second birthday, Princess Charlotte already has a commanding presence. Clinging close to her mother throughout the day, the little girl was adorable in a tan-and-white Pepa & Co. dress and crown of flowers.
As if that wasn't enough to absolutely melt your heart, she also carried around a flower-covered heart and a tiny basket. 
Prince George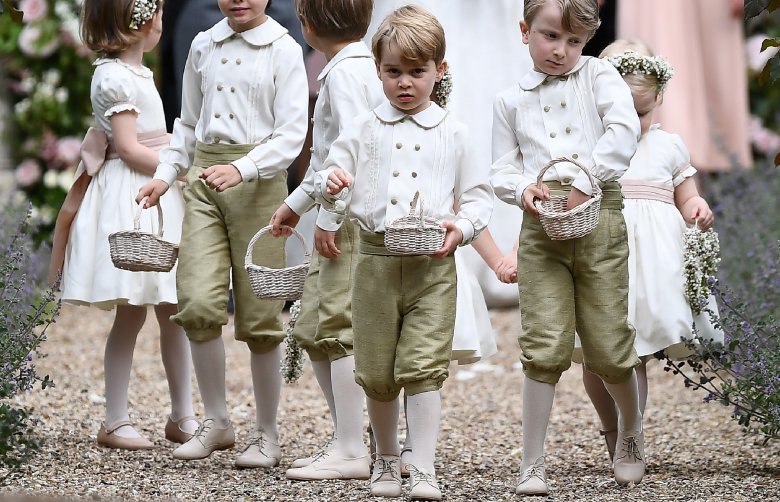 Getty Images
Three-year-old Prince George looked every bit the perfect pageboy in his white shirt, gold shorts, and matching shoes, all from Pepa & Co. Like his sister, Princess Charlotte, he also seemed to relish in carrying around his tiny basket.
As pictures from the wedding hit the internet, they immediately drew comparisons to when his father, Prince William, served as a pageboy at Prince Andrew and Sarah Ferguson's royal wedding back in 1986. Carrying on the royal legacy!
Prince William and Prince Harry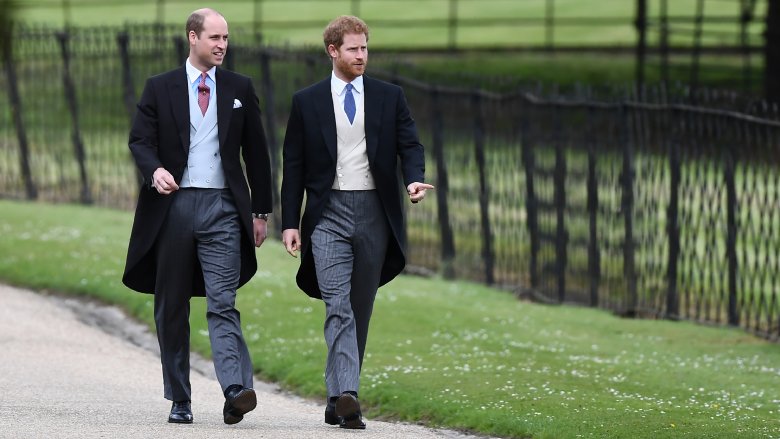 Getty Images
Tall, handsome, and dapper, Prince William and Prince Harry did not disappoint at Pippa Middelton's lavish wedding.
The Duke of Cambridge, 34, wore a black coat with long tails, gray pants, and a red tie, while 32-year-old Harry wore a similar outfit, but opted for a blue coat and tie instead.
Interestingly, Harry wasn't particularly clean-shaven for the event, but maybe he was short on time. He did reportedly drive 100 miles, round trip, to pick up his girlfriend, Meghan Markle, so that she could attend the reception (for unknown reasons, she did not attend the actual wedding ceremony). We're sure she didn't mind his scruffy appearance at all!
Meghan Markle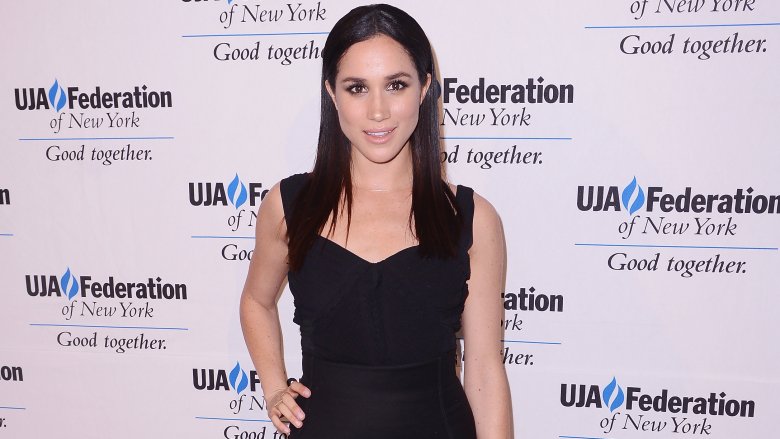 Getty Images
The Suits actress did not attend the couple's wedding ceremony, but she was a guest at the reception held later that night. After Prince Harry drove to London to fetch her, she was seen as a passenger in his car, arriving at the Middletons' home for the celebrations.
While there are no real clear images of what she wore, reports suggest that she was wearing a long black dress and a white jacket. Some argue that wearing such a dark color is inappropriate for a wedding but she probably wanted to go for something subtle in light of all of the attention she's been getting lately. 
Carole Middleton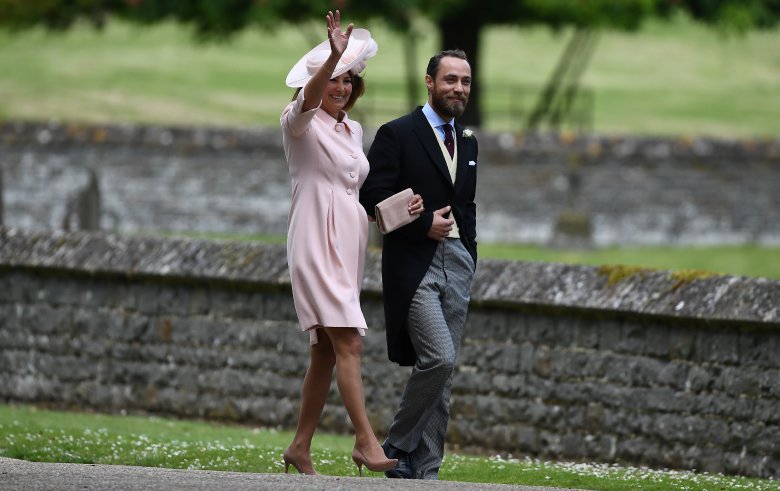 Getty Images
It can be tough to find the perfect look as the mother of the bride, but we're not surprised that Carole Middleton pulled it off perfectly. On the one hand, a proud mom wouldn't want to upstage her daughter on her wedding day but, on the other hand, everyone wants to look good at a wedding!
Fortunately, he 62-year-old found a winning combination in a pastel peach coat-dress by Catherine Walker (she wore a similar sky blue ensemble by the same designer to Kate's 2011 nuptials). She complimented the outfit with rose-tinted pumps, a custom suede clutch by Emmy London, and a wide-brimmed hat by Juliette Millinery. 
James Matthews, the groom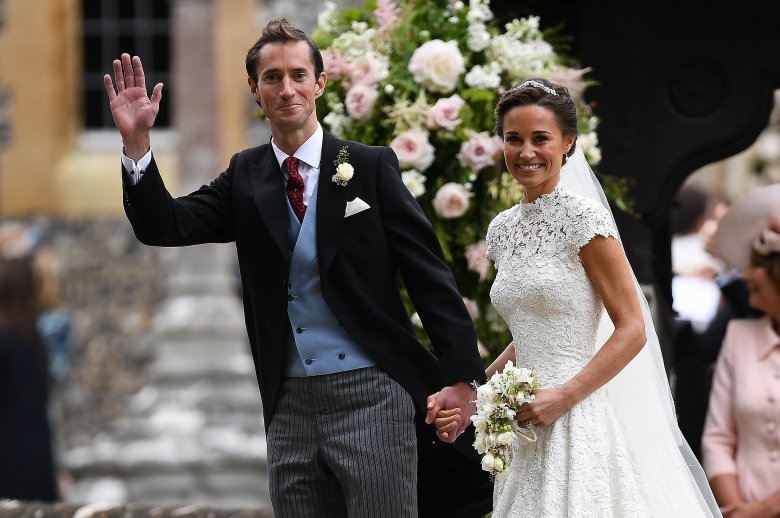 Getty Images
The 41-year-old groom was beaming in grey pinstripe trousers on his wedding day and topped his white shirt, maroon tie, and pale blue vest with a neat navy morning suit. He completed the look by adding a white handkerchief and flower. It was the perfect look for marrying the love of his life!
James Middleton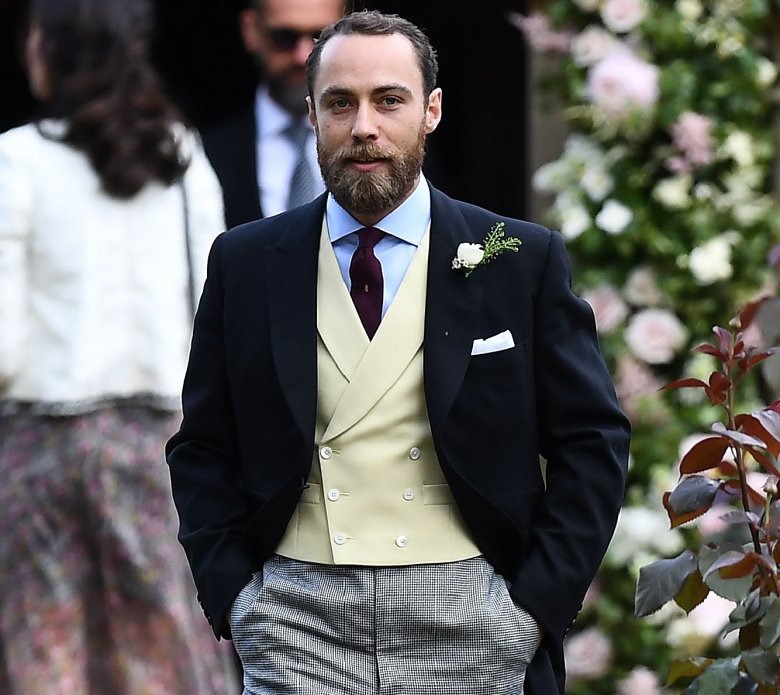 Getty Images
In line with the other male guests at the wedding, Pippa's brother, James, wore a dark coat with long tails, gray trousers, a cream-colored waistcoat (which paired perfectly with the outfit worn by his date, Donna Air), blue shirt, and maroon tie. He also opted for a coordinated flower on his lapel and white handkerchief. 
Donna Air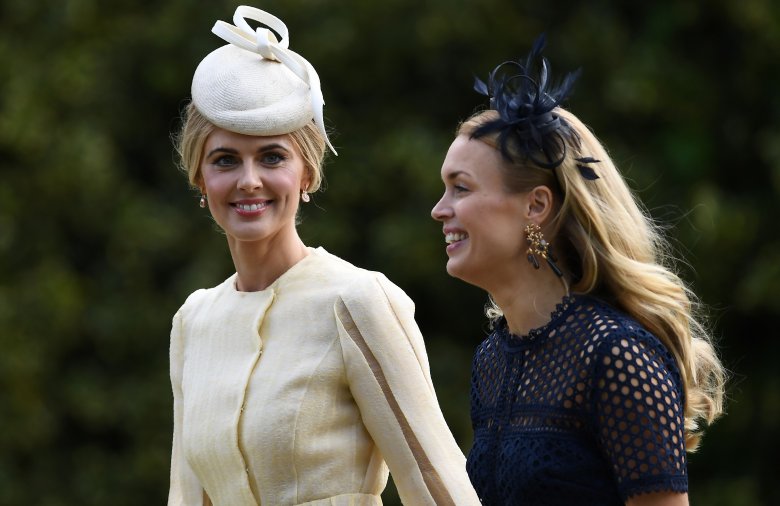 Getty Images
Although, there was a strict guest list for the wedding ceremony, Donna Air, who is dating James Middleton, managed to score an invite.
The 37-year-old media personality was understated and matched her date in a cream-colored Emilia Wickstead coat-dress that featured pale yellow accents. She topped it off with a coordinated Jane Taylor hat and nude ankle-tie shoes but opted to add a pop of color with a bright pink clutch. 
Princess Eugenie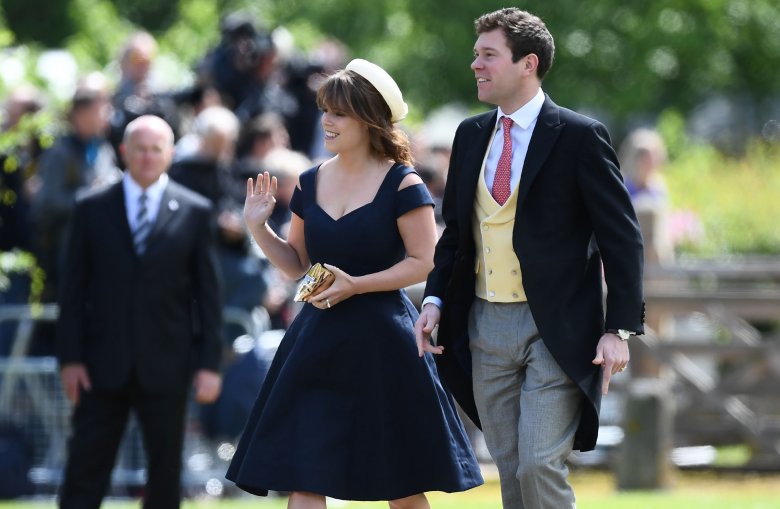 Getty Images
Princess Eugenie, the daughter of Prince Andrew and Sarah Ferguson, shunned the pastels and light colors being worn by other female attendees at the event and, instead, went with a simple open-shouldered Paule Ka navy blue cotton dress with a cream hat, gold clutch, and classic stiletto heels. She's proof that wearing a dark color to a wedding can be both beautiful and tasteful. 
Spencer Matthews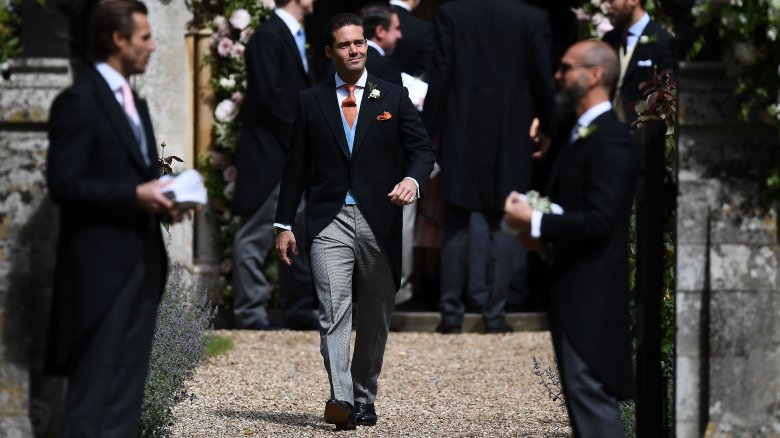 Getty Images
Here's a little-known fact — the groom's brother is a reality television star. Spencer Matthews has been The Bachelor (the UK version) and appeared on other shows such as Made in Chelsea, I'm a Celebrity... Get Me Out of Here! and The Jump.
While he could have gone with something a little more attention-seeking, the 29-year-old best man kept it relatively low-key with grey checked trousers, a white shirt, pale blue waistcoat, navy tailcoat blazer, and a matching brick red tie and handkerchief. Pretty dapper!
Roger and Mirka Federer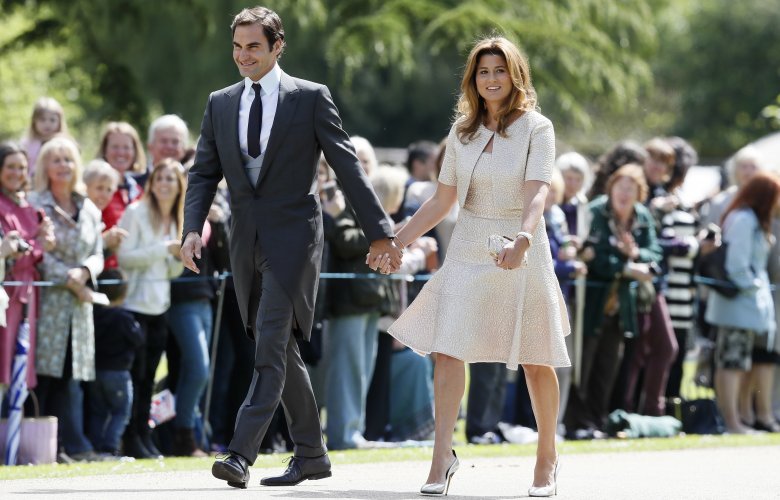 Getty Images
Dressed in a charcoal morning coat, tennis star, Roger Federer, and his wife, Mirka, attended the wedding. While we haven't been able to find any details about who designed her outfit, the mother of two sets of twins wore a sparkling gold dress that featured a flare skirt and cropped jacket. 
At first, Federer might seem like an unusual guest for Pippa Middleton's wedding, but sleuths will know that Pippa has been a fan of the tennis player since she was a child. She reportedly met him at Wimbledon and two kept in touch after that. She even scored an exclusive interview with the athlete while she was contributing to Vanity Fair magazine back in 2013.
The getaway car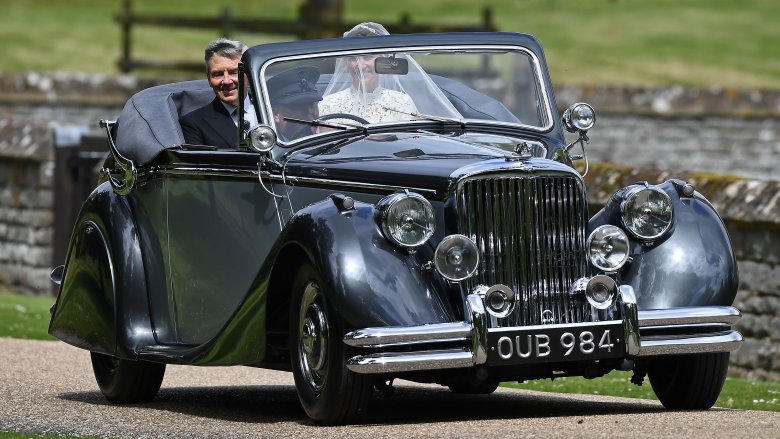 Getty Images
Even Pippa Middleton's transportation to and from her wedding was fashionable and noteworthy. On her way to the ceremony, she and her father, Michael Middleton, rode in a 1951 Jaguar MK V with the top down. Later, James Matthews got behind the wheel and drove his new bride to their reception in a rare E-type Jaguar. Pretty fancy!