Things Only Adults Notice In The Princess Switch 3
This content was paid for by Netflix and created by The List.
It's Cousin Fiona (Vanessa Hudgens) who takes the spotlight in "The Princess Switch 3: Romancing the Star." The third installment in the romantic comedy film series features the rabble-rousing royal returning to Montenaro at the request of Queen Margaret (Hudgens), whom Fiona still teasingly refers to as "Maggie Moo" even after her coronation.
Once again, Fiona's visit to the castle involves some treachery and thievery — only this time, she's doing it on behalf of the queen after a priceless Vatican artifact that's been entrusted to the castle's care is stolen. Not only does Fiona get a chance to redeem herself to both Queen Margaret and Princess Stacy (Hudgens again) by using her ties to the criminal underworld for good, but she also gets an opportunity to face her past and come to terms with who she really is and what she really wants.
Like "The Princess Switch" and "Switched Again" before it, "Romancing the Star" is feel-good fun for all ages, but there are some things about the film that are most likely to resonate with grown-up streamers. Here's a look at things only adults notice in "The Princess Switch 3."
A defense mechanism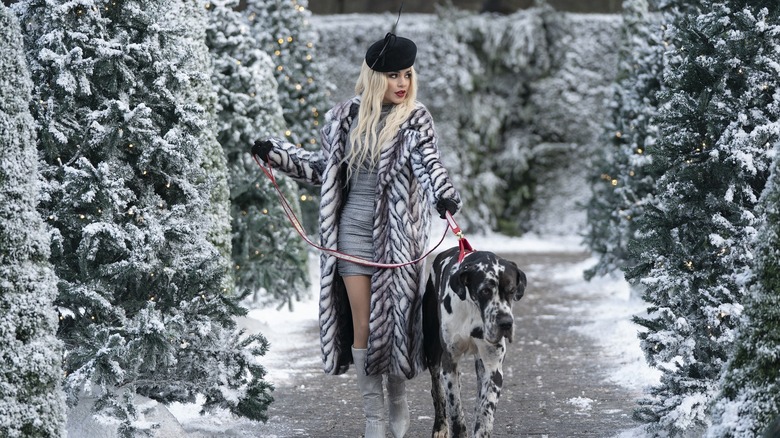 Mark Mainz/Netflix
Ever since she first arrived on the scene in "The Princess Switch 2," it's been clear that Fiona is nothing if not a major flirt. Whether she's giving Prince Edward (Sam Palladio) the nickname "Prince Six-Pack" or clawing up her nails and yelping "meow" to other handsome fellas, Fiona loves to play up her oddball enchantress vibes. Her over-the-top demeanor and loud fashion stylings certainly make her stand apart from her two look-alikes — and everyone else for that matter.
One of the funniest elements of this new installment is seeing both Margaret and Stacy attempt to get into character as Fiona. The oh-so-demure Margaret has to really let loose to become the one and only "Fifi," while Stacy has to tap into her secret sassy side to channel her very, very distant cousin's wacky persona. But, as the action continues in "The Princess Switch 3," we soon learn that Fiona's unique presence is actually something of an act. Sure, she really does love her long, blonde wigs and bold clothing colors, but the reason she keeps people at arms length (sometimes literally so) is that deep down, she's afraid of getting her heart broken.
Through several flashbacks in the film, we learn that Fiona has a quietly tragic backstory, shared only with her long-time friend, former boyfriend, and current partner-in-crime Peter Maxwell (Remy Hii). As it turns out, Fiona's mother was a jet-setter who decided to leave her at boarding school during her childhood Christmases, alongside Peter, and she's had abandonment issues ever since. Later in life, when she and Peter stood to become more than just friends, she chose a much more flippant relationship with the art thief Hunter Cunard (Will Kemp), but Peter knows it's just a fear of being let down again that keeps her from opening up to others, including him. 
Certainly, more mature audiences are more likely to surmise that Fiona's entire presence reflects that reality — that by always being the boisterous center of everyone's attention, she never has to truly give her own attention to any one person in particular, thus protecting her heart from any real harm.
An ally for life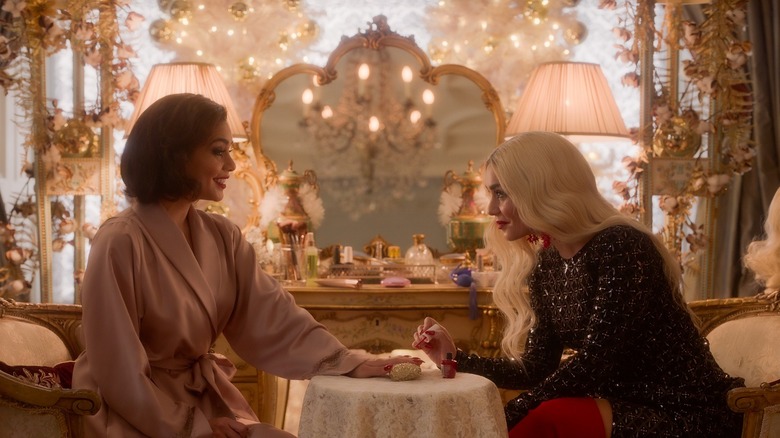 Mark Mainz/Netflix
Another thing that grown-up viewers might notice in "The Princess Switch 3" is that it's not just Peter who has Fiona's true personality figured out. In fact, it's her cousin, Margaret, who's been taking up for her from the very start of Fiona's appearance in the series. As you might recall, in "The Princess Switch 2: Switched Again," Margaret decides to show leniency to Fiona, even after she attempted to steal her crown and arranged for the kidnapping of Princess Stacy.
While we don't know why Margaret has such a soft spot for her renegade relative in the second film, that relationship becomes much clearer once we learn about Fiona's origin story in this new installment. Surely, Margaret was aware of Fiona's difficult upbringing and felt sympathy for her lonely cousin, and given Margaret's own recent familial losses, she likely feels an even deeper kinship with her routeless relative than ever before. So bringing Fiona back into the picture may offer her a chance to not only retrieve the historic artifact that's been stolen from her custody but also to truly bond with Fiona on a deeper level. 
If you need proof of Margaret's intentions, look no further than her winning grin when she sees her cousin cozying up to her longtime friend while they prepare for the big heist. Others may have doubted Fiona, but Margaret has been rooting for her to find happiness (and her true self) this whole time.
A couple of royal sidekicks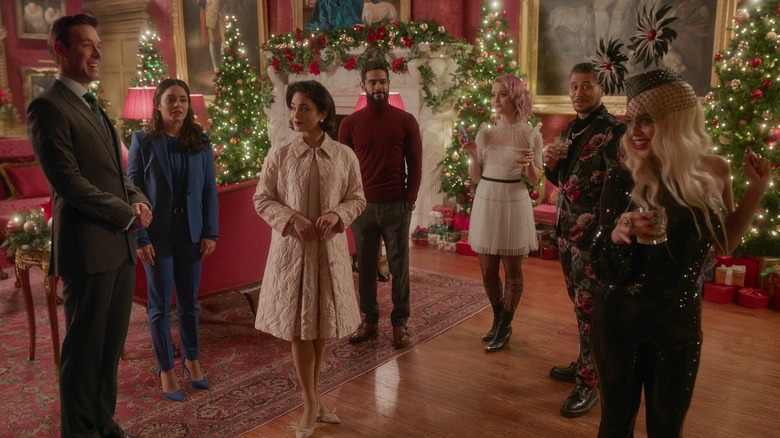 Mark Mainz/Netflix
There's no doubt that "The Princess Switch" movies are all about the ladies at the center of the doppelganger action, and in this film, it's clear that the men in their lives have subscribed to that philosophy as well. Although Edward was a bit grumpy over Stacy paying more attention to Margaret's love life with Kevin (Nick Sagar) than their own in "Switched Again," in this installment, he's beyond committed to his wife's kinship with Margaret.
In fact, even though Edward is still the heir apparent to the throne of Belgravia, he's practically moved into the Montenaro castle in this leg of the story, dutifully helping Stacy and Margaret prepare for their Christmas celebration. He even participates in shady planning meetings for the undercover heist that needs to happen to make the night truly shine. Granted, there's a moment when Edward still expresses his discontent over not being the center of his wife's attention to the woman he thinks is Margaret but is actually Stacy in disguise. However, for the most part, the prince is willing to go to great lengths to play his part, even sighing "here we go again" when the girls concoct their latest princess switch plot.
Meanwhile, even though Kevin is out of the loop for most of the hijinks as he picks Olivia (Mia Lloyd) up from out of town, he doesn't seem miffed at all to discover his wife in Fiona's clothing upon returning home. In fact, both he and Edward seem to be quite intrigued by the idea of their gals getting gussied up in costumes, which is sure to bring a knowing grin to the parental crowd who watch the movie as well.
A generous gang of thieves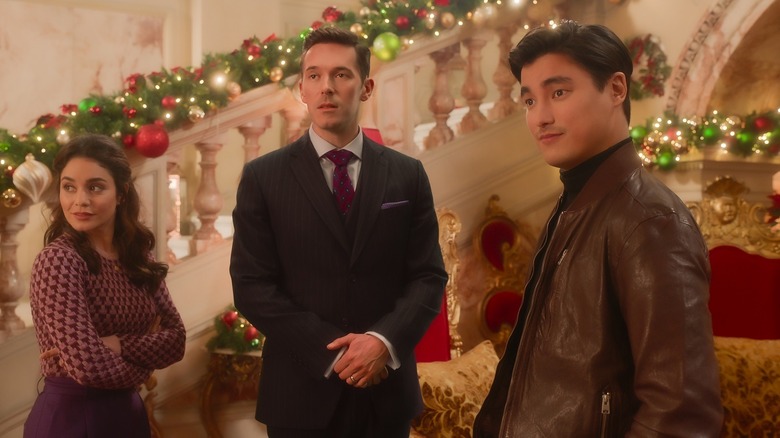 Mark Mainz/Netflix
Speaking of willing collaborators, Fiona's sidekicks, Reggie (Ricky Norwood) and Mindy (Florence Hall), sure do show a surprising level of altruism when it comes to their commitment to the new mission. 
In "Switched Again," the pair seemed like a couple of opportunists who might be using Fiona just as much as Fiona was using Margaret, with gaining some stolen loot from the palace as their ultimate objective. In "Part 3," however, there's very little financial reward that awaits either of them as they plot to steal back the star, and they still both put themselves in legal and even physical jeopardy. 
The same is true for Peter, but he at least has a personal score to settle with Hunter and also has a secret love for Fiona that he hopes will finally be requited in the process. For Reggie and Mindy, though, there's little more than their friendship with Fiona — and some government-sanctioned misbehavior, of course — that's driving them to work so hard for the queen. Who knew a gang of thieves could be quite so generous as these?
A batch of Easter eggs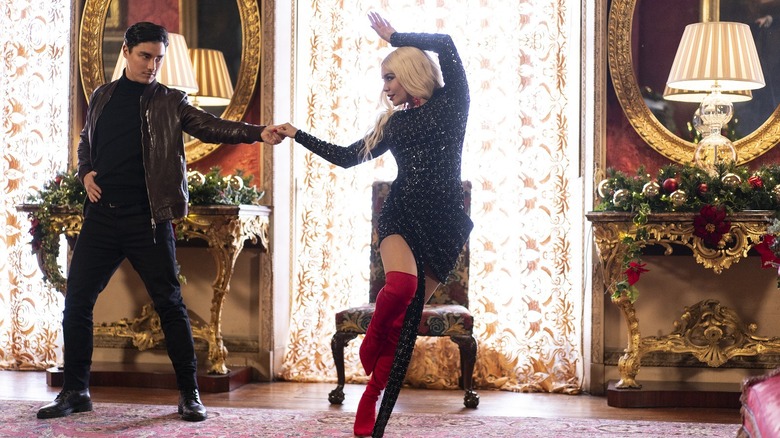 Mark Mainz/Netflix
Adult audiences are also bound to notice the bounty of Easter eggs that can be found throughout the film. For starters, the palace's Christmas decor is an exact replica of the look they pulled off in "Switched Again," which means that Margaret has fully embraced the Christmas spirit this year indeed. Then, while both Stacy and Edward are fielding a flurry of important phone calls, we overhear the prince talking about being excited to meet the corgis, which is likely a subtle reference to the royal corgi lover herself, Queen Elizabeth I of England, and thus reminds us of Edward's other royal duties outside of the Montenaro castle.
There's also a fun "Terminator" reference used by Frank (Mark Fleischmann), who, like most of the gentlemen in this story, has become fully vested in the royal switcheroo games — to an even comical degree (see his hilarious heist headgear). And last but not least, grown-up film fans are bound to notice some striking similarities between the sultry moves in Fiona and Peter's practice tango and the little laser dance they have to pull off to successfully steal back the star. As it turns out, they've always been pretty in sync with one another.