Here's How To Make Thanksgiving Vegetarian-Friendly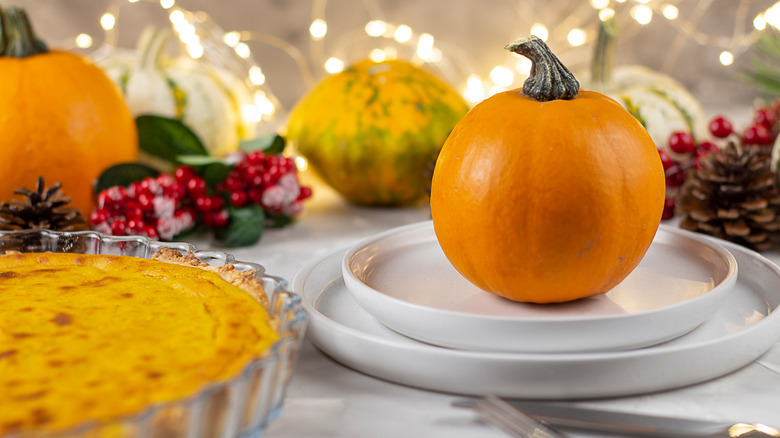 Volodymyr1971/Shutterstock
When it comes to Thanksgiving, it's never too early to start preparing. No one wants to spend upwards of 10-12 hours cooking on the holiday itself, so planning recipes, prepping ingredients, and making a few Thanksgiving dishes ahead of time undoubtedly helps. However, we must also consider how this traditional feast can be adapted to match certain dietary needs.
Whether you're preparing a Thanksgiving meal for two or for a full family, creating a vegetarian-friendly spread is not only good for the environment but it's also easier than one may think. Some classic Thanksgiving dishes can be easily adapted to be vegetarian and/or vegan if they're not already, and other dishes, such as the traditional turkey, can be replaced with something equally (or more) delicious. New traditions are just as fun to make, and Thanksgiving is the perfect time to try new ingredients, foods, and recipes.
Thanksgiving meals don't require a central protein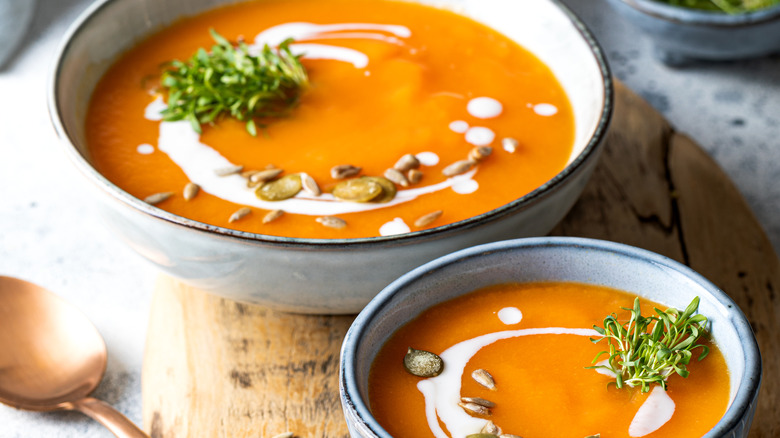 zarzamora/Shutterstock
Turning Thanksgiving dinner into a vegetarian spread isn't hard — you simply have to know where to start. Instead of a turkey, Bon Appetit recommends preparing hearty dishes such as tahdig with cranberries and herbs, stovetop mushroom lasagna, and/or butternut squash steaks with brown butter sage sauce. These dishes are warm, filling, and just as delicious as turkey — but without the meat! Moreover, they capitalize on using in-season vegetables, which not only helps create fuller flavors but also gets to Thanksgiving's roots.
For gravy, you can turn to vegetable stocks for your base and otherwise prepare it the same way. Bean, mushroom, and miso broths are excellent bases, per The New York Times. From there, you could follow either a roux or a corn starch preparation and end up with a glossy, rich gravy.
It's also worth noting that a Thanksgiving meal doesn't need a central protein like turkey. A vegetarian feast could go all-in on scrumptious side dishes, including fall vegetable risotto, broccoli and quinoa gratin, creamy roasted brussels sprouts, stuffed squash, and squash or cauliflower soups (via Cookie + Kate). However, if you want a centerpiece, Healthy Happy Life recommends tofu and vegetable pot pies, braised tofu or tempeh steaks, and tofu quiche as easy but delicious options.
You can ultimately customize any number of dishes to suit your own taste. Soups, gratins, mashes, stuffed vegetables, autumnal salads, and more are all perfect vegetarian dishes for the feasting holiday.