Does Mary Trump's Thanksgiving Message Include A Dig At Donald Trump?
Thanksgiving is a time for sumptuous feasts, shared at joyous family gatherings — ideally, anyway. For some families, the holiday can be awkward because of personal grievances or political differences between their members. Then it becomes a question of: Do we keep certain topics off-limits, agree to disagree on them, or just brace for a heated debate that lasts all through dinner and through the football game?
For one prominent family, that problem may be a nonissue. When Donald Trump sits down to Thanksgiving dinner, Mary Trump won't be joining him. The former president's niece — the daughter of his late older brother Fred — has been one of his harshest critics both during and after his administration. Her book "Too Much and Never Enough: How My Family Created the World's Most Dangerous Man," released during the 2020 election season, pretty much sunk any hope she might have had of reconciling with that side of the family. 
As if to prove it, Mary Trump took to Twitter to send a Thanksgiving message that appeared to be not-so-subtly aimed at her famous uncle: "I'm seeing a lot of pieces about getting through the holidays with people who hold different political views from yours," she wrote. "Here's mine: 'How to Spend the Holidays with Fascists Who Disagree with You: Don't.'"
The tweet has gotten more than 64,000 likes and nearly 10,000 retweets from followers, and it's sparked a debate of its own.
Mary Trump's followers disagreed on how to handle holiday feuds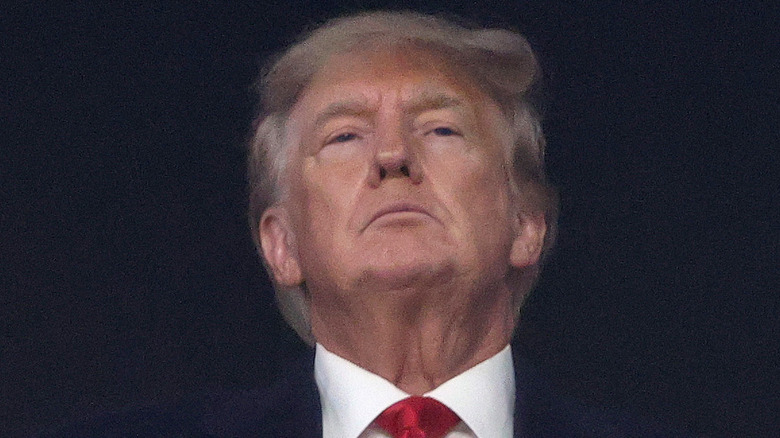 Elsa/Getty Images
Some of Mary Trump's followers agreed that holidays are better when hatred isn't on the menu. "That's the key. It isn't about politics or differences of opinion," wrote one. "It's about morals and ethics, and I don't share any of those with [T]rumpers." Another reported that her in-laws are unvaccinated against COVID-19, adding that the relatives won't be invited over until they are vaccinated. "Two of them have Covid for the 2nd time at this moment, but are using Ivermectin. Smh."
Others offered a different take on family disagreements. "I don't know why people can't say 'no politics' at the beginning of family gatherings," opined a writer. "Works for us, and we have great holidays together. I would never give up any of my family or friends due to opposing politics." To that, a writer replied, "Or you just have an argument. I can't imagine a family gathering without a loud debate about something...At the end of the day they're still your family and friends."
Then there was this follower, who offered an interesting compromise that would allow people on both sides of the political spectrum to participate. "Bring the kids to the main table and put the little table outside for your unvaccinated relatives," she suggested. "Then you won't be exposed to their germs or their ignorant conversation. Tell them it's 'separate but equal.' Be sure to present them with a bill for dinner so it's not socialism."