Everything We Know About Snoop Dogg's Children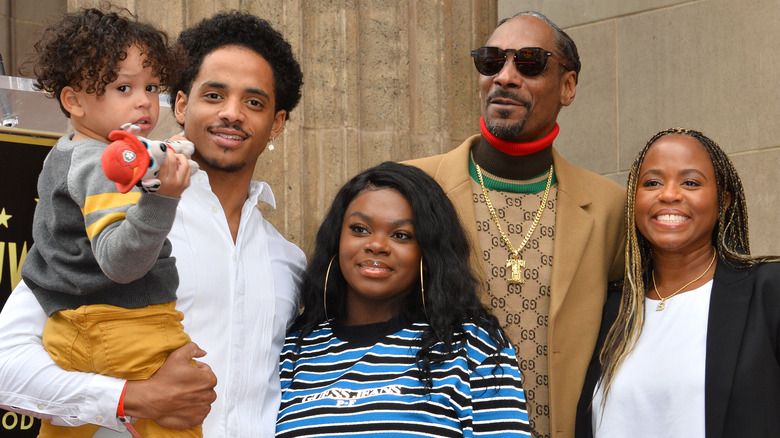 Featureflash Photo Agency/Shutterstock
Snoop Dogg is one of the more recognized names ingrained in rap and hip-hop culture. The superstar rapper was one of the brightest stars of that genre in the early '90s and 2000's, releasing multiple hit songs like "Gin and Juice" and "Drop It Like It's Hot,"  to name a few. Even now that he no longer shines as bright, Snoop, whose real name Calvin Broadus, retains an iconic status and continues to be an influential part of the entertainment community.
In all these years, even at the peak of this stardom, the 50 year old has mostly remained with his high school sweetheart Shante Broadus, with whom he tied the knot in 1997. The only blot on an otherwise lengthy love story is the one time they temporarily split in 2004 after the rapper filed for divorce on grounds of "irreconcilable differences," per E! Online.
When they were able to patch things up shortly after, the rapper explained to MTV that: "I was trying to get a divorce, but I went back home and I fell back in love with my wife and kids ... I understand that I need my wife and my kids in my life — so I threw the papers away" (via Showbiz Cheat Sheet).
Almost two decades later, Snoop Dogg and his wife are still together — they celebrated their 24th wedding anniversary recently – and their kids are now all so grown up (via HotNewHiphop).
Snoop Dogg has three children with his wife, Shante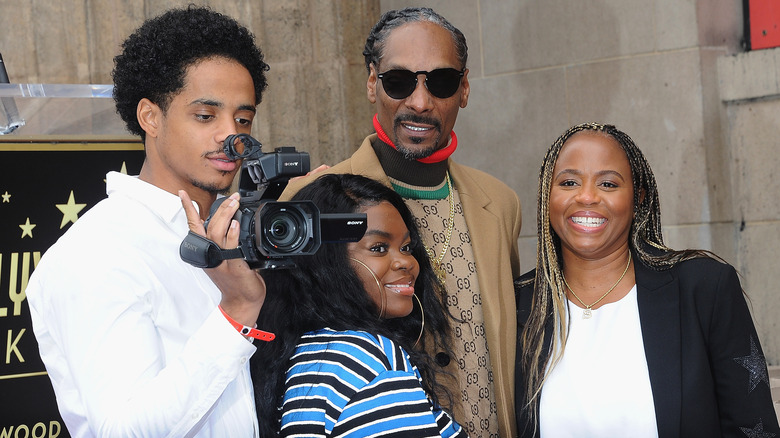 Albert L. Ortega/Getty Images
Snoop Dogg's first child, Cordé was born in 1994  and was introduced early enough into the entertainment scene, featuring in the music video for his pop's hit song, "Drop It Like It's Hot" when he was about 7 years old (via Distactify). He's now grown into a rapper himself, going by the name Spanky Danky (via Celeb Suburb). He's also got some acting credit and does a bit of modeling. Cordé already has two kids of his own, making Snoop Dogg a grandpa to a boy named Zion and a girl named Elleven.
Snoop's son, Cordell has also found his way into the entertainment world as a filmmaker (per Distractify) after first showing immense promise as an athlete — his preferred sport was football. In an Instagram post detailing his decision to quit football, he explained that he had only been doing the sport to please his rapper father. "I played football for my father because I thought that was the only way he would love me & be a part of my life," the 24 year old's emotional post reads. Cordell is also a designer and a businessman, per Vogue.
And then there's the rapper's only daughter, Cori, who was born in 1999. Now 22, Cori is a musician as well as a mental health advocate, per Distractify.
Snoop Dogg has a son with another woman
Even though he has been with his high school lover since he was a teenager, all of Snoop Dogg's kids are not from his wife. He has three children with his wife, Shante (via Distractify), but there is a fourth with ex-girlfriend Laurie Holmond, with whom he had one son, Julian, just one year after he said his wedding vows with his wife. Julian is now 23 years old, trying his hand at doing real estate (per CelebSuburb), doing music, movies, and aspiring to become a billionaire, according to his bio on Instagram.
Speaking about the nature of his relationship with his superstar dad, Julian suggested during an interview on Jackie Elam Live that he's not particularly keen on succeeding off the back of his father's stardom or fame. "I don't want people to go around telling me, 'oh, you made it only because your dad was behind you and putting you in the right positions.' It's not like that," he said (via AmoMama).