Here's What Sean Spicer Really Thought Of Donald Trump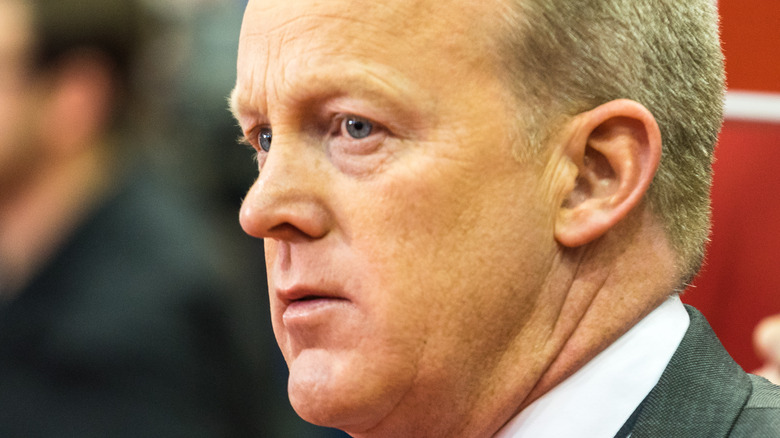 stock_photo_world/Shutterstock
Sean Spicer was a wild card in the administration of former president Donald Trump. He was appointed as press secretary at the beginning of Trump's term, but resigned in July 2017 (via The New York Times). He chose to leave the administration after disagreeing with Trump's appointment of New York finance giant, Anthony Scaramucci, as communications director.
Trump disagreed with Spicer's stance on Scaramucci, sharing, "Anthony is a person I have great respect for." He continued, "We have accomplished so much, and we are being given credit for so little. The good news is the people get it, even if the media doesn't."
After departing from the White House press team, Spicer got his own show on conservative news network, Newsmax (via The Guardian). He even applied to get press clearance at his former place of business. It's safe to say that Spicer and Trump have a complicated relationship. Where do they stand today?
Spicer's relationship with Trump is on-again, off-again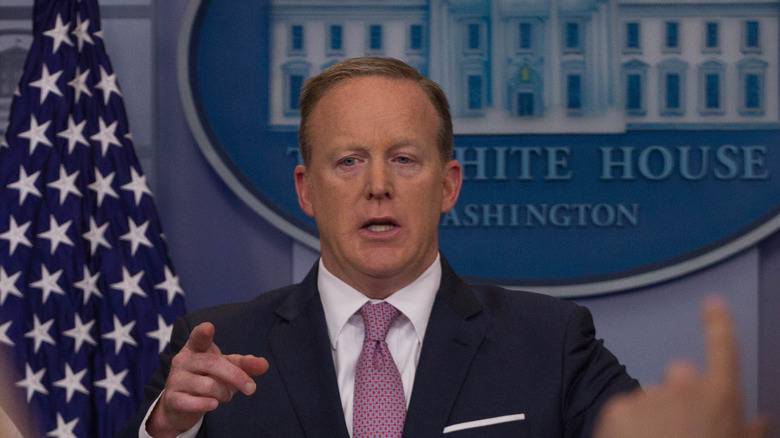 Michael Candelori/Shutterstock
Sean Spicer and Donald Trump have almost an on-again, off-again relationship. After Spicer left the White House, it seemed he was on the outs with the former president. He made surprising claims for anyone involved with Trump, and he did not believe there was any voter fraud during the 2020 election (via Politico). "I haven't seen any evidence of it. And again, I don't think it helps his case," shared Spicer.
Spicer quickly changed his tune, however. In October 2021, Spicer made an appearance on Bill Maher's show where he backtracked on his previous comments (via Newsweek). When Maher asked if Spicer thought Trump won or lost the election, he replied, "I don't know."
Maher believes that Spicer is attempting to get back on the good side of the former president both out of fear and in hopes of keeping his conservative media career going. It seems like Spicer had poor feelings towards the former president when he first left the White House, but now is backtracking a bit on his opinion.