Jillian Michaels Shares Happy Relationship News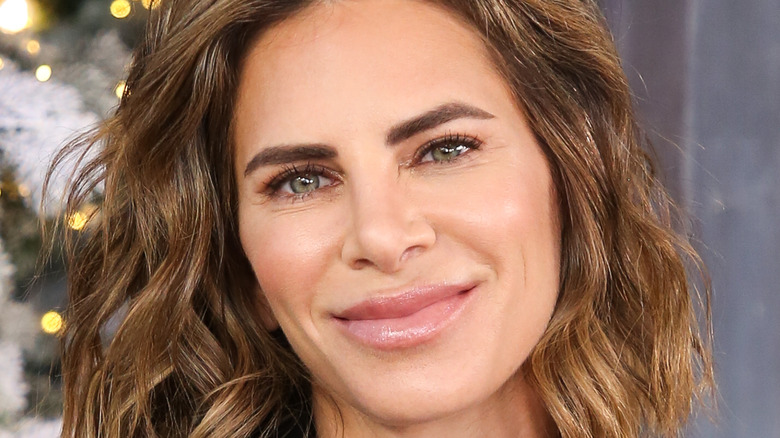 Paul Archuleta/Getty Images
Jillian Michaels has been a subject of conflicted discussion for some time now. The personal trainer kicked off her career on the infamous "The Biggest Loser" where she played a vital role in seemingly encouraging and supporting people through their weight loss journey until she left the show in 2020 (via People). Since then, Michaels herself hasn't had a ton of support. It all began with nutritionists and dietitians bashing her fitness regimen as being toxic and at baseline unhealthy (via YouTube). Where she really lost a lot of respect and support is when she publicly shamed Lizzo for her body confidence and her general appearance being "unhealthy" (via Insider). 
The internet was quick to rally behind a campaign cancelling Michaels for her toxic comments, and Michaels refused to take them back. While countless fans dropped her and no longer supported her, Michaels has actually continued peacefully living her life. She's even shared a big relationship update.
Jillian Michaels and girlfriend Deshanna Marie Minuto announce engagement
Jillian Michaels and designer Deshanna Marie Minuto have been dating since 2018 (via People). The couple went Instagram official with a photo of them celebrating Christmas together. Michaels and Minuto have been very public about their romance, often sharing loved up photos together on social media. On November 28, 2021 Michaels took to Instagram to share a touching post of them together announcing their engagement, she captioned it, "153 days... here's to thousands more. She said 'yes.'" Minuto shared her own announcement on her Instagram simply captioned, "YES."
Michaels exclusively spoke to People all about the engagement. She shared, "DeShanna is 'all the things' — beautiful, smart, funny, creative, quirky, passionate ... I could run down the list of adjectives. Those characteristics obviously attract you to someone. But it's the quality of their character that makes you think 'thank God for this person laying next to me' every night when you fall asleep."