Austin Stowell Talks The Hating Game, Lucy Hale, And Rom-Coms - Exclusive Interview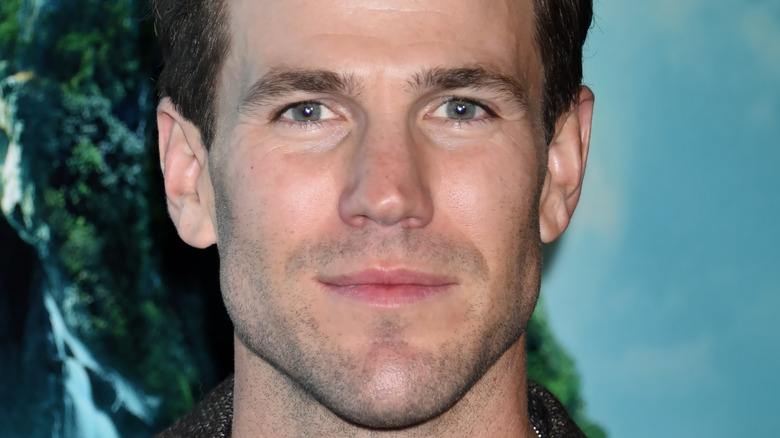 Ga Fullner/Shutterstock
In recent years, big-screen romantic comedy releases have become somewhat of a rarity, so fans of the genre will be overjoyed when they watch "The Hating Game," based upon the successful novel by Sally Thorne. Starring Lucy Hale and Austin Stowell, "The Hating Game" is a workplace romance that is firmly rooted in the love-hate rom-coms of yesteryear. Just think "His Girl Friday" or "Bringing Up Baby." And while "Pretty Little Liars" alum Hale makes the perfect leading lady, Stowell is the epitome of the brooding rom-com love interest. Together, Hale and Stowell have sizzling chemistry that is sure to delight viewers.
"The Hating Game" follows Lucy Hutton (Hale) and her workplace nemesis Joshua Templeton (Stowell). Working in the same office, the sexual tension between the pair is palpable, but Lucy and Joshua also view themselves as rivals in the publishing house at which they're employed. Their rivalry soon turns from incessant bickering to tactile flirting, making for an unforgettable comedy.
The List caught up with Austin Stowell ahead of the release of "The Hating Game," which hits select theaters and is available on demand on December 10, to find out all about the new romantic comedy and what it was like teaming up with Lucy Hale for a second movie.
The Hating Game explores a workplace romance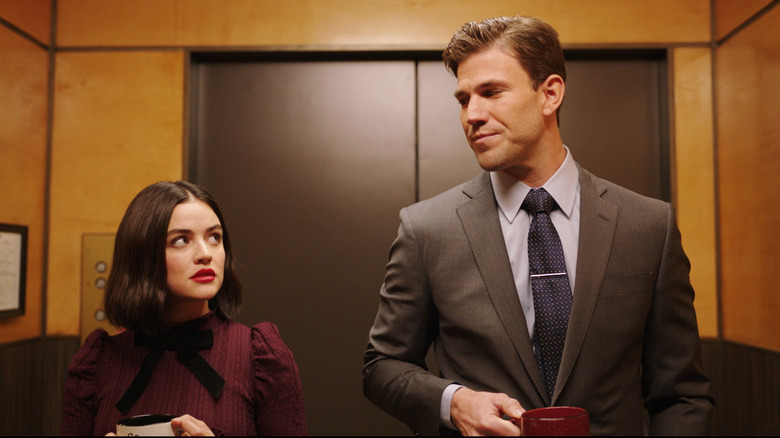 Vertical Entertainment
"The Hating Game" is such a fun romantic comedy. What drew you to the movie?
I got the script when I was on vacation last year with my family. And Lucy [Hale] was already attached. And so this first read-through, I was able to imagine the whole thing with Lucy and I doing it together. And being friends with her even before we did "Fantasy Island," I was able to fill in all the unknowns that usually come with a script that gets sent my way. And I just fell in love with Josh right from the beginning. This misunderstood character, this deep character in the middle of a romantic comedy.
He's somebody who has put up a lot of walls because he's been hurt and heartbroken. And a work environment is not usually a place where we like to rock the boat too much. And so he's doing this dance of falling in love with someone, but also protecting himself at the same time. And he's doing a terrible job of it. And instead of admitting how he feels, it's all these games. And this is their biggest problem, is that they're not telling each other how they feel. They're not telling each other the truth really until the end of the movie. And even then, you can see that they're still playing with each other, that this will probably be an ongoing part of their relationship.
It really reminded me of old school rom-coms with Cary Grant, the bickering back and forth.
We were certainly trying to capture a bit of that banter. Lucy and I kind of have that in real life. Not that we're fighting, but certainly we can keep up with one another. And it's why we're friends.
Austin Stowell is a rom-com fan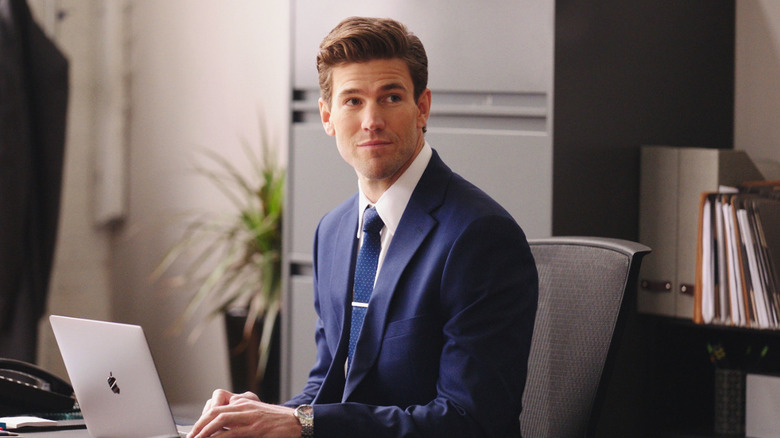 Vertical Entertainment
Are you a fan of romantic comedies? And do you have a favorite?
My favorite's "When Harry Met Sally." It's classic to me. And Billy Crystal and Meg Ryan just are ... I love the story where you know the end of it. I just watched "The Rescue," the documentary. ... The Thai soccer team that got stuck down in the cave. I know the news. I know that they all got out. Okay. And there I am on the edge of my seat the entire time because of good storytelling. And I think that's what a good romantic comedy is, is that you know these people are going to end up with each other at the end, but it's the journey to get there. How they figure it out, because we all want that in life. We all want love. We all want somebody in our life.
And so to get the satisfaction of the journey together and that struggle to try to figure it out. Relationships are complicated. And especially when it's somebody you work with. And especially when it's somebody that's so different from you. You find yourself falling in love with someone that you didn't imagine. You couldn't imagine, and you fight yourself on it. And it's the weirdest thing, and instead of trusting your gut, instead of trusting your heart ... and I think that's a good lesson that people can take away from "The Hating Game."
Austin and Lucy are old friends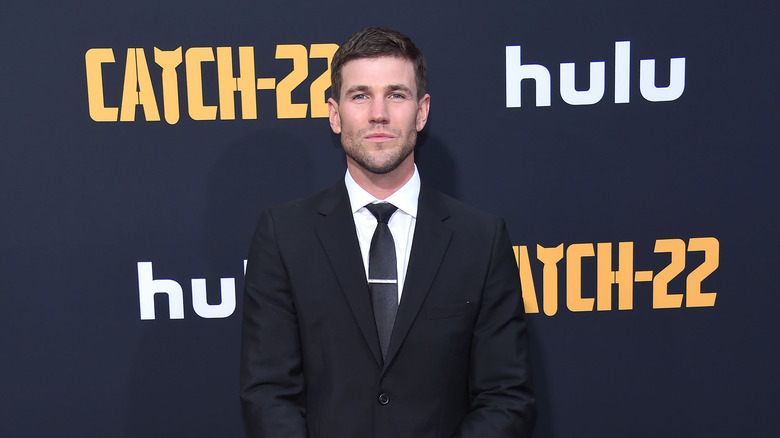 DFree/Shutterstock
How did this experience compare to working with Lucy Hale on "Fantasy Island"?
Much less tropical, little more snow. Yep. And it was great because we were really together this whole time, kind of getting into the nuts and bolts of these characters. Whereas on "Fantasy Island," we got separated. And yes, we come back, and [we're] doing some action sequences and things like that. But to really get to do some grittier work together, and especially in the scenes that are a bit quieter. Especially when we're out of the office, it's just the two of us. I found that to be really gratifying as an actor and as a friend to Lucy.
"The Hating Game" is available in theaters and on demand on December 10, 2021.