The Metropolitan Museum Of Art Has A Nail Polish Line, And It's A Work Of Art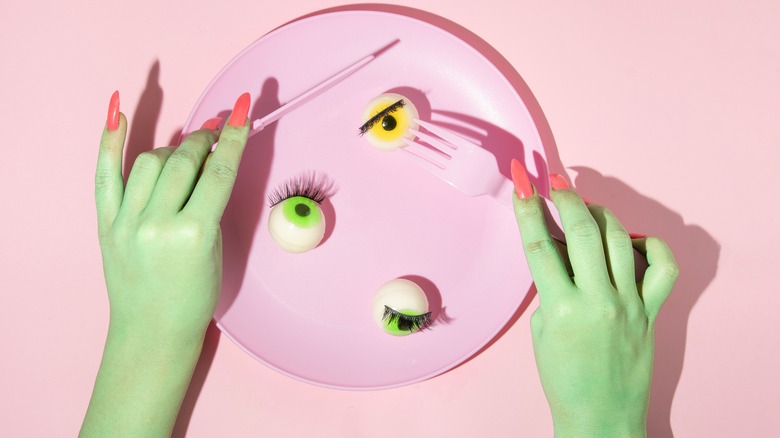 Adela Belovodjanin/Shutterstock
Nail art has taken on a whole new meaning now with the latest collaboration between L.A.-based jeweler, J.Hannah and the Metropolitan Museum of Art. The collaboration is called "Surrealist" and consists of three unique shades that are inspired by the Met's new exhibit called "Surrealism Beyond Borders."
According to the Met, "Surrealism Beyond Borders" explores the surrealism art movement beyond Western Europe, and showcases surrealist art from 45 countries across Eastern Europe, the Caribbean, Asia, North Africa, Australia, and Latin America. Surrealism is an artform that depicts the blurring of lines between reality and our dreams. If you can't imagine what surreal art looks like, the Met says think of a "telephone receiver that morphs into a lobster," or a "miniature train that rushes from a fireplace."
While surrealism has often been used in more humor-based works, it has been used as a technique in art that expresses political and social messages. According to TATE, surrealism seeks to free the mind, and is thus often used to promote political freedom and activism. Surrealist artists often like to portray alternate universes or internal psychological struggles.
While the "Surrealism Beyond Borders" will be on display until January 30, 2022, you can keep feeling those surreal vibes by buying their nail polish collaboration.
The "Surrealist" trio nail polish pack comes in fine-art inspired shades
J.Hannah is known for their modern takes on vintage jewelry and one-of-a-kind nail polish shades, per Wallpaper. According to Byrdie, J.Hannah nail polishes are bound to be a favorite for their signature muted hues and sophisticated takes on vivid colors.
And J.Hannah's latest collaboration with the Met is nothing short of amazing, featuring stunning avant garde shades that reflect a more subtle version of the exhibit's bold tones. J.Hannah founder, Jess Hannah Révséz, talked about the inspiration behind the shades and explained it as "twists on vivid shades that were at once familiar and slightly strange, like a dream you can't quite remember."
Per the J.Hannah website, the Surrealist pack offers three different sets. The first one, named "Carnelian," is a rusty red hue. Red is a symbolic color in surrealism, and as such, Carnelian is a muted tomato red that represents the symbolism behind the color.  "Prim" is a powder blue reminiscent of the sky, while "Enigma," a swampy artichoke green, alludes to the unusual and unsettling aspects of surreal art. Interestingly enough, this is the second collaboration between J.Hannah and the Met, with the first being a collection that was inspired by the Costume Institute's "About Time" display.
The "Surrealist" pack is available on J.Hannah's website for $54. With these surrealist-inspired shades and your nails as blank canvases, it looks like the sky's the limit.