Why Beatrice And Eugenie Didn't Get This Royal Title After Getting Married
David M. Benett/Getty Images
If you've ever wondered how royal family members really get their titles, the process is more complicated than it seems. Certain titles are gifted by the Queen of England under specific circumstances, whereas others are inherited upon marriage. When Prince William married Kate Middleton, the Queen gifted William the title of Duke of Cambridge and by extension, Middleton became the Duchess of Cambridge. This is significant because Middleton, who does not come from a familial line of aristocracy, was able to gain Duchess status through this customary process (via Express).
This is one of the best (and least confusing) examples of how titles are inherited upon marriage, though this tradition becomes more complex when you factor in junior members of the royal family. Princess Beatrice and Eugenie, who are the daughters of Prince Andrew and Sarah Ferguson, are two members of the clan who didn't receive additional titles when they got married in 2020 and 2018 respectively (via Hello! Magazine).
Both Beatrice and Eugenie were given their princess titles upon birth since their father, Prince Andrew, is the son of Queen Elizabeth and Prince Philip, but they didn't get this royal title after getting married due to an outdated royal protocol.
Beatrice and Eugenie didn't become duchesses after getting married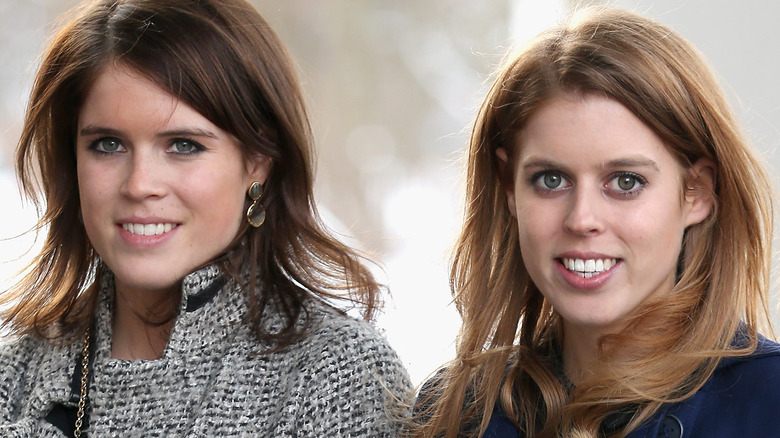 Chris Jackson/Getty Images
When Prince Harry married Meghan Markle in May 2018, Queen Elizabeth granted them the titles of Duke and Duchess of Sussex in accordance with customary marriage traditions (via USA Today). But when Princess Eugenie married her husband, Jack Brooksbank, just five months later in October 2018, Eugenie and Brooksbank were not granted additional royal titles (per Daily Star). Many people believed that Eugenie and Brooksbank would become a duke and duchess, but an outdated royal protocol prohibited this from taking place. The same strange rule applied to Eugenie's sister, Princess Beatrice, when she married her husband, Edoardo Mapelli Mozzi, in 2020 (via Town & Country).
According to Iain MacMarthanne, a constitutional expert, Princess Eugenie and her sister, Princess Beatrice, would not receive the duchess title because, "Historically, a princess was married off to a foreign royal house to be used as a political pawn, normally as a means to cement foreign alliances or to further the national interest" (via Express). When this happened, the princess would inherit the title of their royal husband instead. The longstanding tradition effectively ended after World War I, as there haven't been any marriages between British princesses and foreign royals since then.
So, how does this apply to Beatrice and Eugenie? Since the two women are members of the British royal family and their spouses are not, the peerage doesn't extend to them because they're not men. This explains why Prince William and Prince Harry received duke titles upon marriage, since they fall under the patriarchal umbrella of this outdated policy.
Will Beatrice and Eugenie's children get royal titles?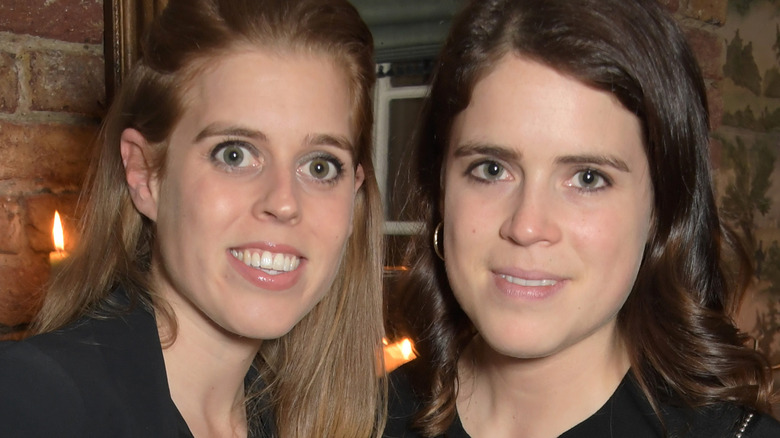 David M. Benett/Getty Images
Due to the royal protocol prohibiting British princesses from inheriting their own titles upon marriage, Princess Beatrice and Princess Eugenie and their respective spouses will not become dukes and duchesses at any foreseeable point in the future (per Daily Star). Instead, Princess Beatrice is formally known as Her Royal Highness Princess Beatrice, Mrs. Edoardo Mapelli Mozzi, and Princess Eugenie is Her Royal Highness Princess Eugenie, Mrs. Jack Brooksbank (per Express). Princess Beatrice does inherit a title through her husband, Mapelli Mozzi, since his father is an Italian count and Mapelli Mozzi will inherit the ancestral seat in the future (via People). This means Beatrice is an Italian contessa, but Eugenie is solely a princess.
How exactly does this process affect Beatrice and Eugenie's respective children then? According to Town & Country, Eugenie's son August, and Beatrice's daughter Sienna, who were both born in 2021, will not inherit titles through the British royal family even though their mothers are princesses. Since the titles in the British royal family are passed down through the father's side, neither August nor Sienna will be granted official titles unless the Queen bestows them one. The children will appear in the royal line of succession for the throne, though.
Princess Beatrice's daughter Sienna will also become a contessa when Mapelli Mozzi eventually inherits the count title from his father.