The Truth About Making The Cut Season 2 Winner Andrea Pitter
Last year, Tim Gunn left the iconic "Project Runway" — along with Heidi Klum — only to join Amazon's version of the fashion design competition. With bigger budgets and more creative freedom for the panel, "Making The Cut" was "the graduate and PhD program" in comparison to the "undergraduate program" that "Project Runway" was, Gunn told Variety. Prizes are accordingly doled out; per Elle, winners of "Making The Cut" get a million dollars for their ventures as opposed to $250,000 on its older counterpart 
Andrea Pitter won the second season of "Making The Cut" and invested the million dollars into her inclusive brand, Pantora, Yahoo noted. The designer has been on a mission to create clothes for women underrepresented in fashion and especially hopes her brand is a "safe space for Black women," as she told The Knot. She explained to The Zoe Report, "I include people [of all backgrounds and body type] because I know what it's like to be excluded, and it makes me feel good to know that I've created these spaces where everybody can come and enjoy."
Pitter now has expanded Pantora — originally based in Brooklyn — with a new store in L.A., per Fashion Week Daily. And she isn't slowing down anytime soon.
Andrea Pitter felt seen by Winnie Harlow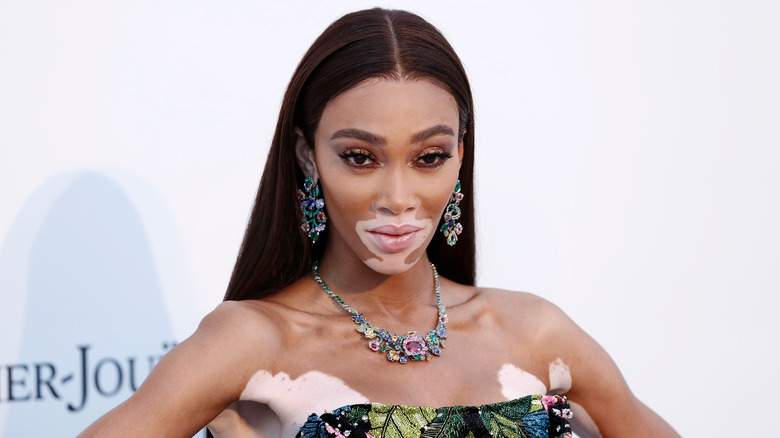 Andrea Raffin/Shutterstock
Andrea Pitter's bridal collection and brand places Black women at the forefront — a celebration that was initially met with resistance. "I went to a bridal market twice and on both of those occasions I would be the "only" [one] or one of a few [people of color]. A lot of advice that was given to me was that I should put a white sales representative in your booth, or you shouldn't be there. It felt very lonely," she told Seattle Times. However, her insistence on staying true to herself came through her innovative designs and captured audiences and judges on "Making The Cut."
Pitter, who is a graduate of FIT, recalled a moment when model Winnie Harlow, one of the show's judges, noted, "I don't always know what Andrea is going to create. But I always know that it's hers." The fashion designer told The Zoe Report, "At that moment, I felt seen because I want to create clothing, or moments, that people don't necessarily expect, but they do expect it from me. So it made me feel like I was doing what I was supposed to be doing."
"I've worked really hard, I built Pantora from nothing just hard work and big dreams. I'm happy to have full circle moment. I'm being rewarded for my life's work," she gushed to The Knot.