The Truth About Jimmy Fallon's Relationship With BTS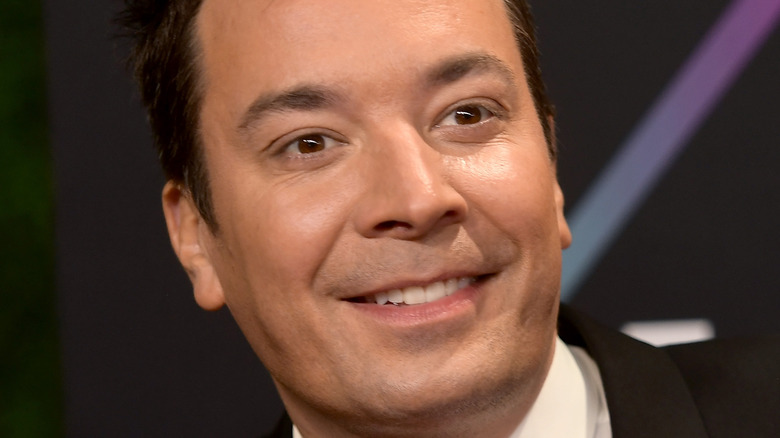 Matt Winkelmeyer/Getty Images
When it comes to passionate fanbases, there are few more dedicated than K-pop fans. Per The Conversation, these hardcore fans do more than just attend concerts, they run their own fan websites, design merchandise, and even create their own fan chants that can be heard at the packed stadiums their favorite artists are performing in. They are truly a force to be reckoned with.
In fact, K-pop fans are even credited with disrupting a rally held by former President Donald Trump. According to CNN, these fans teamed up to secure tickets to Trump's event that they didn't plan on attending, in an attempt to make sure the rally had a lot of empty seats. Even Representative Alexandria Ocasio Cortez gave them a shout-out, stating, "Kpop allies, we see and appreciate your contributions in the fight for justice too."
There are a lot of K-pop fans out there and they are proud. BTS, one of K-pop's biggest groups, seems to have the most dedicated fanbase. They're commonly referred to as the A.R.M.Y., which stands for "Adorable Representative MC for Youth" (via Yardbarker). You might also be surprised to learn that one late-night TV talk show host is part of their A.R.M.Y., and has even grown a heartwarming relationship with the band.
Jimmy Fallon and BTS are buddies now
The relationship that has formed between BTS and "The Tonight Show" host, Jimmy Fallon, started in 2018 with an appearance on the show by the K-pop group. Fallon took to Twitter to excitedly share that the band were guests on his show. "@BTS_twt is here TONIGHT! We have an awesome dance challenge planned that I can't wait for you to see! They are so talented!" he wrote at the time. 
What followed was a fun relationship between Fallon and the BTS bandmember, Jimin. Per Elite Daily, the 2018 episode of the show continued with Fallon hugging Jimin and excitedly stating, "I had to! We have the same name practically! I'm not picking favorites, I swear!"
Fallon and Jimin are friends now and it's adorable. The talk show host can't stop gushing about his new buddies. "We love having BTS on the show," Fallon said previously (via Newsweek). "These guys are incredible, and you just know they're going to go above and beyond to make their performance unforgettable. Last time we had them on we took over Grand Central Terminal, so we had our work cut out for us to top that," he added.