Here's How Tall Bruno Mars Really Is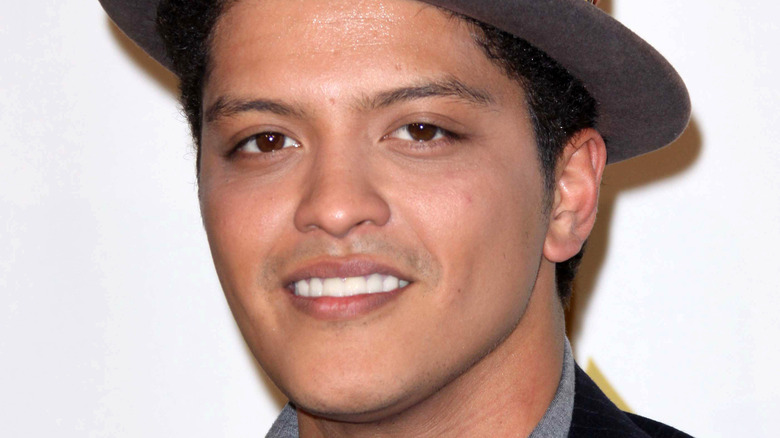 s_bukley/Shutterstock
In 2009, Barack Obama was president of the United States, "Jersey Shore" was airing its earliest episodes on MTV, and Bruno Mars had not yet released his first solo album. The singer's voice had just begun to play on radios across America as Mars was featured on the mega-popular song "Nothin' On You" by B.o.B. Six months later, Mars released "Doo-Wops and Hooligans," the first of many albums that would eventually catapult the rising star to success. On the album was "Just The Way You Are," the first song by Mars to reach a No. 1 spot on the charts, according to Oldest.org. The track would go on to become one of the most popular wedding songs of 2011 (via My Wedding Songs), and Mars would go on to win several Grammys.
Since the early days of Mars' career, he has released several albums and collaborated with major artists like Lil Wayne, Mark Ronson, Adele, and many others, cementing his status as a heavy hitter in the music industry. Mars recently took a 2-year hiatus that coincided with the COVID-19 pandemic, but upon his return, he proved that he had something special up his sleeve for his return to the recording studio. In February 2021, Mars announced that he would be teaming up with Anderson Paak to create a band called Silk Sonic, according to Entertainment Tonight. It has an old-school sound that may be Mars' best work yet.
But does Mars' larger than life voice match his height?
So, how tall is Bruno Mars?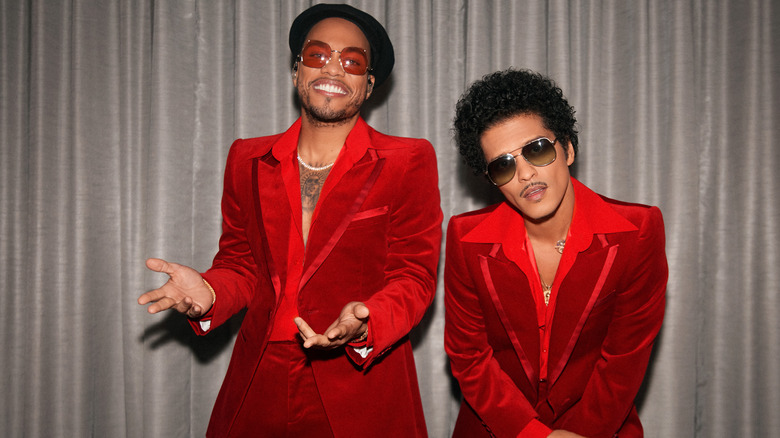 John Esparza/Getty Images
Before he was Bruno Mars, he was Peter Gene Hernandez (via Biography). From the beginning, Mars had music in his blood. His father, Pete Hernandez, was a percussionist who played in a Latin style, and his mother, Bernadette "Bernie" Hernandez, was a talented singer. The couple raised Mars and his five siblings in Hawaii, and the family would perform together for tourists and locals alike in Waikiki Beach. Mars was never taught how to play music. He says, "I've always had a drum set, a piano, a guitar ... and never got trained to play. It was just always there," he later recalled. "That's just how I learned, just being surrounded by it my whole life."
Following his childhood and high school years in Hawaii, Mars relocated to Los Angeles. After struggling to find momentum in his career, the Grammy-winning artist first found some traction by writing songs for other people such as Brandi and Flo Rida. Mars got his big break when he wrote "Nothin' On You" for B.o.B. and the record label decided that he should be the one to sing the chorus. In the years since, Mars has climbed to the top of the charts, won awards, and was even given a coveted spot on the 2013 Super Bowl halftime show. 
Mars has, in fact, become larger than life with a voice to match, so you might be surprised to learn that the superstar stands at just 5' 5" (via POPSUGAR).