Is The Quip Toothbrush Worth It?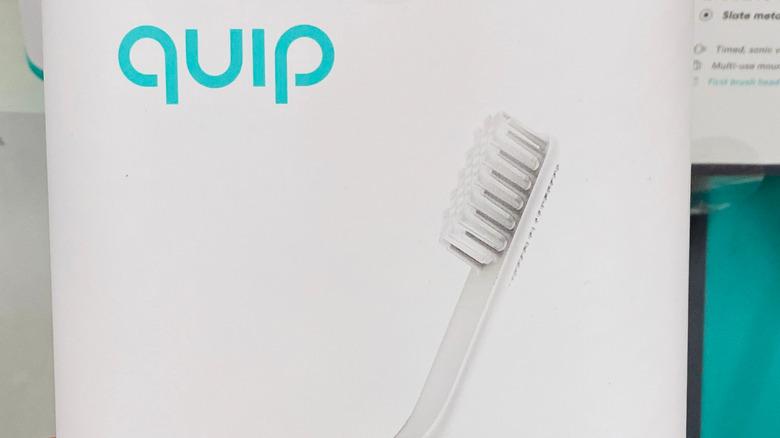 ZikG/Shutterstock
Shiny and stylish, Quip toothbrushes have probably caught your eye while browsing your local Target. Jessica Alba, who is known for her dedication to natural beauty and her appreciation for well-designed products, told People that she is a Quip fan.
Founded by Simon Enever and Bill May, Quip was designed to help people be gentle with their teeth and avoid brushing too hard. "We made it our mission to create honest, accessible, and simple oral care products that helped focus on the habits that really matter," say Enever and May on Quip's website.
Among the many electric toothbrush options, Quip's colorful brushes start at $25. This plastic model is available in serene colors like sky blue and sea-foam green. If you prefer something more glamorous, the metal model costs a $40 on the Quip website. These come in colors like shiny aqua, pearly pink, silver, and gold.
But beyond that glitzy exterior, is the Quip toothbrush a good choice? A manual toothbrush is often free when you visit your dentist. A high-end Sonicare can set you back over $100. Quip's cost puts it in the low-middle range, but does it have the needed features?
On time and on schedule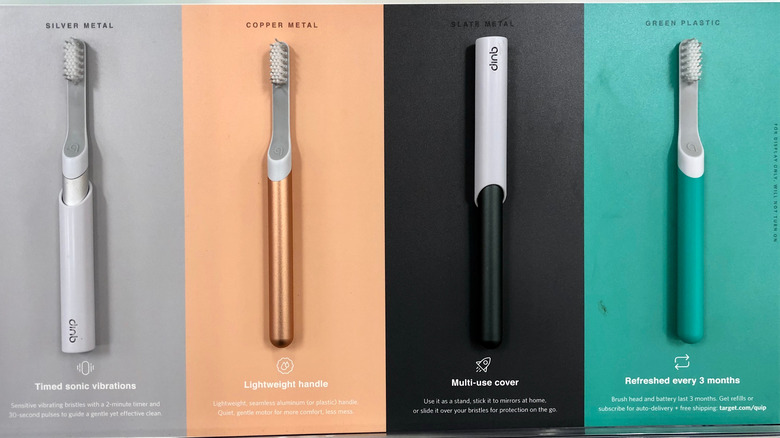 ZikG/Shutterstock
Like other electric brushes, Quip uses sonic vibrations to clean your teeth (per CNET). Also, like other electric brushes, Quip is designed to make sure you brush for the dentist-approved two minutes. A built-in timer lets you know every 30 seconds that it's time to move to another quadrant of your mouth, ensuring all teeth get equal attention. Two minutes can seem endless with a manual brush, and unless you use an app or an old-fashioned timer, you're probably brushing less with a manual. Quip's vibrations clean gently, preventing users from brushing too vigorously.  
Since Quip doesn't have a rechargeable battery, there's no cord to clutter up your bathroom, freeing up your outlets for other items (like a hairdryer or flat iron). No cord also means that the sleek, lightweight toothbrush is easy to store. Slip it in the medicine cabinet, hang it with Quip's included holder, or just admire it on your vanity. One simple button for on and off makes the brush super-easy to use.
Quip also offers a subscription plan to make sure you keep things fresh and change your toothbrush head at the recommended three-month intervals. For $10, you get a new brush head, AAA battery, and a tube of Quip's Mint toothpaste. Shipping is free, and items will arrive every three months. If you're partial to a different brand of toothpaste, a brush/battery refill is only $5 per three months.
The verdict on Quip from dentists and regular brushers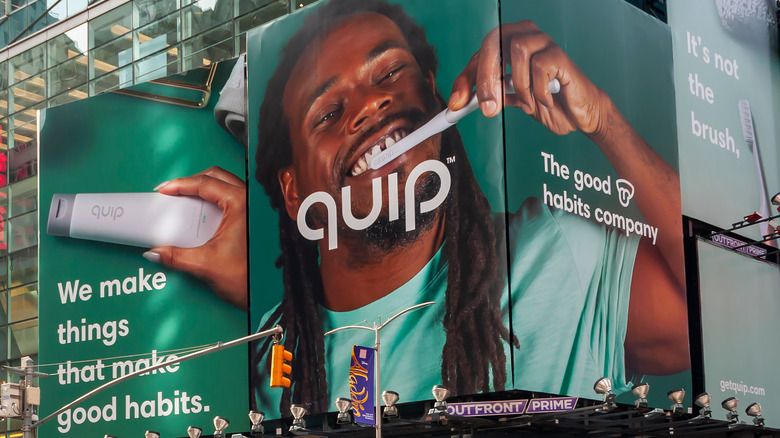 rblfmr/Shutterstock
Brother dentist-duo Dr. Mark Shalaby and Dr. Mike Shalaby at Paradigm Dental are Quip enthusiasts. "One thing I love to tell my patients is to make the brushing experience as effortless as possible," they say. These dentists describe Quip's "slim, lightweight design" as a "nice change" from other electric models, and that Quip's vibrations were effective and "easier on the teeth and gums."
Sarah Mitroff, reviewing Quip for CNET, says "Quip is a good starting place." Wirecutter thought Quip was a good option for travel, but found the "vibrations to be weak." At 15,000 vibrations per minute, Quip does use fewer vibrations per minute when compared to Oral-B or Sonicare, according to Mark Burhenne, DDS. (A high-end Sonicare may have 62,000 vibrations per minute.) More vibrations don't necessarily mean better cleaning, says Mitroff's mother, a dental assistant with 40-plus years' experience.
Both Mitroff and Burhenne thought Quip's larger brush head was too big to comfortably fit smaller mouths. Fortunately, Quip has a solution: their kids' model has a smaller head and is compatible with the adult-sized handle.
Burhenne calls Quip his "partner in toothbrushing compliance." He also recommends Quip for travel, and cites the fewer vibrations as an asset for people who don't like the "sensation of high-powered sonic brushes." He's also a fan of Quip's budget-friendly price and subscription features. This powerful combo of eye-catching design and lightweight functionality make Quip an electric toothbrush worth experiencing for yourself.