Inside Bruno Tonioli's Relationship With Carrie Ann Inaba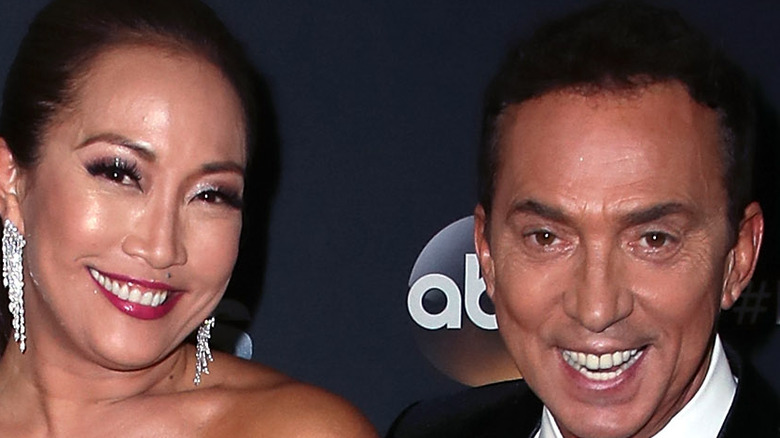 David Livingston/Getty Images
Is there really such a thing as having a work "husband" or "wife?" For Bruno Tonioli and Carrie Ann Inaba, their 16-year friendship stems from when the duo were chosen to be judges on the celebrity dancing competition series, "Dancing With the Stars." The two have judged alongside Len Goodman since the first season, and more recently, Derek Hough, who previously worked as a professional dancer on the show (via TalentRecap). 
As the show continues each year, it's clear that Tonioli and Inaba have each other's backs, from social media posts to standing their ground when scoring dancers competing on the show. If there is such a thing as a work "husband" or "wife," the reality judges make it look easy and never lose sight of their friendship in the process. Inaba said on social media that she and her fellow judges have held hands before every show and "expressed our love for each other." Let's take a look at the sweet friendship between Inaba and Tonioli. 
Their playful work relationship is evident on screen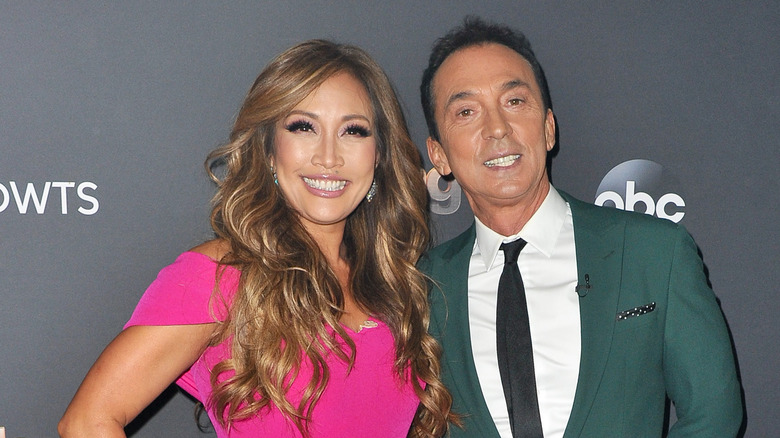 Allen Berezovsky/Getty Images
Carrie Ann Inaba is known to be playful with her fellow judges, even making headlines last year during Season 29 of "Dancing With the Stars" after sharing a cheeky photo with Bruno Tonioli backstage on set (via Inquisitr). "We love to play," she explained on Instagram, photographed standing next to a life-size cutout of Tonioli with her right hand placed over his groin area, with the real-life Tonioli pointing at her in the background.
In a more recent Instagram post, Inaba paid tribute to her fellow longtime judges on "Dancing With the Stars," Len Goodman and Tonioli, who have all been on the original panel since 2005 when the dancing competition first premiered (via TalentRecap).
"This is just an OG Judge moment that I want to express gratitude for," Inaba wrote. "I believe we are one of the only teams of judges who remain intact from day one. And honestly that warms my heart and makes me feel good inside."
The two have shared a friendship throughout the seasons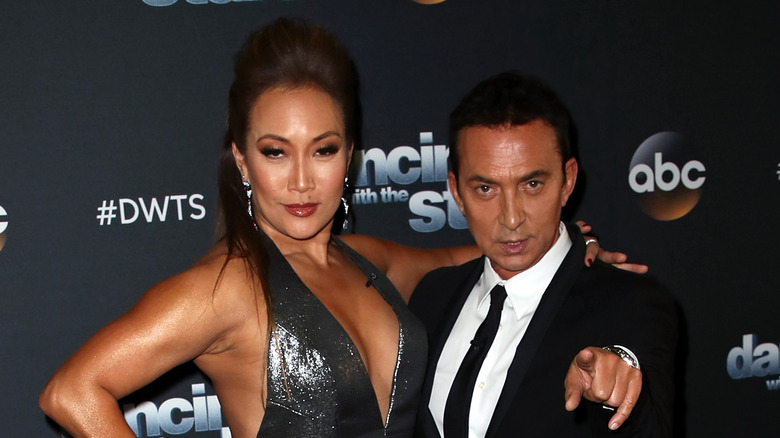 David Livingston/Getty Images
To be expected in a decade-long friendship, there have been challenges between Bruno Tonioli and Carrie Ann Inaba. "We all come from such different backgrounds and we often disagree... but it never changes us," Inaba shared on Instagram.
With the latest season of "Dancing With the Stars" as of publication coming to a close, Tonioli was quick to share how he feels about the season ending and not seeing his fellow judges each week, especially Inaba. On Monday, November 29, 2021, he posted a video showing the two dancing next to each other in white pajamas, captioning the message on Instagram, "Monday's are empty without you."
For now, "Dancing With the Stars" fans will have to fill their Monday nights with something different. Even though ratings were down this season, the dancing competition is expected to be renewed as it's still one of the most-watched shows on ABC's network (via Fansided). But if there's one thing we've learned about Tonioli and Inaba, it's friendship is always in season.