The Ornament You Wouldn't Expect To Find On The Biden's Christmas Tree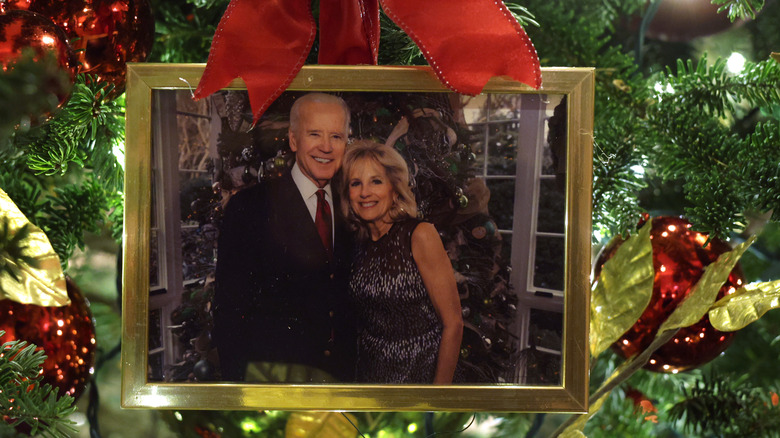 Alex Wong/Getty Images
We know First Lady Dr. Jill Biden spent a considerable amount of time thinking about how she wanted to White House to look this Christmas, and she appears to have knocked it out of the park with a look that The New York Times' Vanessa Friedman described as one that walked "the fine line between fancy and folksy." The look was achieved with the help of 6,000 feet of ribbon, more than 300 candles, ornaments that numbered well past 10,000, and holiday lights in the tens of thousands. 
As an added touch, the First Lady even decorated several Christmas trees with images of past White House occupants. CNN'S Kate Bennett revealed that the trees with the photos could be found in the State Dining Room, while other media outlets noted that the collection included photos of the Bushes (George Sr. and George W.); the Reagans; the Carters; the Kennedys (via Indy100); the Roosevelts, and the Obamas (via Insider). And if you're wondering whether Dr. Biden included a photo of former President Donald Trump and his wife Melania — she did. Dr. Biden used a 2018 photo of the Trumps taking delivery of the White House Christmas tree, and placed it in the same gold frame as the rest of the shots. The image, Bennett says, is "tucked into the back side of one of the trees." 
Jill Biden's gesture didn't make an impression
Jill Biden's gesture appears to have been unappreciated by the family of the White House's previous occupant. Just over a day after her decorations were unveiled, Donald Trump Jr. took to Instagram to attempt a side-by-side comparison of the Biden White House with the Trump White House with the caption "Anyone who ever criticized Melania's Christmas decorations needs to apologize right now", and another caption which read: "If we lower our expectations any further we're gonna turn into an S-hole country."
Not everyone appeared to have felt the same way. "Perfect tribute to OUR White House families! Their presence should always be felt, [and] history remembered. Truly thoughtful," raved one fan. 
Another said: "this photo shows what a kind, decent, good man Biden is. Biden included Trump's picture on the Bidens' Christmas tree — a man who refused to admit his election win and tried to overturn the election." Another social media conjectured that "Trump and Melania would have left out some first families they didn't like."