Meagan Good Talks Sisterhood And The Power Of Fashion In Harlem - Exclusive Interview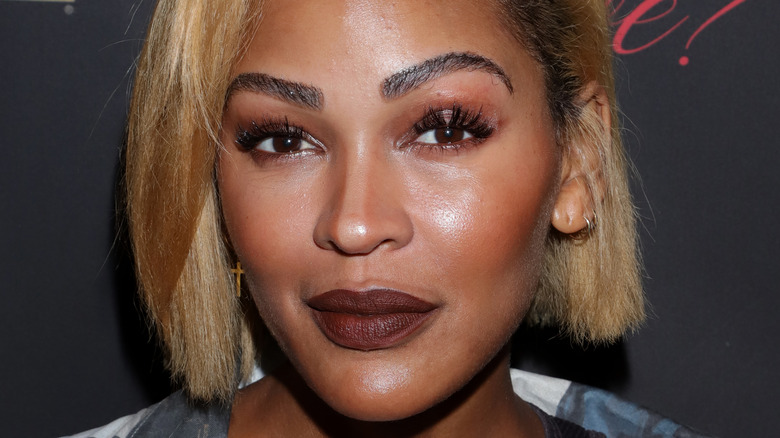 Arnold Turner/Getty Images
We may receive a commission on purchases made from links.
If you're looking for a fun comedy series to sink your teeth into this winter, look no further: The first season of Prime Video's "Harlem" is out now on their streaming platform. Consisting of 10 colorful, passionate episodes, "Harlem" follows Dr. Camille Parks, portrayed by Meagan Good, as she strengthens the relationships in her life and comes to understand herself better, too. Good is previously known for 2012's "Think Like a Man," 2019's "Shazam!" and, most recently, "Death Saved My Life" (via IMDb).
Per Prime Video's logline, "Harlem" follows "four stylish and ambitious best girlfriends in Harlem NYC, the mecca of Black culture in America." In addition to Good, viewers will see Grace Byers star as Quinn, Jerrie Johnson star as Tye, and Shoniqua Shandai star as Angie. Where Camille is an anthropology professor at Columbia, Quinn is a hopeless romantic and fashion designer, Tye is a successful queer dating app creator, and Angie is confident actress and singer who lives with Quinn. Together, they comprise a central cast that brings love, sisterhood, and unity to the series' forefront. "Harlem" is brought to Prime Video by Tracy Oliver, who previously worked on "Girl's Trip" and "First Wives Club" (via IMDb).
We had the opportunity to speak with Good about her role as Camille and what viewers can expect from the inaugural season of "Harlem."
Meagan Good's Camille goes on a 'journey' in Harlem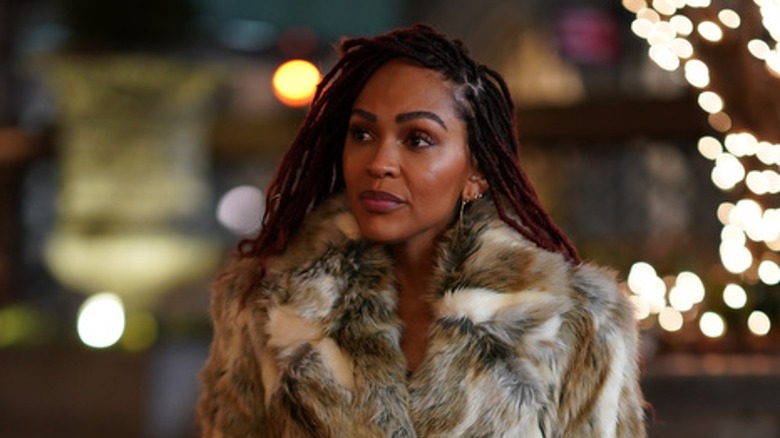 Sarah Schatz/Amazon Studios
What can you tell us about your character in "Harlem"?
I play Dr. Camille Parks. ... She's a professor of anthropology at Columbia and she teaches about sex and love, but she can't quite seem to get her own sex and love life together. She is quirky and awkward and someone who hopes and is always optimistic. Someone who can be a boss in one breath, and then in the next breath, she's vulnerable and she's insecure, but it doesn't stop her from being a boss. And she's all these things in a pot that I think are messy and complicated and really wonderful because we are all messy and complicated and we're all kind of having similar experiences to some degree. Trying to walk this thing of life out and figure it out.
She sounds delightful, and I'm very excited to see the full season. Speaking of her character and her journey, what can you tease about her character arc in the season?
Well, I'm not supposed to tease much, but what I will say is I think that sometimes in life, all the plans that you have and all the things that you anticipated, to some degree, get turned on their head and you have to reset. You have to readjust, and you have to figure it out. And I think Camille experiences a lot of that throughout the season in her work, in her personal life, in her friendships. And I think that in terms of character arc, she's learning and she's growing and she's figuring it out, and she's doing it all without completely spiraling and also like the best attitude that she can possibly have, and believing all things are possible. So she definitely goes on a journey and has to readjust a lot of what she thought. And yeah, that's pretty much it.
Is there anything we can look forward to in terms of love in her arc?
Well, she might find love with someone or she might find love with someone else. Or there might be a situation.
Good says Harlem is ultimately a 'love letter to sisterhood'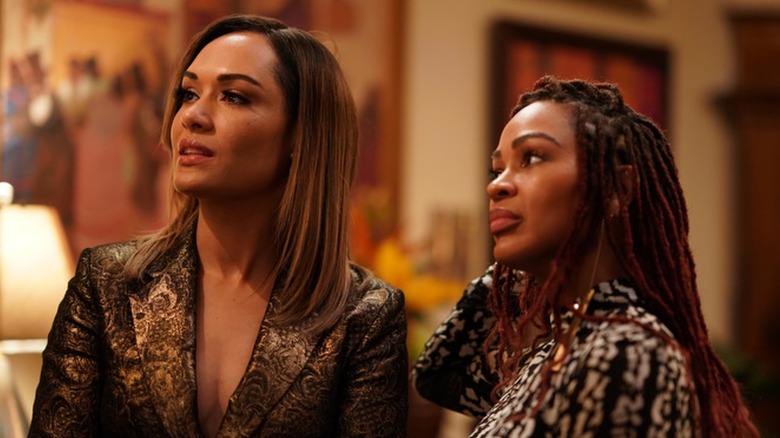 Sarah Schatz/Amazon Studios
I love it. Outside of love, the series really also seems to focus on friendship a lot too. What can you tease about the other relationships and friendships in the series?
Yeah, someone else said it earlier, which I think is the best way to describe it. A lot of this show is really like a love letter to sisterhood, and to try, and those friendships that last a lifetime where you can truly, truly be your most authentic self. And what I will say is that happened in real life as well. It's Grace I already knew for a few years prior. And she and I met once on the phone like five years prior, and she had said, "Girl, I am claiming that we're going to do a show together in Jesus' name." And I was like, "Girl, I'm claiming it with you." And then Jerrie I met the day that I went in and tested, and immediately this group of women, we have become sisters in real life.
When I tell you everything you see on camera — we get off work and Grace is coming down to my apartment or I'm going up to hers or Jerrie's coming over and I'm cooking spaghetti. Or me and Shoniqua were talking about going to karaoke, whatever it may be. And that's one of my favorite parts about the show. And then again with each one of the characters, they're so uniquely different. We're every different shade of brown and every different shade of hairstyle and body type and height. And they're each going through their unique experiences and the ups and downs, the disappointments. Much like Camille, every one of the characters is experiencing that in their own right. And you really go through a journey with all of them.
And another thing that it's like — to [Tracy's credit] — to be able to create that and [build] characters where you don't treat one lesser, you don't make someone a sidekick or you don't not explore the fullness of who each and every one of them [is], and you actually care about their storylines — you actually want to know what's going to happen next to this person or that person — it's very hard to do. And Tracy and the writers' room, they created that and they did an excellent job.
Good was allowed to 'collaborate' on Camille's fashion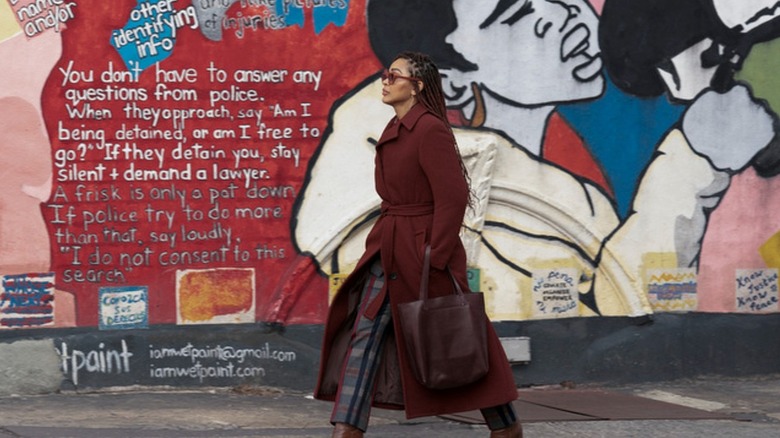 Sarah Schatz/Amazon Studios
That's amazing. And I love a series that really commits to all of its characters, which this series does. I'm really captivated by the fashion in the series and the styling. The aesthetics of the show seem very bright and seem very personalized. And so I wanted to ask you, how do you think the fashion in the series really helps build the characters and the overall story?
Oh yeah. Deirdra [Elizabeth Govan], who was our costume stylist, so much of that as her. I literally was like, "I know who Camille is, but I'm still working out some kinks here." And when I got in there and I tried on my clothes ... and she was like, "Here's the thing." And I'm like, "What is that? I don't know if that's going to look good on me." And then I try it on and I'm like, "Oh, this is who Camille is." I just completely downloaded exactly who she was when I put on this, and I became her fully. And Deirdra did an incredible job. She may get some designers here and pull the colors here and then she'll just go straight-up Harlem designers that are authentic to Harlem specifically.
And I think that what she created, she allowed us to collaborate. And, of course, she collaborated with Tracy, but what she ultimately created for each one of the characters ... is very unique to them. If you're talking to Grace, she'll tell you she really wanted to set this character apart — this affluent Black character — apart from other things that she's done. But then this woman is also a fashion designer, so how do her clothes represent who she is as a fashion designer? And so Deirdra just knocked it out the park. And I think that the clothes in their own way become a character in the show.
You can catch Meagan Good and the rest of the cast on the premiere season of "Harlem" on Prime Video now.