Donald Trump's Critique Of Biden's Withdrawal From Afghanistan Has Twitter In A Tizzy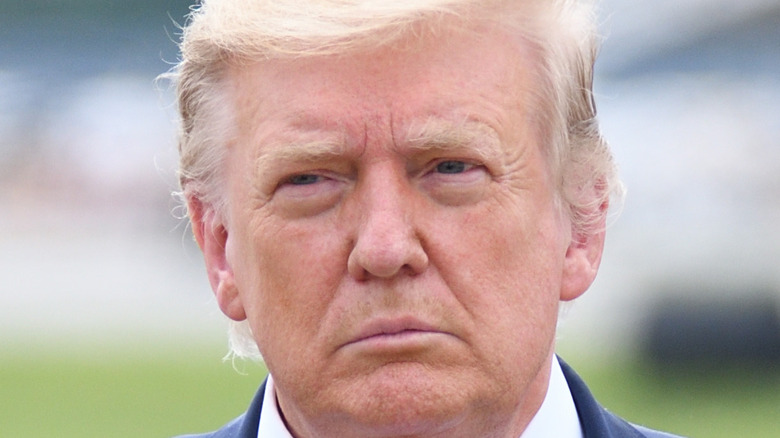 Evan El-Amin/Shutterstock
It is no secret that former president Donald Trump is not a fan of the current sitting president, Joe Biden. Trump has been slamming Biden since the now-president beat him in the 2020 election (via CNBC). Back in February 2021, Trump said, "We all knew that the Biden administration was going to be bad — but none of us even imagined just how bad they would be, and how far left they would go," adding, "In just one short month we have gone from America first to America last."
Nearly a year later, Trump has continued to share how he feels about Biden (via Fox News). Trump went on a tangent on Sean Hannity's Fox News show, stating, "What is happening to prices is many times more than any possible tax increase that anybody could get. On top of that, in this new [Build Back Better] bill, they want big tax increases: People will pay massive tax increases. I am not talking about the wealthy, I am talking about everybody," continuing, "Look at the brownouts all over California. It's terrible. All of this nonsense they are doing. They want to replace clean fossil fuels."
From taxes to gas prices and everything in between, Trump seems to have a problem with just about everything Biden has done. Now, he is speaking out on another issue that has Twitter in a tizzy.
Trump made a few hypocritical comments that Twitter wasn't having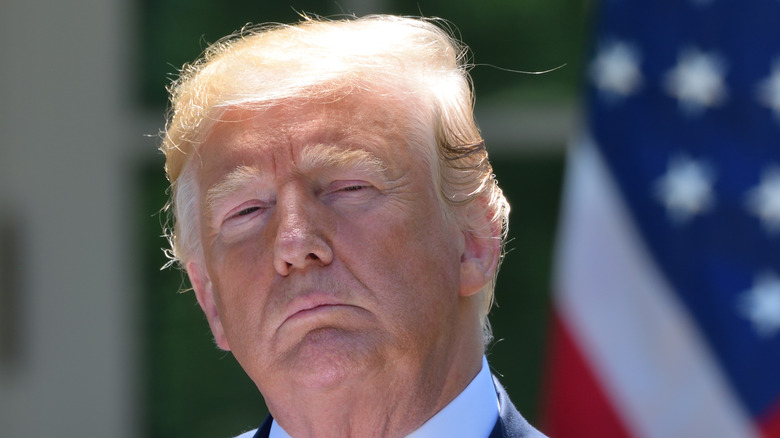 Evan El-Amin/Shutterstock
In a recent interview former president Donald Trump did with GB News' Nigel Farage, he made many bizarre comments. Trump is buddies with Farage, and the interview opened up with the host stating, "This interview will not disappoint you, no holds barred," (via Indy100).
The interview was a bit odd, with Farage stating, "A lot of Americans — as you rightly say — a lot of Americans are genuinely concerned about election integrity," adding, "You did well with your base — phenomenal, I've never seen support like it." It was an interesting approach from the start. However, things got especially weird when Trump said, "The withdrawal from Afghanistan, I think, was the most embarrassing moment in the history of our country." This comment got Twitter talking.
Twitter users started calling out Trump for his hypocrisy, stating that withdrawing from Afghanistan was something he started before he left office. One user said, "Yeah we know. It was his idea," while another chimed in with, "The one that he instigated?"
Other tweeters shared, "Really? It was his decision, his mandate he also got the leadership of the Taliban released and enabled them to overthrow Afghanistan Biden managed to negotiate a later date but that mess is all Trump's or do we need to share the picture of him with the leadership," and, "No, his presidency was the most embarrassing moment in the history of the country."
As always, Twitter was not afraid to call out Trump for his comments!