Laverne & Shirley Star Eddie Mekka's Net Worth At The Time Of His Death Might Surprise You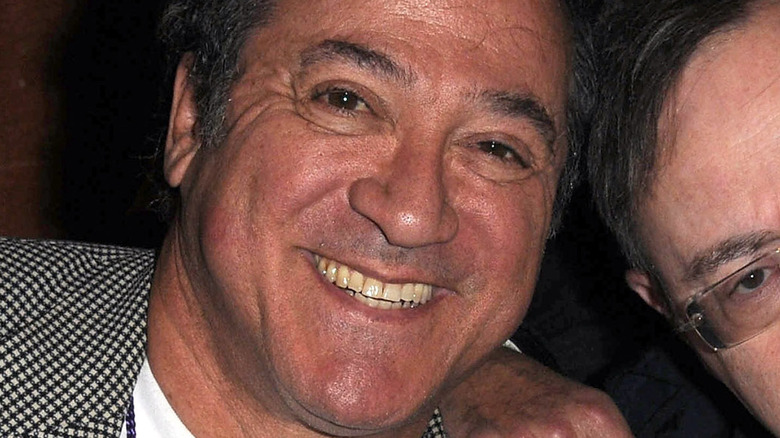 Albert L. Ortega/Getty Images
Eddie Mekka, the actor best known for his portrayal of Carmine on the award-winning sitcom "Laverne & Shirley," has died at the age of 69, according to his Facebook page. "Eddie passed away peacefully in his Newhall, California home on Saturday, November 27, 2021 ... We welcome you to share your memories of Eddie and your condolences to his family on this fan page," the post read. The actor had recently been hospitalized for blood clots, according to his brother Warren Mekjian, and his friends were concerned when they hadn't heard from him in a few days (via TMZ)
Fans have already begun posting tribute videos and reminiscing Mekka's lively role as Shirley's (Cindy Williams) boyfriend, "Big Ragu." Williams herself tweeted, "My darling Eddie, A world-class talent who could do it all. I love you dearly. I'll miss you so much. But oh the marvelous memories," along with a compilation video of Mekka's performance (via YouTube). Read on to know Mekka's many jobs and talents that made him an icon of the '80s.
Mekka was a passionate performer
Eddie Mekka brought his character on "Laverne & Shirley" to life with song and dance: "On 'Laverne & Shirley', because I love to sing Tony Bennett, we worked in a recurring bit where, whenever Laverne is mad at Carmine, all he has to do is sing the line from the Tony Bennett song, 'You know I'd go from rags to riches ...' and she forgives him," he had said to Boston Globe in 2014.
Considering his rise to fame began in Broadway (he was nominated for a Tony Award), it made sense that Mekka wanted to integrate music in the eight seasons of the show (via Forbes). Before his work on stage, Mekka taught music at the Worcester County Light Opera and his roles post "Laverne & Shirley" also included musicals "Grease" and "Hairspray." According to Celebrity Net Worth, Mekka's work across stages and screens gave him an estimated net worth of $500,000. The actor's noteworthy performances and infectious energy will be missed by his fans and Broadway stages.