How Travel Requirements Have Changed Because Of The Omicron Variant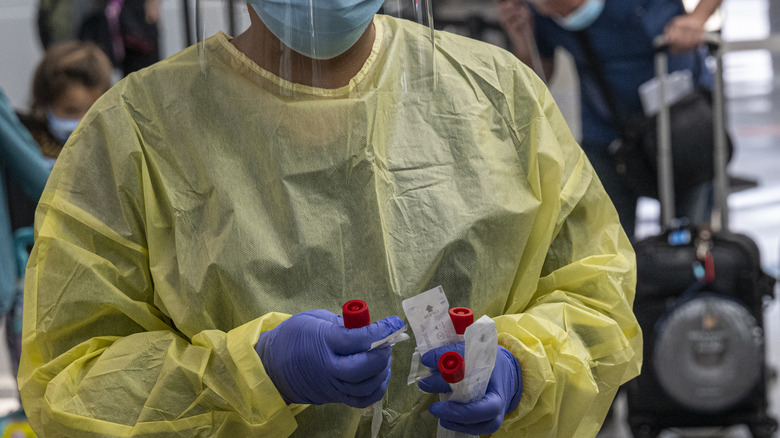 Bloomberg/Getty Images
When South African scientists announced they had uncovered a new COVID-19 variant the World Health Organization called "Omicron," we all thought we had a few weeks to work out whether this mutation would become as infectious and as devastating as the Delta variant was this past summer. Now it appears that the Omicron variant is so contagious, we no longer have the luxury of time to find out if it is as potentially disruptive as the Delta variant, especially as cases have already been identified in at least five states (via Reuters).
Given this, the Biden administration has had to come forward with a new plan that is meant to try to control the spread, especially since it is bracing itself for another COVID winter surge. In announcing his administration's plan, President Joe Biden was clear about what it wouldn't entail. "It doesn't involve shutdowns or lockdowns, but widespread vaccinations, and boosters, and testing and a lot more," Biden said at a December 1 press conference (via CNN).
International travelers now need tests regardless of vaccination status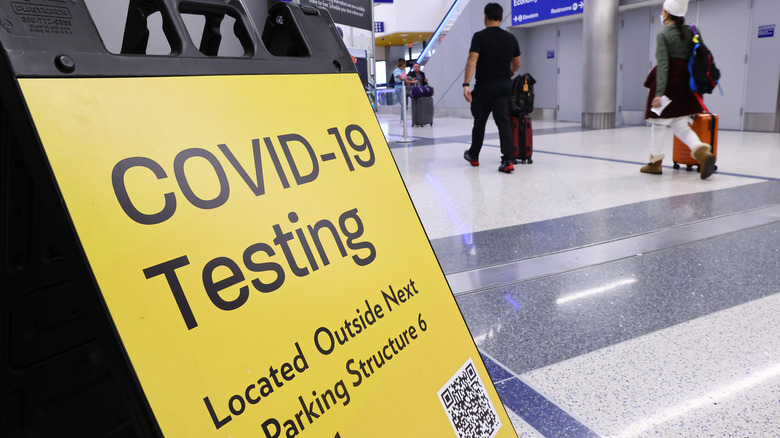 Mario Tama/Getty Images
The president says several measures will be put in place to try to stop the spread of the variant, which appears to be more contagious than the older Delta variant. All international passengers are now required to take a COVID-19 test within a day of their scheduled departure, regardless of vaccination status (via Reuters), although no changes have been announced for those who travel on domestic flights (via The New York Times). 
Masks will also continue to be required aboard public transportation, including planes and trains, until March 18, and doctors like David Freedman, president-elect of the American Society of Tropical Medicine and Hygiene, says its best to wear N95 or KN85 masks in-flight, instead of homemade or cloth masks.
The government is also encouraging all eligible Americans to either get vaccinated or to get a booster shot. To make it easy to test for COVID-19, home test kits will be made available free of charge for those without insurance.
Even as he warned that the infection rate was expected to spike again this winter, Biden said the country would "fight this variant with science and speed, not chaos and confusion," according to another Reuters report. "The actions I'm announcing are ones that all Americans can rally behind and should unite us in the fight against COVID-19."