Lindsey Graham's Call For Joe Biden To Be Impeached Has Twitter In A Tizzy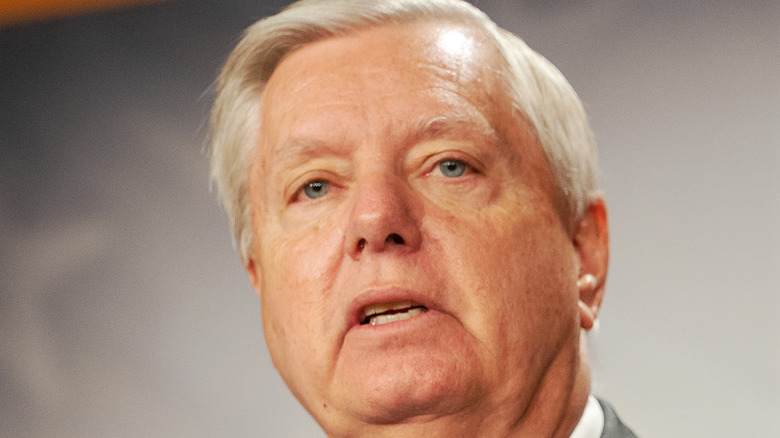 Bloomberg/Getty Images
A lot has happened since the GOP's Senator from South Carolina, Lindsey Graham (above), stood on the floor of the U.S. Senate after a deadly riot engulfed the U.S. Capitol on January 6. "Trump and I, we had a hell of a journey," Graham said on the Senate floor the night of January 6 after lawmakers reconvened following the violent uprising at the Capitol triggered by Trump supporters earlier in the day. "I hate it being this way. Oh my god I hate it ... but today all I can say is count me out. Enough is enough. I tried to be helpful" (via The Hill).
Today, Graham is known as the man who declared on Fox News on May 10 that Trump "was the most consequential president for national security since Ronald Reagan, he secured the border, he cut our taxes, he brought a new attitude of being an American and the people have chosen him, not the pundits," and that "to try to erase Donald Trump from the Republican party is insane. And the people who try to erase him are going to wind up getting erased" (via Newsweek).
So it should come as no surprise that Graham went on Newsmax TV (on YouTube) to call out an old friend, President Joe Biden, who referred to him as "a personal disappointment."
Graham had a litany of complaints against Joe Biden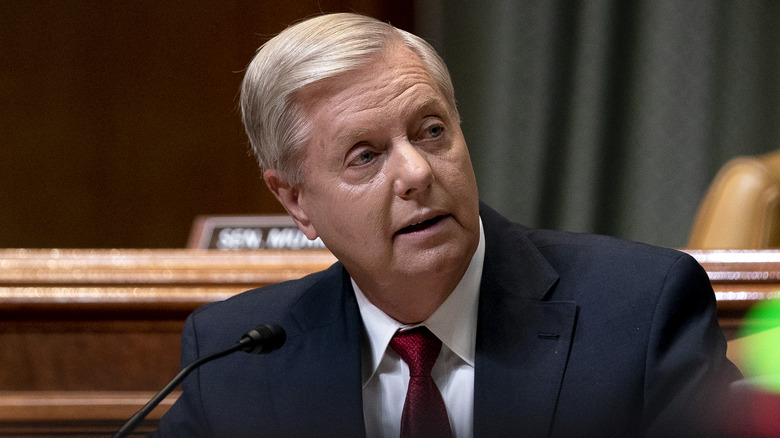 Pool/Getty Images
During an appearance on Newsmax, Graham claimed that Biden had "turned every situation he's touched into complete chaos. And under his own standard, he should leave. It was derelict in his duties allowing the chaos in Afghanistan to come about. He withdrew without a plan, he hasn't secured the border, and I think he deserves to be impeached based on what he did in Afghanistan alone" (via YouTube). Other than the Afghanistan troop withdrawal, Graham complained about the vaccine rollout, which has been hampered by GOP states, as well as rampant inflation, which is happening globally, thanks to the pandemic (via Vox).
Twitter pounced on Graham for his fair-weather friendship, particularly since The New York Times reported in August that Graham had apologized to Biden for going after Biden's son Hunter. Graham claimed he was simply playing to Trump's supporters. 
Biden supporters took to social media to defend the president. One tweeted that "@LindseyGrahamSC is just frustrated that @POTUS passed an infrastructure bill, that the economy is doing so well, that unemployment is down, and that he is making progress on the pandemic." Another posted: "Trump was the chaos man ... and we voted him out. President Biden is doing an amazing job," while a third Twitter user added, "And Fox News is determine(d) to make sure we don't know it."