Meagan Good Opens Up About Her Friendship With Her Harlem Co-Stars - Exclusive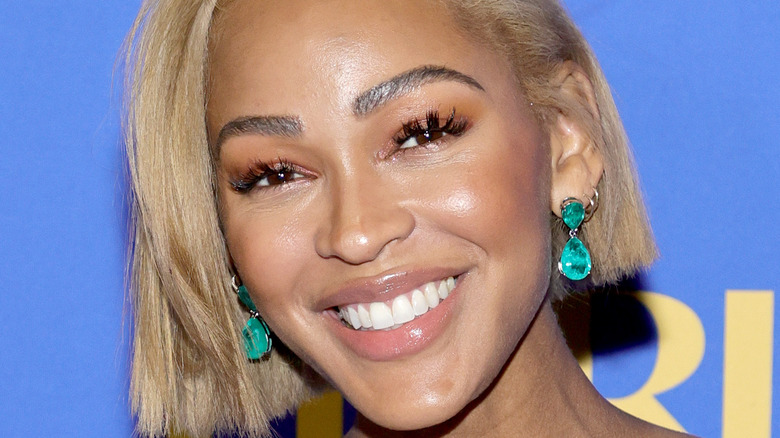 Jamie Mccarthy/Getty Images
We may receive a commission on purchases made from links.
Nothing is better for winter than cuddling up with blankets and hot cocoa and binging on a good comedy series. Thankfully, Prime Video has us covered this year with its latest series, "Harlem." This series centers on Meagan Good's Camille, an anthropology professor at Columbia University, and her friends who, together, take on Harlem — and life. Per Prime Video, the series follows four "stylish & ambitious best girlfriends in Harlem NYC: a rising star professor struggling to make space for her love life; a savvy tech entrepreneur always dating someone new; a no-filter singer; and a hopeless romantic fashion designer." In addition to Good, the series stars Grace Byers, Jerrie Johnson, and Shoniqua Shandai. 
We had the opportunity to chat with Good, who explained that "Harlem" is ultimately about sisterhood. "A lot of this show is really like a love letter to sisterhood, and to try, and those friendships that last a lifetime where you can truly, truly be your most authentic self," she said. Likewise, she explained how her real-life friendships with her co-stars matches their characters' relationships in the Tracy Oliver-created series.
The sisterhood in Harlem matches Good's real-life sisterhood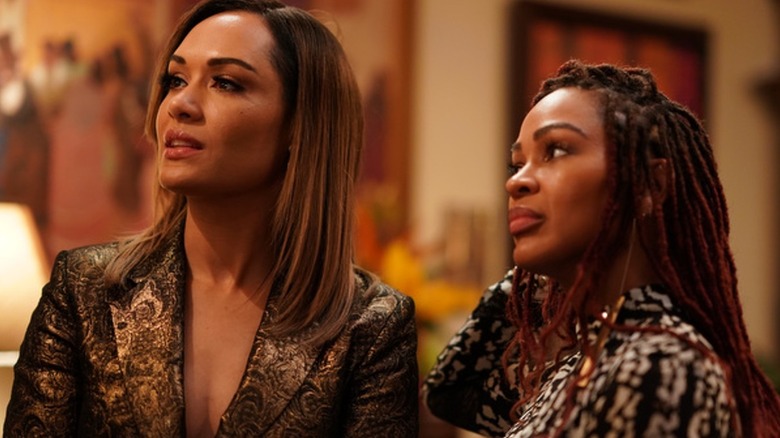 Sarah Schatz
Sometimes work opportunities can bring people together, and such was the case for Meagan Good in Prime Video's "Harlem." When chatting with Good, she explained to us that her relationships with her co-stars prospered. She met some co-stars for the first time through filming this series, while she knew others before. "Grace [Byers] I already knew for a few years prior," she said. "And she and I met once on the phone like five years prior, and she had said, 'Girl, I am claiming that we're going to do a show together in Jesus' name.'" Now, she has! "And then Jerrie [Johnson], I met the day that I went in and tested, and immediately this group of women, we have become sisters in real life," she added.
Their community extended past work hours, too. According to Good, this sisterhood would have dinner together and generally hang out after filming. "We get off work and Grace is coming down to my apartment or I'm going up to hers or Jerrie's coming over and I'm cooking spaghetti," Good explained. "Or me and Shoniqua [Shandai] were talking about going to karaoke, whatever it may be. And that's one of my favorite parts about the show." 
Strengthened relationships like the ones shared between Good and her co-stars translate on television and create a better show, nonetheless something fulfilling for them to take from the experience of filming the series. "Harlem" will undoubtedly prove heartwarming and enriching.
You can catch Meagan Good and the rest of the cast on the premiere season of "Harlem" on Prime Video now.