The Holiday Tradition You May Not Be Able To Keep This Year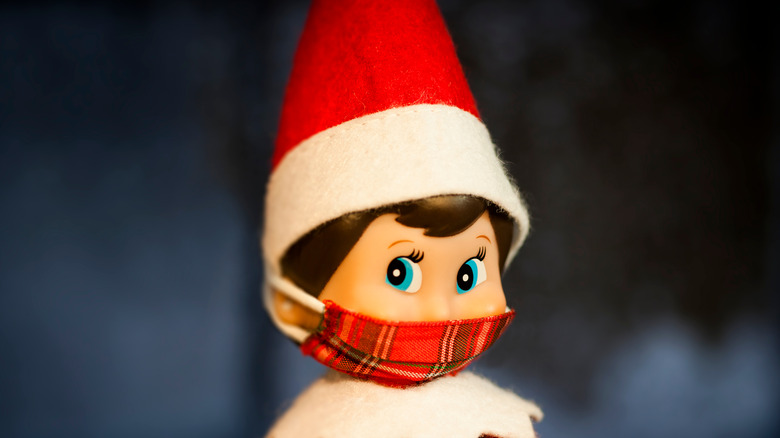 Willrow Hood/Shutterstock
What began as a simple self-published book by a mom and daughter back in 2005 has turned into a holiday tradition for millions — not to mention a huge industry (via CNBC). The Elf on the Shelf is a Christmas ritual involving a toy "Scout Elf" that watches over households in weeks before December 25 and reports any naughty or nice activity to Santa every night (via Elf on the Shelf). The fun for kids — and often a headache for parents — is that the Elf is supposed to appear in a different spot in the home every morning, often with evidence of some secret mischief or merrymaking. 
Since its debut, the official Elf on the Shelf product line has grown to include several "Elf Pets" who also act as Santa's helpers, and "Elf Mates" who come from the North Pole to do specific types of good deeds. It also received the distinct honor of being represented as a balloon at the Macy's Thanksgiving Day Parade (via YouTube) for an impressive nine years, from 2012-2020 (via Macy's Thanksgiving Fandom).
Parents got a bit of a reprieve last year when someone came up with the brilliant idea of making the Elf on the Shelf go into "quarantine" for the entire Christmas season. This eliminated the need to scramble every night to find a new spot for the toy. This year, however, parents face a different dilemma: If they don't already own an Elf, finding one could be tough.
Supply chain issues are making the Elf on the Shelf harder to find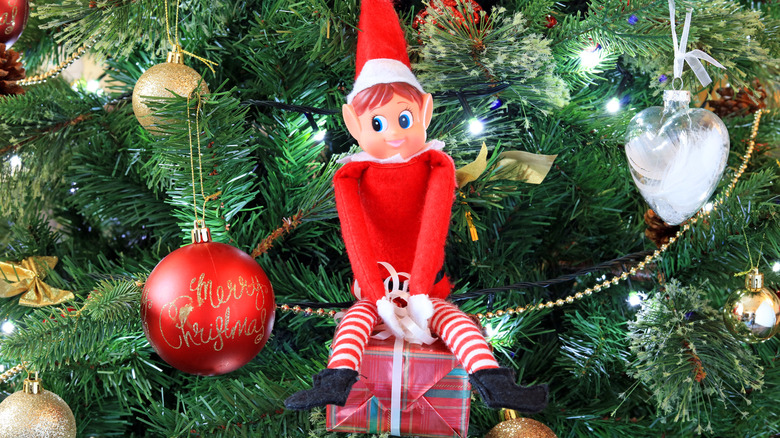 Dean Clarke/Shutterstock
Because the Elf on the Shelf is a strictly seasonal item, the company typically places their manufacturing orders in early spring to ensure that enough product gets to stores and online outlets. This year, knowing that COVID-19 might cause delays, the company's co-founder and CEO Christa Pitts placed her orders even earlier than usual (via CNN Business). But the combination of shortages in labor and materials, plus the backlog of cargo ships waiting for unloading at major ports, has created an Elf shortage. To speed up the delivery of inventory, the company has used air freight to ship about 10% of its toys.
Still, families who want to start the Elf on the Shelf tradition this year will have to hurry — and perhaps spend more than they intended. As of this writing, the toys and accessories were still available on Amazon, with prices ranging from $30-50. They also appear to be in stock at places like Target and Walmart, though supplies are likely limited.
You can also find similar elf dolls elsewhere — like these from the Dollar Tree. The true Elf on the Shelf toys are the only ones that specifically claim to report directly to Santa. If you're after the official licensed toy, you'd be wise to act now. (Too late? You'd better not pout — the Elf goes back to the North Pole on Christmas Eve, and you can try again next year.)