The Truth About Actor Martin Kove's Experience With Martial Arts
Ovidiu Hrubaru/Shutterstock
Actor Martin Kove's name has been synonymous with legendary villain John Kreese since the '80s, when "The Karate Kid" debuted and a whole generation of kids rushed to the nearest dojo to learn how to kick and punch with authority. Kove reprised his role in the hit Netflix show "Cobra Kai," per Entertainment Weekly, which has breathed new life into the character as fans are given a glimpse of who Kreese is underneath his stern exterior. As Kove told the outlet, "In discussing Kreese's backstory, I have to say the creators [Josh Heald, Jon Hurwitz, and Hayden Schlossberg] were very perceptive." 
Though the actor has enjoyed a lengthy and varied career in Hollywood, Kreese remains his most well-known role. And this is fine by him, as Kove admitted to Men's Health in 2020 that he's not quite sure where Kreese ends and he begins. "John Kreese surfaces if someone, per se, violates me, or says they could do something and they don't do it," the actor quipped. Being Kreese also gives Kove an excuse to stay fit and healthy, though he's more likely to hit the gym than the dojo. So, does Kove only play a martial arts expert onscreen, or does he have IRL experience too?
Martin Kove doesn't just play a martial artist onscreen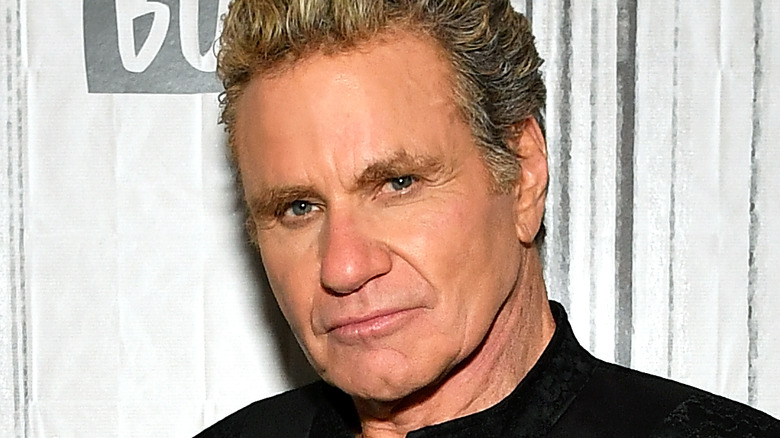 Slaven Vlasic/Getty Images
Actor Martin Kove shares a deep connection with his most famous and enduring onscreen character, John Kreese. As TV Overmind reports, the "Cobra Kai" star has studied various martial arts throughout his life (even outside of his acting career) including Shihan Tak Kobota, Kendo, and Tae Kwon Do. Per the outlet, Kove actually earned a black belt in Okinawa-te, too. In a 2014 interview with Kung Fu Kingdom, the actor detailed, "I'd studied with Shihan Tak Kobota as far back as '82 or '83 when I was making a film 'The Line of Ireland' which was about Brian Buruma, who was King of Ireland. To develop my prowess with an axe, he'd taken me through a lot of Kendo and [Tae Kwon Do]." Kove also pointed to his black belt in Okinawa-te, "which is a different style completely which I used in a movie called 'Steele Justice'."
In later years, Kove trained with Pat Johnson, the stunt coordinator on the original "Karate Kid," who'd studied under legendary action star Chuck Norris. Per TV Overmind, Johnson put Kove through his paces for three-hour stints each day during the intense shoot. It's safe to say that the beloved actor has put in the time to accurately portray a martial arts master both onscreen and off.