The Kamala Harris Staff Departure Controversy Keeps Getting Messier And Messier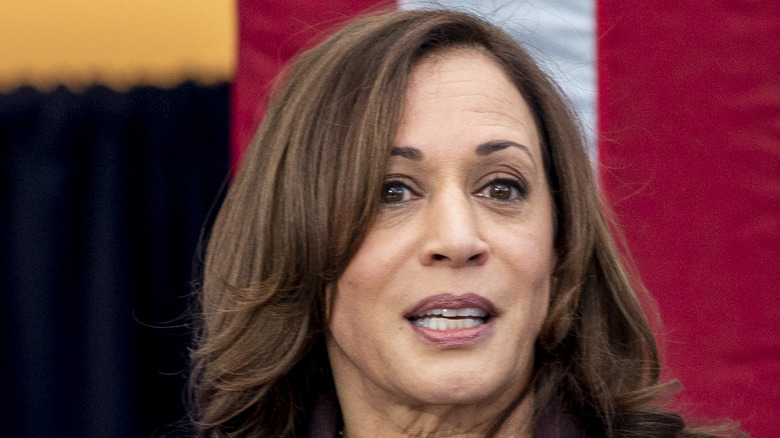 Bloomberg/Getty Images
For months, there have been rumbles of a shake-up in Vice President Kamala Harris' staff, rumors which were quashed her chief spokesperson Symone Sanders. Now, Sanders, along with communications chief Ashley Etienne, as well as staffers Peter Velz, the director of press operations, and Vince Evans, the deputy director of the Office of Public Engagement and Intergovernmental Affairs (via Insider) are calling it a day and leaving the Vice President's office. 
Sanders has tried to set the record straight by telling The Washington Post that she's not leaving because she's unhappy — she's doing it because she needs a break. After all, she's been doing the same thing for three years, and she has said she feels the pressure of being the voice and the face of both Harris and President Joe Biden not just during a presidential campaign, but during a global pandemic too.
Harris: 'I love Symone'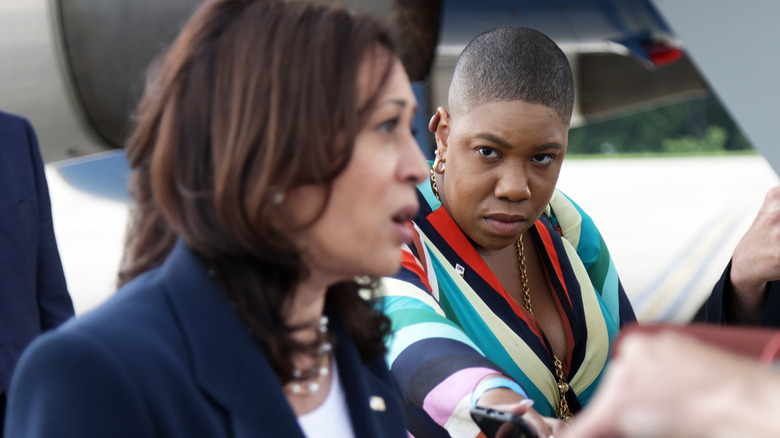 Alex Wong/Getty Images
The Vice President only had kind words to say about her soon-to-be ex communications chief. "I love Symone; I can't wait to see what she will do next," Harris says. "I know that it's been three years jumping on and off planes going around the country and she works very hard, and I can't wait to see what she'll do next. I mean that sincerely" (via Axios). 
Critics of the vice president don't think Sanders' positive comments change the fact that Harris can be a demanding, difficult boss who has been that way since the beginning of her career as a public official. Democrat Gil Duran, who worked for Harris in 2013, has even told The Washington Post that: "One of the things we've said in our little text groups among each other is what is the common denominator through all this and it's her." Separately, Duran wrote in an op-ed for the San Francisco Examiner that the supposed chaos that is unfolding in Harris' office is familiar to those who have tracked her career from its nascency.
Former aide: Harris is 'a tough boss'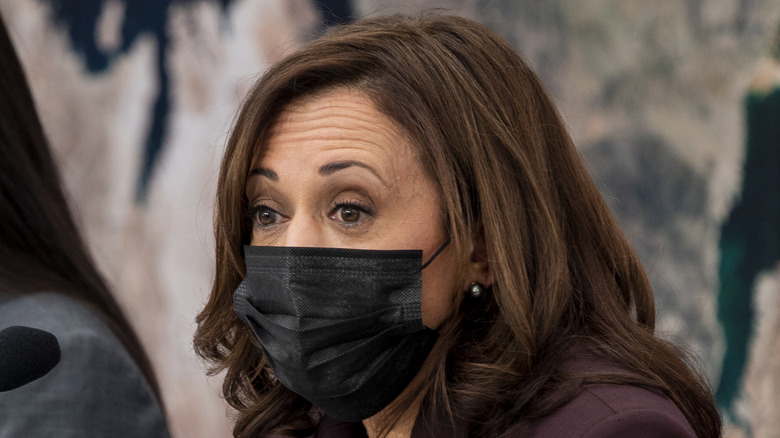 Bloomberg/Getty Images
There may be former Harris staffer that have left feeling unhappy, but there are also those who say she's a tough boss, but no more than that. Sean Clegg, who has advised Harris also tells The Washington Post that: "People personalize these things. I've never had an experience in my long history with Kamala, where I felt like she was unfair. Has she called bulls***? Yes. And does that make people uncomfortable sometimes? Yes. But if she were a man with her management style, she would have a TV show called 'The Apprentice.'"
In any case, White House spokeswoman Jen Psaki, who herself is leaving in the not-too-distant future, is defending the vice president, saying: "In my experience, and if you look at past precedent, it's natural for staffers who have thrown their heart and soul into a job to be ready to move on to a new challenge after a few years."
Psaki added that the departures presented "an opportunity, as it is in any White House, to bring in new faces, new voices and new perspectives."