Royal Expert Says Meghan Markle Rejected Kate Middleton After Lilibet's Birth - Exclusive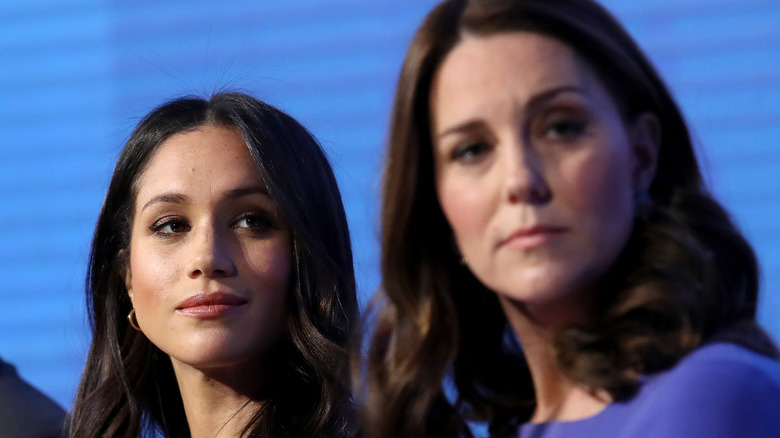 Chris Jackson/Getty Images
Prince Harry and Meghan Markle's relationship with Prince William and Kate Middleton seems to have drastically changed over the years. Since Harry and Meghan announced their exit from the royal family in early 2020, things between the Sussexes and the Cambridges have reportedly been rocky, per Us Weekly.
"[Kate and Meghan] were never that close, but the reason they're not speaking is because of the rift between Prince Harry and Prince William," a source told the outlet. "Harry and William have communicated sparingly over the last year, but none of their communications have been friendly in quite some time. There is real animosity that the brothers have toward one another, and that has spilled over to Meghan and Kate's relationship, making it very hard for them to be friends or even friendly."
However, after Harry and Meghan welcomed their second child, daughter Lilibet Diana, in June, it was said that Kate did attempt to reach out. "Kate has been reaching out to Meghan a lot more since [Lilibet] was born, she's sending [notes and] gifts and trying to build up a relationship," another source told the magazine. "The firm has been instructing staffers to reach out more to Harry and Meghan to get them to soften a bit," the insider added.
However, Kate's attempts to extend an olive branch to Meghan may have been rejected as the Duchess of Sussex reportedly didn't respond to her sister-in-law after she reached out, per Express.
Lilibet's birth was an emotional time for Harry and Meghan says royal expert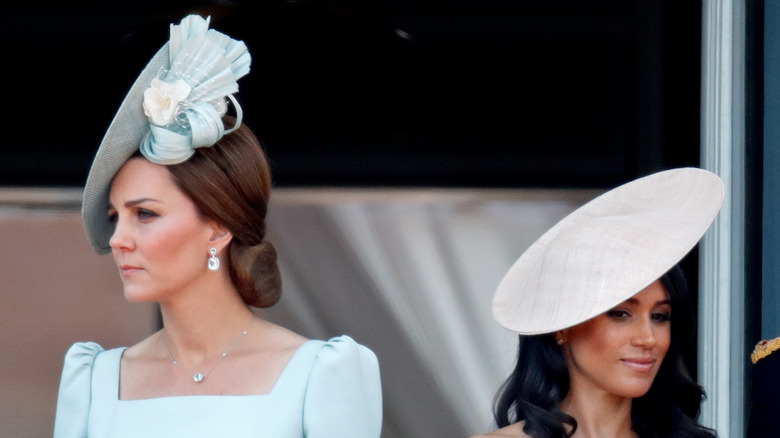 Max Mumby/indigo/Getty Images
Royal expert Kinsey Schofield claims that Kate Middleton made multiple more than one attempt to reach out to Meghan Markle after the birth of her daughter, Lilibet, back in June. "Kate, kind of really aggressively reached out to Meghan after the birth of Lili and was denied," she said. However, Meghan allegedly rejected Kate's gestures, choosing not to engage with Kate amid the ongoing tension that she and Prince Harry were experiencing with the rest of the royal family (via Express).
However, Schofield tells The List exclusively that she doesn't believe Meghan's actions were meant to hurt Kate. Instead, she claims that Meghan may have simply had too much on her plate at the time to respond to Kate during a turbulent time in the family. "Meghan's motives were likely not malicious. Lili was a rainbow baby and her birth was an emotional time for the Sussexes. Some might say the gesture was too little too late but I imagine that the Sussexes were overwhelmed and excited by baby number two," she explained.
In addition, Schofield is hopeful that Kate and Meghan, as well as their husbands Harry and William, will eventually reconcile. "I don't know if Kate and Meghan will ever be 'friends' because their personalities are so different (as well as their paths) but I do think time heals all wounds and once William and Harry come together, we will see their wives friendly again," she says. "The breakdown of the relationships started with William and Harry, specially Harry, and hopefully Harry will inevitably initiate the healing. He inherited his sweet mother's stubbornness though so don't hold your breath!"
Both Meghan and Kate keep their circles small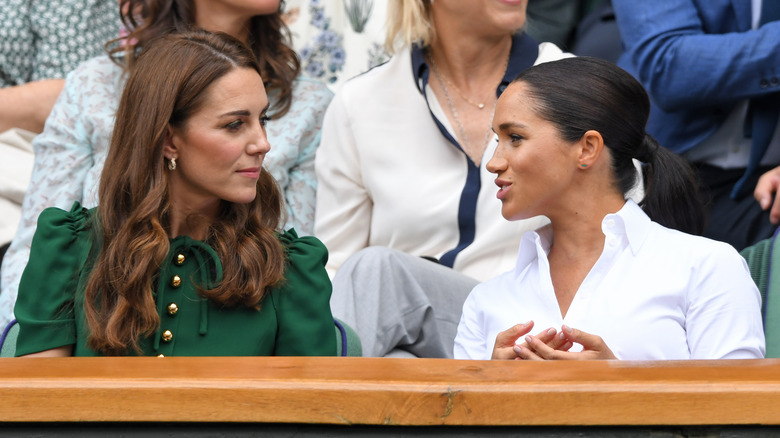 Karwai Tang/Getty Images
Journalist Kinsey Schofield told The List exclusively that upon speaking with royal expert Christopher Andersen — author of "Brothers and Wives: Inside the Private Lives of William, Kate, Harry, and Meghan" — she feels that both Kate Middleton and Meghan Markle are very guarded and private when it comes to their inner circles. 
"Christopher Andersen made a good point during our discussion and I agree with it, Kate has maybe half a dozen people in her life that she trusts and holds close to her," Schofield said. "Her distance with Meghan was never personal. It is a protective barrier she's built around herself after years of being hounded by paparazzi, having her phone hacked by tabloids, and having every mannerism critiqued by the public. Her guarded nature protects her family and their future," she explained. "We have seen Meghan's circle of friends shrink as she becomes more protective of her family too. They do not have the clear path that the Cambridge family has. They are focusing on their future in America because they believe they have so much more to prove," she added.
The past few years have been a period of growth for both the Cambridges and the Sussexes, but many fans are still holding out hope that the once nicknamed "Fab Four" (via Cheat Sheet) will be able to get past their differences and lead the royal family into the modern age. Perhaps, a connection between Kate and Meghan could be the first step to reconciliation.