Sister, Sister Star Marques Houston Shares Exciting Family News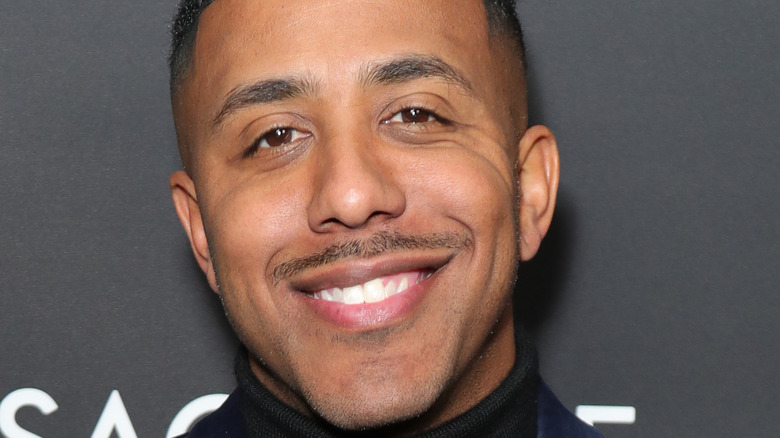 Leon Bennett/Getty Images
Marques Houston, known for his role on "Sister, Sister," is all grown up and sharing some big news.
According to Rolling Out, Houston actually rose to fame by being part of the boy band Immature. After playing Roger Evans on Tia and Tamera Mowry's show between 1994 and 1999, though, he went on to appear in works such as "Good Burger," "Fat Albert," and "You Got Served" (via IMDb).
In March 2019, Houston got engaged to Miya Dickey, and the two got married in August 2020, as reported by Us Weekly. Before their wedding, though, the actor turned to Instagram to clear up some things about the age difference between them. "With all that's going on in the world, my love life shouldn't be a topic. But since it is, let me just give y'all the facts so you don't have to 'allegedly' believe or create rumors," he wrote on Instagram. "Miya and I didn't start dating until she was an adult. We fell in love and got engaged in March of 2019. My dad Michael loves her, and the people I am closest to all love her as well. Most importantly we have Jehovahs blessing."
After tying the knot in 2020, Marques Houston and Miya Dickey have now welcomed a child into the world
When speaking with Rolling Out, Marques Houston and Miya Dickey shared that they met through a mutual friend at a Jehovah's Witnesses convention. They also gave further information on their relationship and their ages, which had both been a topic of discussion since their engagement. "We definitely didn't date until I was 18, and when I was 19, we got engaged," Dickey said. "The internet has my birthday totally wrong. My date of birth is Oct. 7, 2000. For the record, I am currently 20 years old." Houston, on the other hand, turned 40 in August (via wealthypersons.com).
And on December 2, the couple had their first child together. They had not shared with the world that they were expecting, but they do, indeed, now have a daughter named Zara.
"Miya chose the name Zara because she just felt like it was exotic," Houston told Us Weekly. "She just wanted our girl to have a memorable name that wasn't the average name. It still feels surreal, like, it hasn't set in yet that we are actually not just babysitting one of our friends' kids. But not getting any sleep definitely reminds us that we are now parents."