The Best Apple Cider Vinegar Hair Products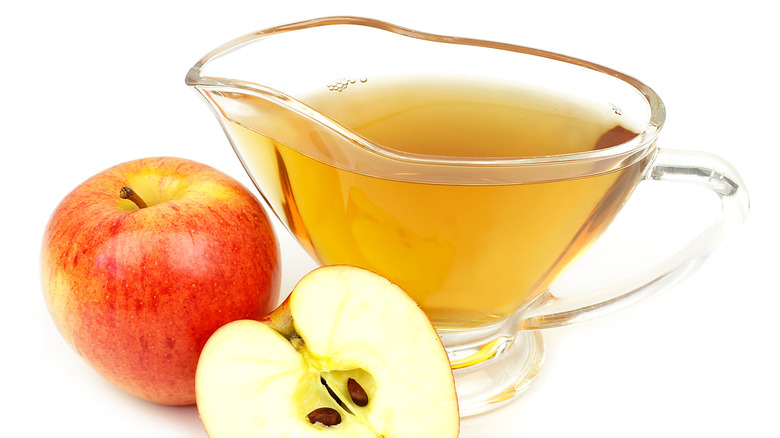 kellyreekolibry/Shutterstock
Delightfully tart, apple cider vinegar is a healthy choice for lowering blood sugar and may help with weight loss (per Healthline). But apple cider vinegar is more than just tasty sauces and salad dressings. Known as ACV for short, this fermented multitasker can be used as a natural cleaner, and it's a powerhouse when it comes to your beauty regimen.
ACV is an integral part of a host of hair care products. Made from fermented apple juice, it's full of B and C vitamins, which help strengthen your hair, according to Woman's Health Magazine. The acid in the vinegar also boosts hair's stamina. "The acids [malic and acetic] help cuticles to contract, increasing its shine and smoothness," cosmetic chemist Ni'Kita Wilson told Allure.
ACV works well with all hair types. Its smoothing ability is particularly useful in keeping curly and textured hair frizz-free. And if you're looking to relieve an itchy scalp, apple cider vinegar has antibacterial and anti-fungal properties that are ideal for the job (per Byrdie).
The original and beyond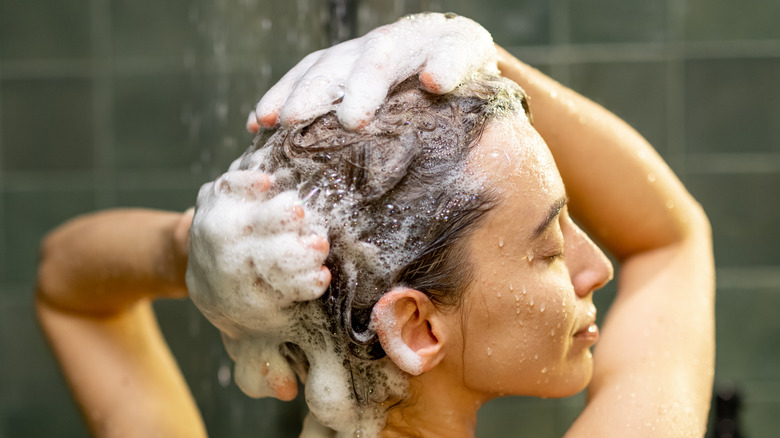 RossHelen/Shutterstock
If you'd like to try Apple Cider Vinegar au natural, head to your pantry or grocery and pick up a bottle of raw, unfiltered ACV. According to a celebrity hairstylist, mix 3-4 tablespoons with 1 3/4 cups water. Spray the solution on freshly shampooed tresses and scalp. Massage, rinse, and finish with your favorite shampoo and conditioner (via Women's Health). This mixture is also Jonathan Van Ness's go-to solution for dandruff.
If a pre-made version is more your style, Avalon Organics Smooth Shine Apple Cider Finishing Rinse is a top choice, according to mindbodygreen. Part of a three-step regimen, this rinse is intended to be used one or twice a week with Avalon Organics Apple Cider Vinegar Shampoo and Conditioner. Along with ACV, cinnamon oil and black cumin seed oil help hair achieve the ultimate in shine and a sleek, smooth texture.
For those who want a streamlined approach, mindbodygreen recommends Hairstory's New Wash Deep. Detergent-free, this one-step product takes the place of shampoo and conditioner. Apple cider vinegar removes oil and build-up, leaving behind revitalized, gorgeous hair. A subscription program with free, refillable containers lets you go green and cut back on plastic waste.
Massage, exfoliate, and more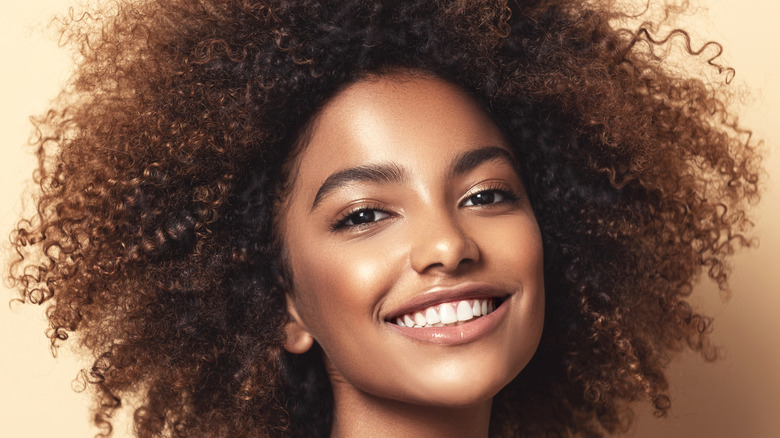 Sofia Zhuravetc/Shutterstock
For a rapid refresh, Allure suggests dpHue's Apple Cider Vinegar Dry Shampoo. Stow it in your bag for anytime use. Spray it on to clean hair, absorb oil, and extend the time between washes.
To banish build-up, try OUAI Detox Shampoo. According to Today, this shampoo will also allow you to wash less often. This deep-cleaning formula contains ACV to remove flakes and product build-up. As a bonus, chelating agents remove minerals from hard water, leaving hair soft, clean, and strong.
With a mixture of AVC, creamy shea butter, and a zingy dash of peppermint oil, Cantu's Apple Cider Vinegar Root Relief is on hand to soothe your scalp. This Allure-recommended product is designed with weaves, braids, locs, and extensions in mind. Just work a small amount into your roots, and leave it in to work its magic.
If you've looking to relieve a flaky, itchy scalp, try dpHue's Apple Cider Vinegar Scalp Scrub. Pink Himalayan Sea Salt and ACV combine to exfoliate and promote hair follicle health. This cleansing scrub is safe for color-treated hair. One or two tablespoons of product is rubbed in the hands and fingers, then massaged into the scalp. According to Allure's editorial assistant Jesa Calaor, the crystals melted down and felt more like a "moisturizing hair lotion." Part of the soothing moisture comes from avocado oil and aloe vera.
With so many great choices, find your favorite ACV hair product and show off your healthy, shiny hair.