Here's What Kelly Ripa Looks Like In Real Life Vs. Instagram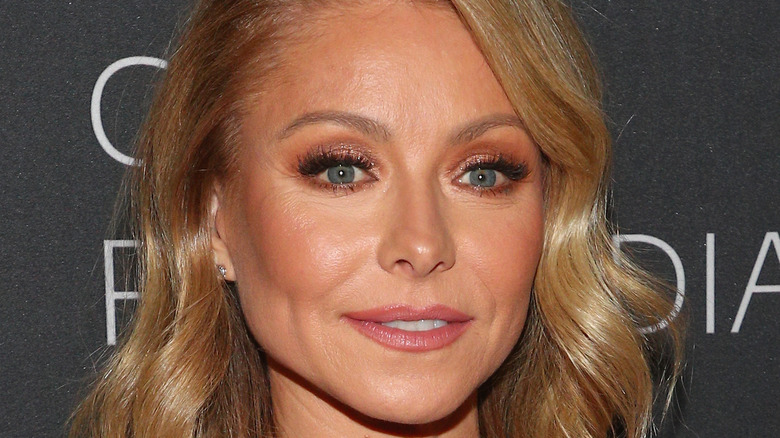 Astrid Stawiarz/Getty Images
Former soap star-turned-TV-host Kelly Ripa is married to Mark Consuelos, and their PDA-filled marriage often makes headlines. However, despite heading up the daytime talk show "Live with Kelly and Ryan" with her co-host Ryan Seacrest, Ripa isn't one to court the limelight. In June 2021, she appeared on Bethenny Frankel's podcast, "Just B," where she admitted she wished she could stop being on TV for good. "I've been saying that it's time to 'fold 'em' for at least 20 years," Ripa admitted, per Good Housekeeping. She continued, "For 20 years, 'I can't do it anymore. I can't do it. I'm too old for this crap. I can't do it. I need to find another career. I need to get off camera.'" 
Although the "Live with Kelly and Ryan" co-host is known for her bubbly on-air personality, she's never felt comfortable in front of the camera, as she shared with Frankel. "Being in front of the camera is not something I've ever enjoyed," she said, adding that she could easily do her job "for 200 years if it didn't happen on camera." Offscreen, then, she's got no issue going makeup-free. 
Kelly Ripa is frequently spotted completely makeup-free
Kelly Ripa might live the glamorous life of an A-lister, but she keeps things relatively real over on Instagram, where she frequently shares makeup-free selfies with her husband, Mark Consuelos. In July 2020, Ripa was spotted out and about with Consuelos in the Hamptons, per The Sun, and her husband looked considerably more upset about being photographed than she was. The happy couple was walking their dog at the time, coffee mugs in hand, and the TV host looked to be rocking wet hair. This isn't the first time Ripa has sported just-washed tresses, without seeming to care about it too much. A natural beauty, it's still comforting to know that Ripa doesn't feel the need to be constantly glammed-up.
The "Live with Kelly and Ryan" co-host has been asked many times about her beauty secrets, and Ripa is refreshingly honest about what works for her, particularly when it comes to aging. In a 2020 interview with NY Mag, Ripa pointed to luxurious products, like Uma Oils Absolute Anti-Aging Face Oil. "I guess this is my anti-aging secret — this and Botox, if we're being honest," she shared. Acknowledging its hefty price tag, she reasoned, "It's my one luxury. It's pricey but worth it." Ripa applies the oil every morning and night, to keep her skin looking and feeling moisturized at all times. As a result, being snapped makeup-free is nothing.