The Real Reason Nancy Pelosi Will Never Forgive Donald Trump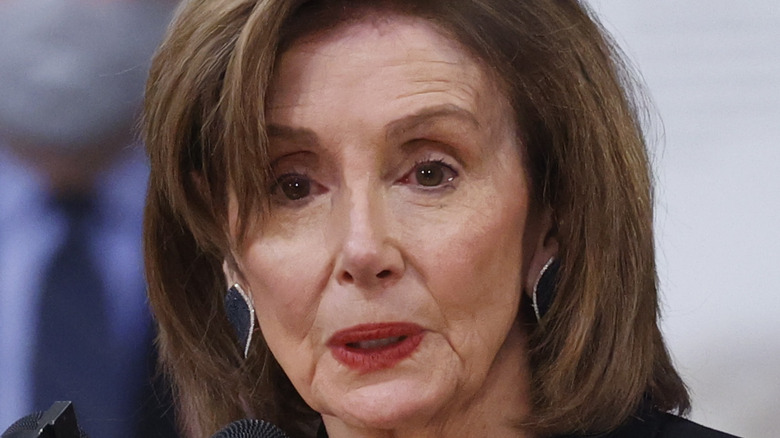 Pool/Getty Images
During the four years that Donald Trump was president, there was no love loss between him and Speaker of the House Nancy Pelosi. While she was just the House minority leader for Trump's first two years in office, a big Democratic win in 2018 gave Pelosi back the speakership, which she had already held from 2006 to 2010.
During Trump's second two years in office, when Pelosi was the speaker and second in line for the presidency herself, a viral photo of a White House meeting surfaced in which Pelosi was seen in a room full of men appearing to dress down the president — and she then made it her Twitter photo (via The Washington Post). 
Then, there was the historic moment when Trump finished his 2020 State of the Union address and Pelosi pointedly ripped up her copy of the speech for the cameras and the world to see, later telling reporters she did it because it was all lies (via CNN). 
Still, there's one thing Pelosi will never be able to forgive Trump for — something that claimed American lives and almost claimed American democracy.
Nancy Pelosi cannot forgive Donald Trump for the events of Jan. 6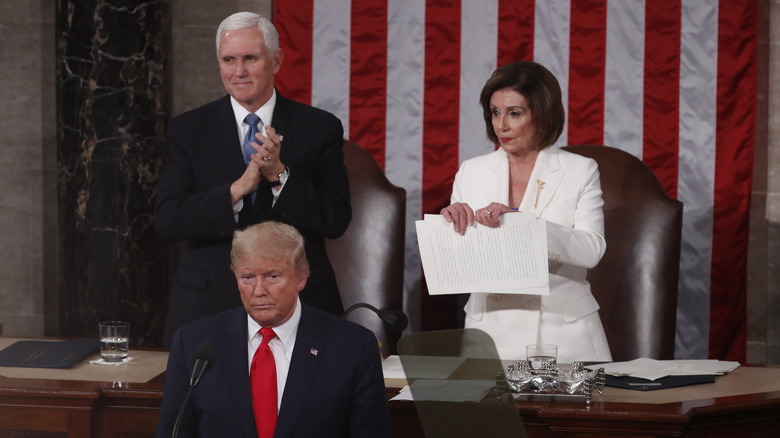 Bloomberg/Getty Images
It was nearly one year ago, as of this writing, when a mob of angry and violent Americans who supported Donald Trump stormed the United States Capitol in a riot that claimed the lives of five people and injured countless others (via The New York Times).
The president had given a speech at the ellipse in Washington, D.C., just moments before in which he urged attendees to march to the Capitol in what he dubbed his "Stop the Steal" rally. The name refers to his call to stop the counting of electoral votes that afternoon as he continued to lie that the election he lost months earlier had been stolen.
That's something Nancy Pelosi can never forgive Trump for, and she said as much at her weekly press conference on Dec. 8, 2021. "I'll never forgive the former president of the United States and his lackeys, and his bullies that he sent to the Capitol, for the trauma that was exerted on our staff," Pelosi said (via Yahoo! News). "You cannot erase that."
Perhaps that's why Pelosi pushed so hard to form a House select committee to investigate what really happened on Jan. 6 and what led up to the attack on the American electoral system. The committee has already interviewed hundreds of people, and Pelosi said she was "very proud" of the work they were doing.