Should You Be Using Apple Cider Vinegar In Your Hair?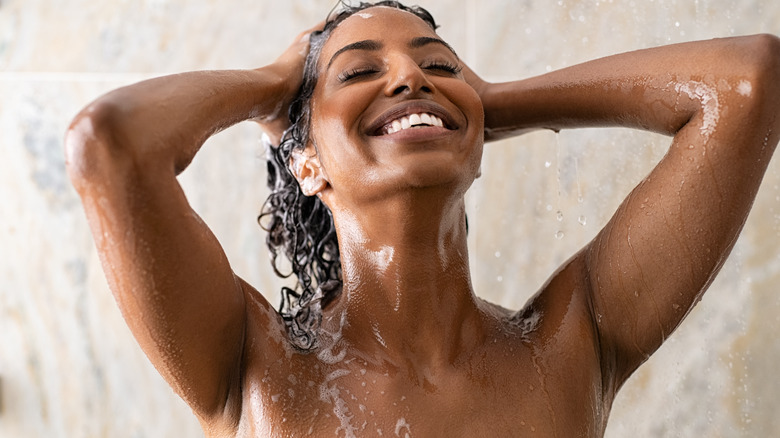 Rido/Shutterstock
Sometimes, it seems like apple cider vinegar is the answer to all of our problems. For a while, everyone from YouTubers to celebrities like Kim Kardashian were dropping a quart of lemon and apple cider vinegar to their water glasses. ACV brand Bragg Live Foods saw their sales skyrocket around 2018, per the New York Post — and it may not slow down, considering the many health benefits of the ingredient.
Made with fermented apples, ACV has been used for centuries to treat ailments. According to Healthline, including apple cider vinegar in your diet can help you lose weight, reduce cholesterol, lower blood sugar and improve symptoms of diabetes. While research is still limited, the ingredient definitely has antioxidants — and we're always in need of those. 
Apple cider vinegar has even seen success in skincare — its astringent properties is said to help with acne — has led people to use it as a hair rinse. Read on to know if you should use apple cider vinegar in your hair and how you should incorporate it in your routine.
Using an apple cider vinegar in your hair can be especially useful if you have a dry scalp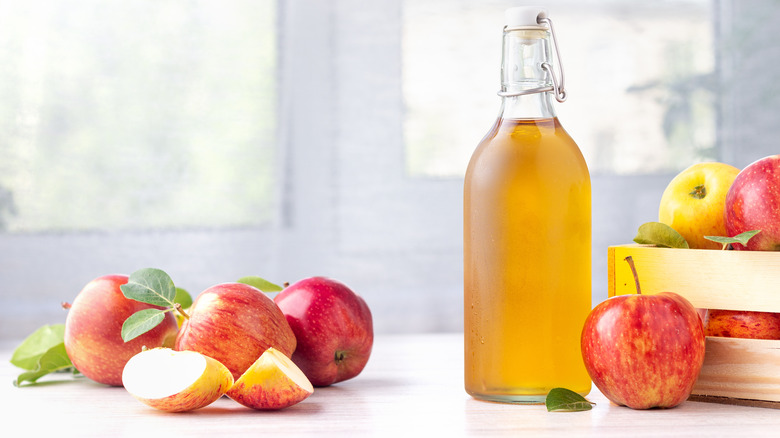 Dmitrii Ivanov/Shutterstock
It turns out, the benefits of apple cider vinegar extend to our hair as well as our skin. Certified trichologist Gretchen Friese spoke to Byrdie about its potential benefits, noting that "the antibacterial and anti-fungal properties of ACV help to keep the pH level of the scalp balanced." If you're someone with a dry scalp, apple cider vinegar can especially be useful, Friese said. "Dandruff is a buildup on the scalp that happens when too much yeast is present on oily areas of the skin," she explained. "Using a mix with ACV can help avoid that build-up." The removal of build-up can also unclog follicles, possibly reducing hair loss, according to Medical News Today. It can also help coat your hair, reducing frizz and softening it at the same time. Plus, it can even extend the longevity of your dye job.
All good things, clearly. To use apple cider vinegar on your hair, make sure you've washed your hair and you have a clean scalp to work with. Then, mix five parts water to one part apple cider vinegar and spray it on your scalp. Use your hands to massage it into your scalp and leave it on for a few minutes. Finally, rinse it with cool water, Byrdie notes. 
While this is a popular treatment that seems to be safe, make sure to speak with your dermatologist before you use it.