The Best Shoes For Treadmill Walking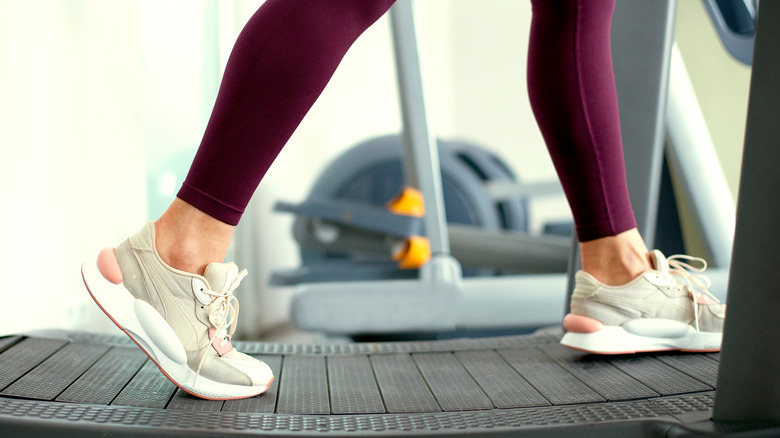 Miss Mia Mia/Shutterstock
It's that time of year again. Temperatures are dropping, the sun is setting earlier, and the roads are getting slick with snow. Even outdoor enthusiasts rely on the treadmill during the winter months. Not only can you stay dry and warm, walking on a treadmill has perks, like an adjustable incline and shock-absorbing surface. They are also ideal for training purposes, like tracking speed, heart rate, and calories.
Even though walking on a treadmill is easier on your body than on the pavement, it's still important to consider a pair of shoes that offers adequate stability and comfort to support your joints and promote healthy alignment. Miguel Cunha, podiatrist and founder of Gotham Footcare in New York City, explained to NBC News, "It is important to pick a shoe that offers as much durability and protection as possible without sacrificing comfort or flexibility." As far as fit goes, it's important to remember that everyone's foot is different, and sizing can vary across brands. Thankfully, online shops have made buying and returning shoes a breeze, so you can easily send them back if they don't work. To ensure the best fit, Cunha shared that the tip of your thumb should fit between the end of the shoe and the end of your longest toe. Also, making sure the toe box is wide enough to wiggle your toes slightly is a must.
Now that you know the elements of the perfect fit, check out our list of the top treadmill walking shoes for both men and women.
These are the best treadmill walking shoes for women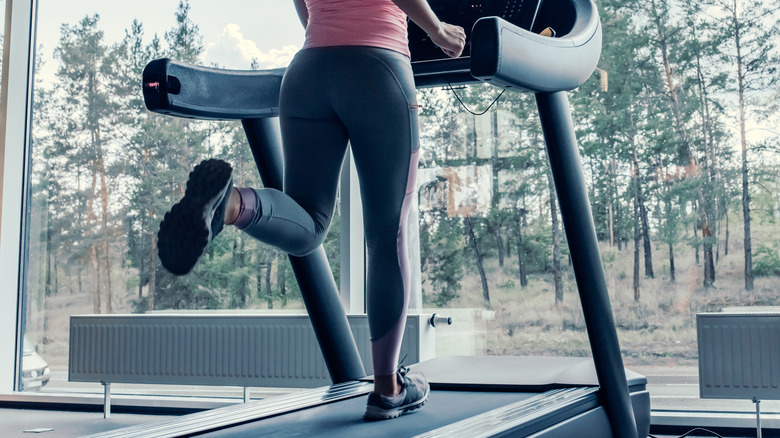 4 PM production/Shutterstock
Since the athleisure trend isn't going anywhere anytime soon, our top women's treadmill shoes will satisfy function and fashion needs. Who doesn't like a little bit of height? As the most cushioned shoe on the market, the Hoka Clifton 8 provides an elevated look and an ultra-comfortable footbed. The easy-step rocker design of the Clifton 8 is crafted from an open weave mesh, making them incredibly light and breathable.
According to Washington-based physical therapist Melissa Garcia, the Nike Air Zoom Pegasus is her pick for the best overall treadmill walking shoe. Garcia told LiveStrong.com, "The pegasus offers lots of responsive cushioning throughout the heel. For walking on a treadmill, they offer the user a good return on energy as they rock through each step." The sleek sneaker is also constructed with a seamless foam tongue, eliminating unwanted pressure on the top of the foot and a zippered FlyEase entry system for quick and easy access.
What are the best treadmill walking shoes for men?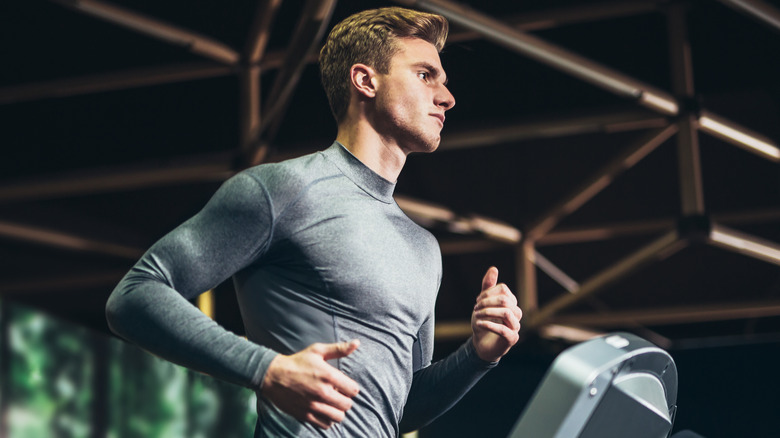 adriaticfoto/Shutterstock
Compared to women's styles, men's athletic shoes are typically built wider and cushioned to support greater weights. A 2019 study through The American Journal of Sports Medicine found that sufficient cushioning in accordance to body mass has been shown to prevent running and walking related injuries. So, a man's style could actually be an excellent option for all people with wider feet or larger bodies.
The Asics Gel-Kayano allows you to walk on the treadmill with confidence. With its structured design, snug heel fit, and well-cushioned sole, this is the perfect shoe for those looking for ankle support and premium comfort. The newest model has a redesigned mesh upper, keeping feet cool, while the sole is more flexible to help promote a more natural roll and a softer, smoother feeling as your foot lands.
Almost the opposite is the featherweight Saucony Kinvara 12. When you are walking long distances, the last thing you want is heavy feet. So, brisk walkers will love this model. They are flexible, cushioned, and have a super soft mesh upper. You'll turn to this comfy style even off the treadmill.
We hope this list motivates you to take a break from your beloved Peloton and include the classic treadmill workout into your 2022 fitness routine.