Inside Blue's Clues Star Steve Burns' Relationship With Donovan Patton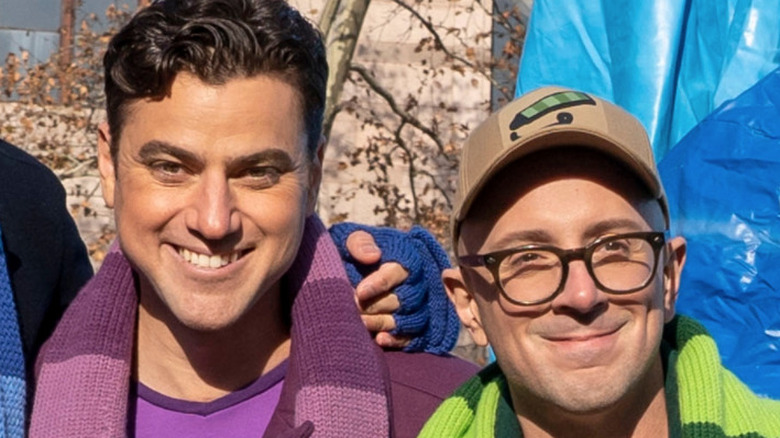 Ron Adar/Shutterstock
Ever since "Blue's Clues" first aired on Nick Jr in 1996 (via the New York Times), kids across the globe have formed bonds with the show's rotation of hosts. For the oldest of the bunch, Steve Burns was the original presenter. But when he departed the series in 2002, fans had to become reacquainted with Steve's fictional younger brother Joe, played by Donovan Patton. Patton presented the series for a good chunk of the aughts, until "Blue's Clues" came to its official end in 2006.
Since then, a whole new audience has been enjoying a revival of the series since 2019 called "Blue's Clues & You!," per The Toy Book. This time, Josh Dela Cruz has taken on the role of host and has yet to hand the baton to another presenter. Both Patton and Burns reprised their roles in the first episode of the revival, giving Cruz their blessing as he's gone on to become the new face of "Blue's Clues."
But what about when Burns did the same for Patton in 2002? How did that transfer go, and did the two form a connection as a result?
Steve Burns and Donovan Patton have reunited on multiple occasions
To celebrate the 25th anniversary of "Blue's Clues" in September 2021, Steve Burns gave the show's first group of fans a special message explaining exactly why he left the show all those years ago. Millennials across the globe teared up at his reasons, as did Burns as he explained he went to college to pursue "many of the things that I wanted to do," as he said in a video posted to Nick. Jr's Twitter account.
As Burns went off to college, Donovan Patton took the reins and made the show his own. However, that's not to say that Burns forgot about the show completely. According to Newsweek, the original host continued to write and produce for the show as he had done since its inception, and even helped cast Josh Dela Cruz, who was introduced as Steve and Joe's cousin for the revival.
While not a lot is known about Burns and Patton's relationship behind the camera, they have reunited on multiple occasions over the years. They both appeared in the debut episode of "Blue's Clues & You" (via YouTube), and recently reunited with Dela Cruz to watch their pilot episodes in celebration of the show's 25th anniversary (via Twitter). As People reported, they even reunited to sing during the 2021 Macy's Thanksgiving Parade, giving generations of fans the ultimate treat.