What We Really Know About Angus T. Jones & Charlie Sheen's Relationship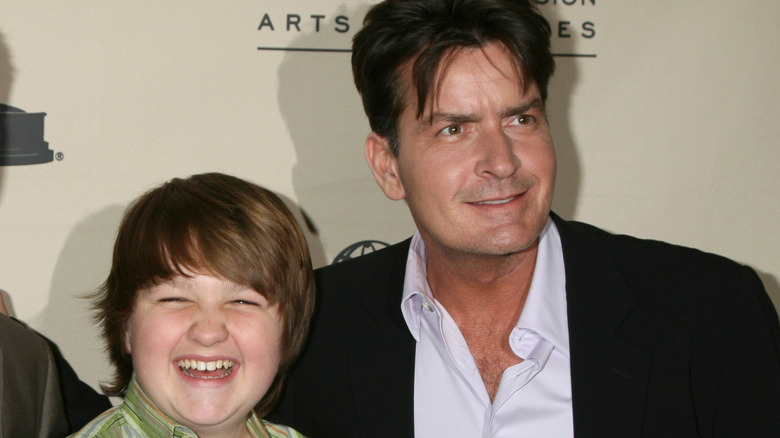 Kathy Hutchins/Shutterstock
Having starred together on "Two and a Half Men" for many years as uncle and nephew, you'd think that Angus T. Jones and Charlie Sheen shared a similar bond off-screen. It seems like they most certainly did, but it was altered somewhat by Jones' departure from the CBS sitcom in 2012. Jones didn't have kind words for the show at the time, regretting even being a part of it and imploring people not to watch it (via The Hollywood Reporter).
After some time, Jones' opinion changed substantially. He would later return for a guest spot on the show until its end in 2014, telling Entertainment Weekly that "I got pretty doomsday with my thinking for a long time, but now I'm having fun and enjoying where I'm at." Jones continued, "I no longer feel like every step I take is on a land mine."
During Jones' troubled time, there was one cast member that understood exactly what was happening, and that was his former co-star Sheen.
Charlie Sheen said the sitcom had a toxic environment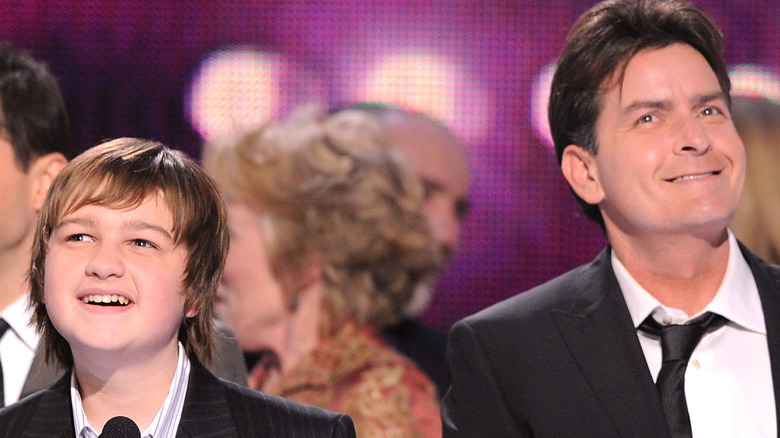 Kevork Djansezian/Getty Images
Charlie Sheen had his own highly publicized troubles with "Two and a Half Men." According to People, the actor was terminated from the show by Warner Bros. in 2011, following a felony menacing charge that occurred after a fight with his ex-wife, Brooke Mueller. While the circumstances surrounding their departures differed substantially from each other, Sheen reckons that the show itself and the "Two and a Half Men" creator, Chuck Lorre, probably didn't help.
"Obviously, not having been there for some time, the Angus T. Jones that I knew and still love is not the same guy I saw [in the interview]," the actor previously told TMZ, adding, "I dare anyone to spend 10 years in the laugh track that is Chuck Lorre's hive of oppression and not suffer from some form of an emotional tsunami." Sheen went on to call Jones a "good kid" during an interview with The Hollywood Reporter, adding that he didn't think Jones was "crazy," but "maybe over-influenced in some other beliefs."