Most Heartwarming Tales Of Dogs And Their Human Saviors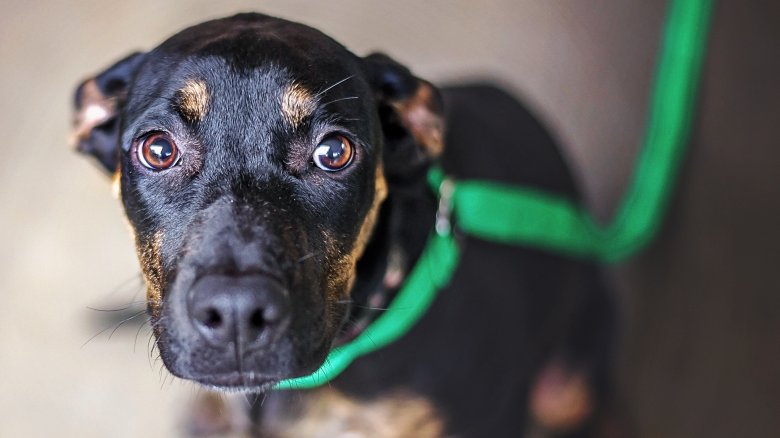 Shutterstock
Wouldn't it be amazing if every dog had a loving home where they were well-fed, loved, and taken care of? Unfortunately, many dogs' lives don't look like that. They're left on the street or, in some sad cases, even abused. But luckily, many organizations and people love dogs so much that they go out of their way to rescue them and give them the lives they deserve. In these videos, you'll see loving humans transform lonely, dirty, and dying dogs into happy pets.
Curled up on the side of the road, he had given up all hope
Animal Aid, Unlimited India found this street dog (whom they named Pushkar) curled up on the side of the road, suffering from mange, a condition where dogs lose their fur due to mite infestation. They didn't want Pushkar to go another day without treatment, so they pulled out a net and captured him with it. Then they brought him back to the animal clinic, fed him, and gave him an IV with water to treat his dehydration.
Pushkar initially flinched away from the volunteer's hand, but she lovingly petted him to get him used to human touch. After ten days of treatment, his skin completely healed. Two months later, he was a well-adjusted happy pup, hanging out with other dogs and cuddling with humans. His transformation shows that with love and attention, even a dog that has given up all hope can be healed.
She stared at the wall for days after being rescued
Angel, a lurcher rescued by PAWs, an animal rescue organization in Ireland, was so traumatized that she stood in the corner with her head against the wall for days after being rescued. The rescuers believed that she had been abused, as she cowered away from human attention. They left food for her, which she would only eat when no one was watching.
Once they brought in another lurcher from the same shelter, Angel began to open up. She stayed close to the dog, whom they named Cliff, and soon came out of her shell. She stayed close to him and followed him around, but it took a month for her to trust humans. Seven months later, Michael and Theresa McGrath, a couple who had just lost two dogs, gave Angel a new home, and you can watch her howling away with their other greyhound rescue, Jaego, looking nothing like the sad and frightened dog she once was.
She was chained to a fence for 10 years
Judas lived outside her owner's home, attached to a chain for ten years. She had very little room to move, and they didn't even give her a blanket or toys. Neighbors, who had called the animal welfare agency many times, said they had seen her owners peeing on her from the porch. The neighbors finally called Animal Advocates who came out to rescue Judas from her tiny living space.
When Animal Advocates found Judas (whom they renamed Judith), she was lying in the frozen mud in the rain. She had feces on her legs and tail from lying in her own poop. She could barely walk because of her terrible arthritis. They took her back to their vet, where they groomed her and gave her the love and attention she'd never gotten from her abusive owners. They shaved off all her fur, and she could finally wag her tail because it was light enough to move again.
Mike and Alyssa, a loving couple, adopted her and took her out on many camping trips. After Judith's hips gave out, someone donated a cart so that she could walk without putting weight on her back legs. She lived with her new family for eighteen months before dying of old age. She had finally been given the loving life she deserved.
Her owner tied her to a bag of gravel and buried her alive
Pedro Dinis was walking his dog Goddess in the forest in Seine France when he found another dog buried up to her neck in dirt and barely alive He could only see the french mastiff's head poking out from the dirt. Dinis and Goddess dug the mastiff, named Athena, out of the dirt and found that she had a rope tied around her neck. At the other end of the rope, he discovered a heavy bag of gravel, buried in the dirt. That's when he realized that Athena had been buried intentionally and left to die without food or water.
Dinis gave Athena water and rushed her to the vet, where they discovered that she was dehydrated and lucky to be alive. They found a tattoo on Athena's body that led them to her former owner, who was arrested and charged with animal cruelty. SOS Dogues of Bordeaux, a dog rescue run by Jean-Pierre and Raymonde Delfosse, adopted Athena, where she is living out the rest of her days playing in the their garden and cuddling with people who love her. 
He rescued a puppy from a deep canyon
Zak Anderegg went on a vacation to the Utah/Arizona border for some solo rappelling, and he came away with a new dog. He told Today that he was 350 feet into a narrow canyon when he saw something moving around. "I looked over the edge, and I saw this black thing just walking in circles... the longer I looked at him, I realized he's actually a dog."
Anderegg knew that he needed to rescue this dog. He climbed out of the canyon, brought back food and water for the dog, and then went to get help. He went to the Page Animal Hospital, where they gave him a carrier and dog bowls.
The next morning, Anderegg returned to rescue the puppy. He rappelled back into the canyon, put the dog into the carrier, and then pulled him out of the canyon. After that, he took the dog to the veterinarian, where they nursed him back to health. Anderegg then took the pup, now named Riley, home to his family — his wife Michelle, two cats and a dog.
Riley has his own Facebook page where you can see him having adventures with Anderegg. In 2013, Anderegg wrote a book about the rescue, Rescuing Riley, Saving Myself: A Man and His Dog's Struggle to Find Salvation.
They rescued him and then lost him for 2 years before finding him again
Ted Kupferman had his dog Bear in the car with him when he got into a car accident in 2013 in Hiram, Georgia. Bear ran away into the woods. Distraught, Kupferman searched for Bear for 12 hours, calling his name and combing the area. But he couldn't find him.
Somehow, Bear ended up in an auto parts yard in Marietta, Georgia, 16 miles away. That's where Stephanie Burke Sparks and Kera Bagwell found him. For over a year, they tried to catch the dog. "We could not get him close to us, but we knew he wanted to eat, he was pretty thin and so we started going out there everyday and taking rotisserie chicken," Sparks told FOX 5 Atlanta.
They finally called local rescue groups who came out and captured Bear. When they realized he had a microchip, they scanned it and found that he belonged to Kupferman and his partner, Kelly Thomas. The couple cried as they welcomed Bear back into their home. "I'm still crying over it. This was not just a dog, this was my best friend; this was my child," Kupferman told WXIA.
A dog born with health defects got the love he deserved
Dave Meinert, a South African commercials director and filmmaker, rescued Pegasus, a great dane puppy, from a backyard breeder. The other puppies in her litter had already died, or they were deformed. Pegasus was also sick with a pigment deficiency. Meinert didn't know how long she had to live, but he decided to document her puppyhood by setting up a treadmill to help her exercise and a video camera to capture her progress. He told Fast Company, "I decided to make a record of the healthy days as a way to celebrate them."
After a while, Meinert worried that his erratic work schedule wasn't the best situation for Pegasus, so he reached out to find another home for her. Monique Burrows, a teacher who has fostered many dogs with health issues, agreed to foster and then adopt Pegasus. "The very first moment she arrived, she was comfortable and happy," Burrows told The Huffington Post.
Burrows has another Great Dane named Luna, and the two dogs are best friends. Pegasus still has many health issues, including partial blindness and low performing kidneys. But she has a loving owner who will do whatever she can to improve her life. "I just want her to live for however long she has, and I'll do whatever I can to make sure she receives only the best of the best to improve her chances," Burrows said. "If love alone could save her, she would live forever."
An abused dog found a 3 year old girl in a ditch
Petunia, now named Peanut, arrived at the Delta Animal Shelter as a four month old puppy with two broken legs, a belly full of carpet, and broken ribs. They shared her story on their Facebook page, along with the sad fact that she would limp for the rest of her life. Her former owner was convicted of animal abuse and a loving family adopted her. 
A year later, Peanut began frantically barking at her owner and running up and down the stairs of their home in Escanaba, Michigan. When her owner let her out of the house, Peanut ran through an open field and over to a ditch, where they found a naked three year old girl curled into a ball and shivering uncontrollably. Peanut's owner wrapped the girl in his shirt and ran back home with her.
When he got home, he covered her in blankets and called 911. The police located the girl's parents in a nearby home and determined that their residence wasn't safe for children. The girl, along with another young female, were removed from the home.  Peanut's owner shared the story on the shelter's Facebook page, ending with, "She is a part of our family now and thanks to wonderful people like you at the shelter, she is alive. Without her, not only would she have been gone from this world, but the life of this little girl might have been taken as well."
Adults couldn't rescue this dog for two months, but a six year old girl did it in one try
A shepherd mix named Daisy had only been living with her new family for two days when she escaped their backyard. For two months, she roamed around Hollister, California, evading capture by members of the Hollister Animal Lost and Found Facebook group. That's when they reached out to six year old Meghan Topping and her mom, Karen, who had fostered Daisy before she was adopted.
The two drove out to Hollister to help capture the frightened dog. Meghan jumped out of her mom's truck, went into the field where Daisy was running, and sat down. Daisy ran over to her, wagged her tail, and sniffed Meghan's face. When asked how she knew what to do, Meghan told KSBW, "We earn their trust. It's just basic. Play with them."
The Toppings couldn't adopt Daisy, so they found another family to take her in. Susan Hilden agreed to foster Daisy, and then adopted the dog for her granddaughter, Ava Craft, on the four-year anniversary of when her therapy dog had gone missing. Craft told KSBW, "I just really want to take her to Stanford [Children's Hospital], because that was the place I had my heart fixed when I was a baby." She then explained that she wanted Daisy to "help the kids and make them feel better."
They found him laying next to open tanks of chemicals
Hope for Paws rescued Mufasa, an older dog, from a water treatment facility, where he lay next to open tanks containing hazardous chemicals. They threw pieces of cheeseburger to lure him closer to them, and he cautiously approached them. Eldad Hagar, founder of Hope for Paws, told The Huffington Post, "He just sat there, not trusting us. [A woman at the water treatment plant] told me that if he falls into one of the pools, the filters would just suck him in and there's nothing they can do. It was kind of tricky."
They eventually captured him by lassoing him with a leash. He initially flinched from being petted, but by the time he was in the car, he nestled his face into Hagar's hand. Mustafa got a thorough bath and received treatment for an ear infection and intestinal parasites. Lionel's Legacy, a rescue that specializes in senior dogs, offered to foster Mufasa until he could find a permanent home. Lionel's Legacy posted an update of Mufasa playing with his new brother Scout in his adopted family's backyard. It seems that the stranded dog is now loving his life in a wonderful home.
Do your part to combat dog homelessness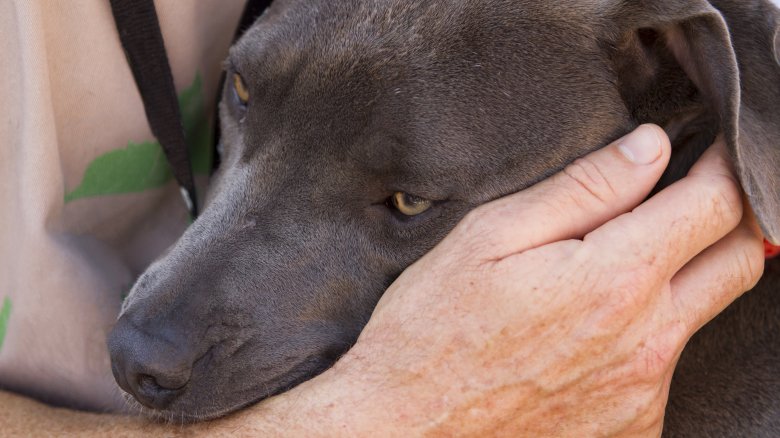 Shutterstock
Many organizations do work every day to rescue dogs, but more can still be done. According to the ASPCA, about 3.3 million dogs enter U.S. shelters each year. Of those, about 670,000 are euthanized, 1.6 million are adopted, and 620,000 are returned to their owners. If you want to adopt a dog, consider finding your new best friend at a shelter or animal rescue. Also, make sure to microchip your pup if you already have one. Do what you can to stop dog homelessness.