Ariana Grande's Go-To Starbucks Order Might Surprise You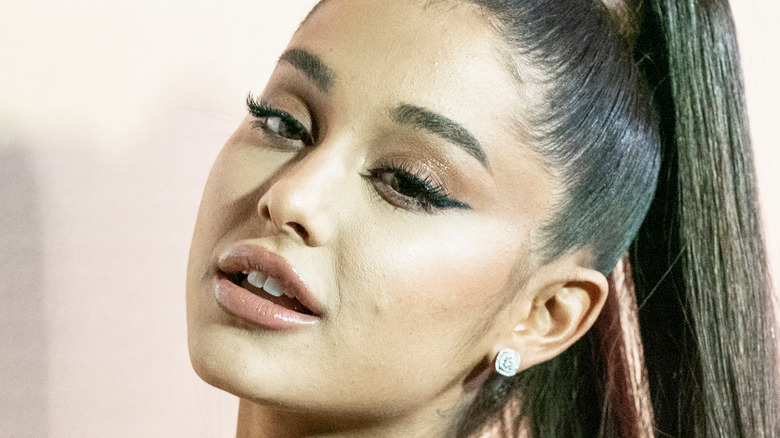 lev radin/Shutterstock
Ariana Grande has come a long way from her Nickelodeon days. As a teenager, she starred as Cat Valentine on the hit show "Victorious," before appearing in her own spin-off, "Sam & Cat," alongside "iCarly" actor Jennette McCurdy, according to IMDb. As the sweet and flighty Cat, Grande also showed off her considerable singing talents, proving that her character was much more than just the ditzy BFF.
Per Britannica, Grande proved that she could do more than just act, as she launched her singing career when "Sam & Cat" was still airing on Nickelodeon. She released her first teeny-bopper hit, "Put Your Hearts Up," in 2011, before dropping her debut album — which included a collaboration with her future boyfriend, rapper Mac Miller — in 2013, via Britannica. That said, it was her second album, "My Everything," which truly helped cement her pop superstar status. And when you're that big a star, it seems only natural you'd have a Starbucks drink named after you. That's exactly what happened for Grande, but is her own drink her favorite order?
Ariana Grande caused controversy with her Starbucks collaboration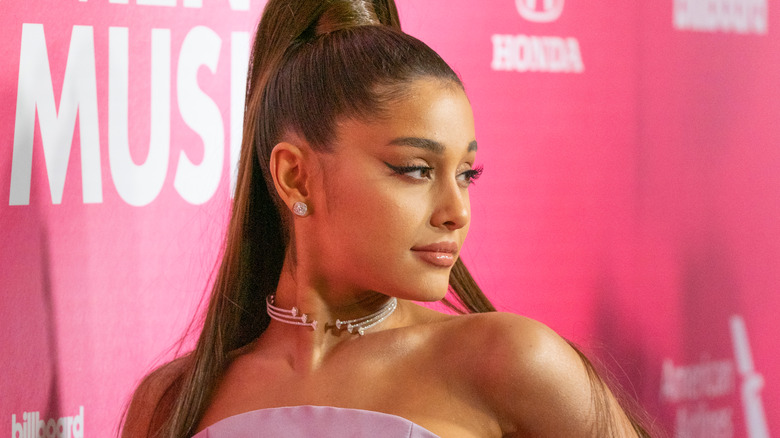 lev radin/Shutterstock
In 2019, Ariana Grande and Starbucks teamed up to release a new drink called the Cloud Macchiato, of which Grande was the beverage's ambassador, according to Today.com. The pop icon took to Twitter to promote the coffee order, and shared photos of herself wearing a Starbucks apron, posing with baristas, and enjoying the drink with her adorable pups. According to Today, she also shared a note encouraging people to try the soy version. Her fans thought this meant that the Grande-approved drink was also vegan-approved, because the "7 Rings" singer announced she was 100% vegan on Twitter in 2013.
However, as soon as "Arianators" learned that the foam topping that created the "cloud" on top of the drink was anything but vegan — containing egg whites and caramel sauce made with dairy products, via Today.com — more than a few people expressed their displeasure. "The girl is pissing me off now," one fan wrote on Twitter. "Hun you can't be vegan drinking this — the caramel syrup has dairy in it & the cloud macchiato powder is literally egg whites." Perhaps the fact that Grande's own drink wasn't vegan, was what led the pop star to choose another Starbucks specialty drink as her favorite. According to So Yummy!, Grande's go-to order is actually the Vanilla Bean Frappuccino, which can be tweaked to suit vegan needs, per VegNews. Will that be a grande size for Grande coming up?