Here's Why Donald Trump Is 'Disappointed' In Mike Pence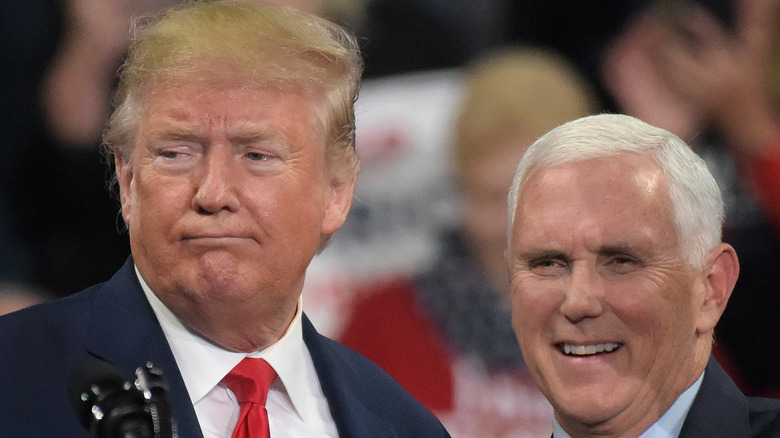 Matt Smith Photographer/Shutterstock
Just hours after a violent mob came rushing through the Senate Chamber in the United States Capitol building, the former Vice President Mike Pence certified the 2020 election results. As USA Today reported, the certification confirmed President Joe Biden and Vice President Kamala Harris' election victory, and took place despite Trump's claim that the election results were fraudulent and could be blocked. 
The certification was interrupted by the historic January 6 Capitol riots that saw thousands of Trump supporters break into the Capitol building (via the BBC). 
While speaking at the Ronald Reagan Presidential Library in June 2021, Pence said that he was proud of his role in certifying the 2020 election results. "Now there are those in our party who believe that, in my position as presiding officer over the joint session, that I possessed the authority to reject or return electoral votes certified by the states," Pence said, per AP News. "But the Constitution provides the vice president with no such authority before the joint session of Congress," he added. 
Although the former Vice President is satisfied with the confirmation of the 2020 election results, Trump still feels very differently. 
Donald Trump feels let down by Mike Pence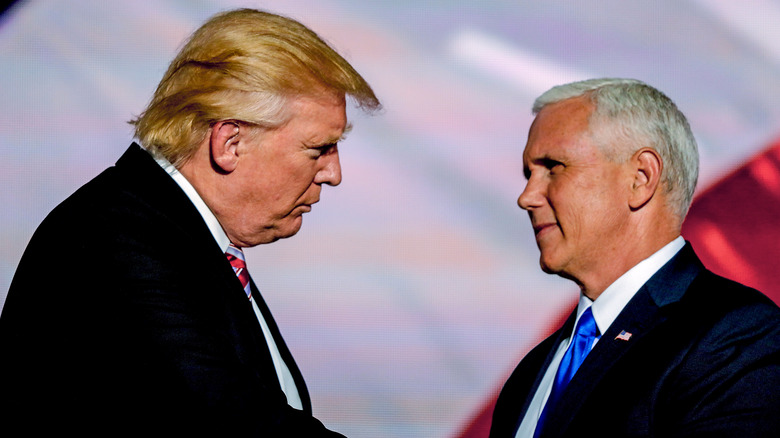 mark reinstein/Shutterstock
During a press event with the former Fox News personality Bill O'Reilly in Florida on Saturday, Dec. 11, former President Donald Trump spoke about how he was "disappointed" in Mike Pence's decision to certify the 2020 election results, CNN reported. 
"I was disappointed in one thing, but it was a big thing," Trump said during the event, adding, "Mike should have sent those crooked votes back to the legislatures and you would have had a different result in the election, in my opinion. I think Mike has been very badly hurt by what took place in respect to January 6. I think he's been mortally wounded, frankly."
When asked about who he might pick to be his vice president in a potential 2024 run, Trump mentioned Florida Governor Ron DeSantis. "I think Ron [DeSantis] would be good," Trump revealed to O'Reilly. 
Meanwhile, Pence's recent visits to New Hampshire and other key primary spots have fueled rumors that he is considering running for the presidency in 2024. "I can honestly tell you in 2023, my family and I will do what we have always done. We'll reflect, we'll pray and determine where we might best serve, and we'll go where we're called," he told a CNN reporter in New Hamshire, per The Hill.