Hayley Orrantia Dishes On Christmas Is Canceled And The Goldbergs - Exclusive Interview
Josh Williams
Sitcom star Hayley Orrantia has gone by the name Erica Goldberg for nearly nine years. Now, she's playing a completely different character than the one we all know and love on "The Goldbergs." (She's even taking a step out of the '80s, too.) This holiday season, Orrantia can be seen starring in the present-day flick "Christmas Is Canceled," alongside Janel Parrish and Dermot Mulroney. The story follows her character, Emma, who has just returned home for Christmas to discover that her widowed father is now dating her high school enemy. Yikes.
In addition to starring in the holiday film, Orrantia got to contribute in an even bigger way by showcasing her music in the movie — and we got to ask her all about it. In an exclusive interview with The List, Orrantia told us why it was so hard to keep a straight face while filming "Christmas is Canceled," when we'll be able to see Erica tie the knot on "The Goldbergs," and all about her family house-flipping business.
All about Hayley Orrantia's new Christmas movie
Prime Video
Your new Christmas movie looks like so much fun. What made you want to be a part of "Christmas Is Canceled"?
Well, I got the script, and honestly, the writing just really did it for me. I feel like our writer, Sara Endsley, was just — She was writing from a personal experience, and I think that that played into — I don't know how authentic it came off, but [it was] also just hilarious.
I mean, the gist of the movie is my character, Emma, comes home for the holidays to visit her recently widowed father and finds out that he is in a relationship with her high school enemy. So her goal is to try to break them up before the holidays are over. And so that's not really a situation you really want to see yourself in. [Laughs] And I just thought it was such a hilarious concept. And the writing was just so good, so I was really drawn to it for that.
Wow! I didn't realize it was based on a real story.
Yeah. I don't know how much she wanted to admit that [Laughs], but yeah, I mean, it is. And I think that that's why it's so well done.
What it was like behind the scenes of Christmas Is Canceled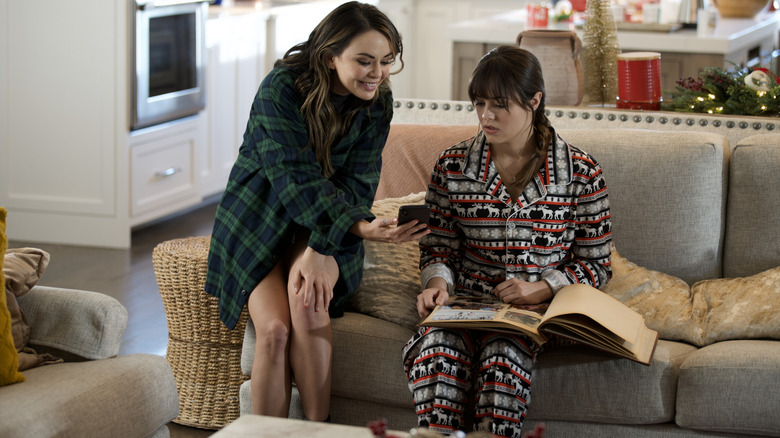 Prime Video
In "Christmas Is Canceled," you're feuding with Janel Parrish's character, Brandy. What was it like to act out these heated scenes with her?
You know, it was kind of difficult because Janel and I hit it off from the minute we met. She's just so lovely of a person. She's hilarious. She's fun, sweet. But, you know, we trusted each other in the scenes, and we sort of dove in. So there were times where we were having to be really mean with each other, but we were, like, holding back laughter.
Like, when we shot some photos for the cover art of the movie, I remember there were a couple shots they wanted to do where she and I were an inch away from each other's face scowling, and we just kept laughing, because we're like, "We can't do this. We actually really like each other." [Laughs] But it was great to get to work with her.
How was playing Emma different from playing Erica on "The Goldbergs," a character that you've become so familiar with over the last almost decade?
You know what? I feel like as much as I want to say, "Oh, it's completely different. I really challenged myself." At the same time, I think I'm the kind of actor that I put a lot of myself in these roles. I think that there is a lot of elements of me in both Erica and Emma. I would say Emma might be slightly more reasonable than Erica would be on a day-to-day basis, but I guess you'll have to see the movie and find out for yourself.
But it was just a very different experience overall filming the TV show. We've really found a rhythm, nine years in, of scheduling and, logistically, just shooting. And so going from that to filming an indie movie that was done in three weeks was a very different experience, but we had a blast doing it. And I'm really excited, or happy, with how it all came out.
Hayley Orrantia opens up about the song she wrote for Christmas Is Canceled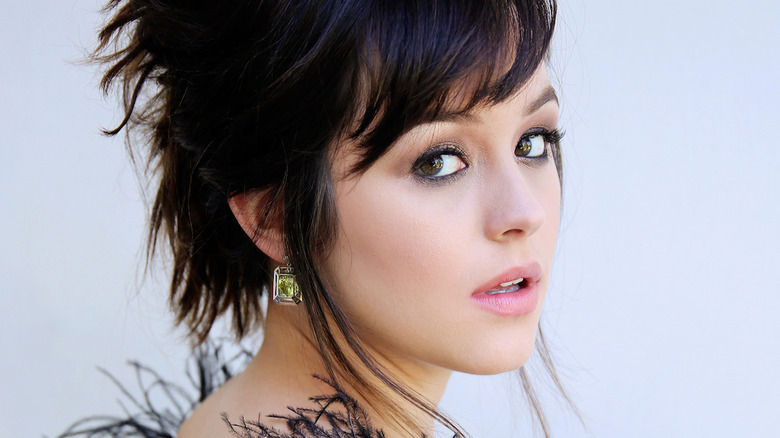 Josh Williams
Not only did you act in "Christmas Is Canceled," but your single "The Same Way" is in it as well. Have you gotten to see it yet and hear your song in the movie?
I have not gotten to see the whole movie yet, which is killing me. But I'm very excited. I'm going to wake up early in the morning on Friday [December 17] and watch it the second that it's out. So I'm not sure where in the movie the song is, but I know that there's a good chunk of it in there.
And yeah, I was so excited because as a songwriter and a singer, I sort of just mentioned to the director, Prarthana Mohan, and the producers that I did music, and I would love to just take a stab at writing something for it, whether that's in the credits or the trailer, whatever. And I wrote this song coming from, you know, a character standpoint, and I guess it just resonated, and it was something that was going to work for them. And so, I'm very excited that it all kind of panned out that it is able to be in the movie.
So you wrote it from the character's point of view? Is that what inspired it?
I sort of just try to think about it from, not fully like "this is Emma singing to anyone," but there's elements of this longing for reciprocated love. And of course, it being around the holidays, I wanted it to have holiday elements. I'm not necessarily a big — This might be horrible to say, but I'm not a big Christmas fan myself. [Laughs] And so I don't really listen to a lot of Christmas music. I feel like any music in that genre that resonates with me happens to be, you know, a song that, like, takes place around the holidays, but it's not like sitting by the fireside and having eggnog. And so I wanted this song to kind of be similar to those that I really love. Think like — I don't know if you've ever heard the song "Winter Song" by Sara Bareilles and Ingrid Michaelson, but that to me is one of my favorite sort of winter songs, I guess you could say. And that, sort of, was the direction that I went with this one.
In a way, it's relatable all year long.
Absolutely. And so just something that I felt like could — I don't know. It wasn't specific to all the details of the holiday, but it sort of had this metaphorical tie into Christmastime, I guess.
Here's why she had to be in The Goldbergs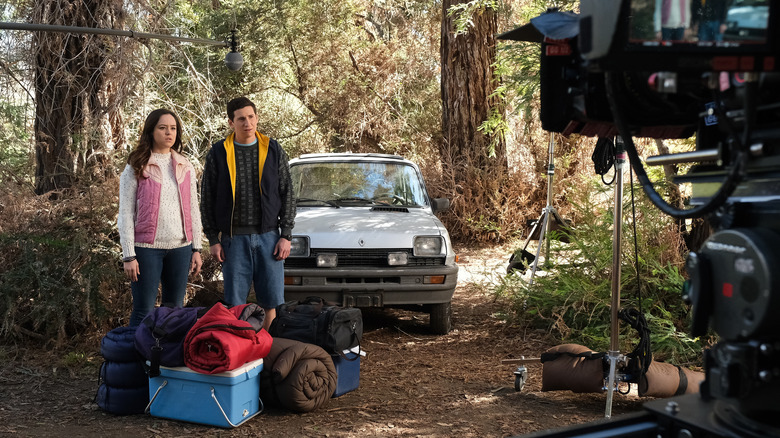 Scott Everett White/ABC
I have to talk to you about "The Goldbergs," while I have you, as well.
Of course.
What was it that initially drew you to it?
It's lame that it's the same answer, but I swear to you, the writing of the show was my favorite thing. Because I knew, just based upon the kind of comedy that it was in the pilot when I read it, that it was the exact kind of comedy that I admire and I would love to do. So it was that, tied in with one of the producers and the director of the pilot is Seth Gordon, who directed "Horrible Bosses," which is one of my favorite comedy franchises ever.
And then, of course, Wendi McLendon-Covey was signed on to play Beverly, and being a huge fan of "Bridesmaids," I just — I knew that it was a perfect tie-in of all the kind of comedies that I love because of all these people involved. And the writing was great. So I just, you know, threw my hat in the ring, and thankfully it panned out. [Laughs] Because there were a lot of people kind of doing that as well, and so I was glad that it worked out the way that it did.
Hayley Orrantia shares how she put her own spin on Erica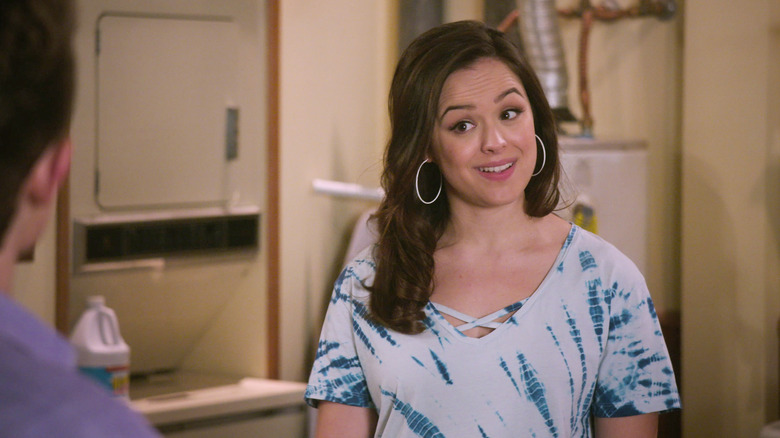 ABC
The show is based off Adam Goldberg's real family, but your character, Erica, is technically the only character who isn't based off of a real person. I mean, she's based off of his older brother, Eric, but in a female form.
Right.
So how did you prepare to become her?
I had a sit-down meeting with Adam F. Goldberg, the creator of the show, about his family, of course. And, you know, he was awesome about giving insight on where he was coming from with the show, kind of telling me tidbits here and there about his family and his life story. And so he was able to give me elements of, kind of, who Eric was. But at the same time, because he didn't grow up with an older sister, he was open about the fact that he didn't necessarily have a ton of storylines at the top of Season 1 that were authentic to him because he didn't grow up with the sister. And so that sort of gave me a little bit of leverage to do what I wanted with it.
And funny enough, I mentioned in that meeting, like, "Hey! I'm a singer-songwriter. If there's ever a chance for me to put a song in the credits." Same thing where I love making music. "So if there's a way I can tie it in with this other love of mine, I would love to, you know, do that." And that's when this new element of Erica kind of started, and Erica became this musical character where she first performed at the talent show in Season 1. And that became a part of who the character was that isn't necessarily something that Eric, his brother, does at all. So in a way, I think it was kind of nice that I was kind of the only character that wasn't fully based on a specific person in his life. I mean, like, every element. So it gave me this sort of leverage to have fun with it and make it whoever I wanted.
The best part about starring on The Goldbergs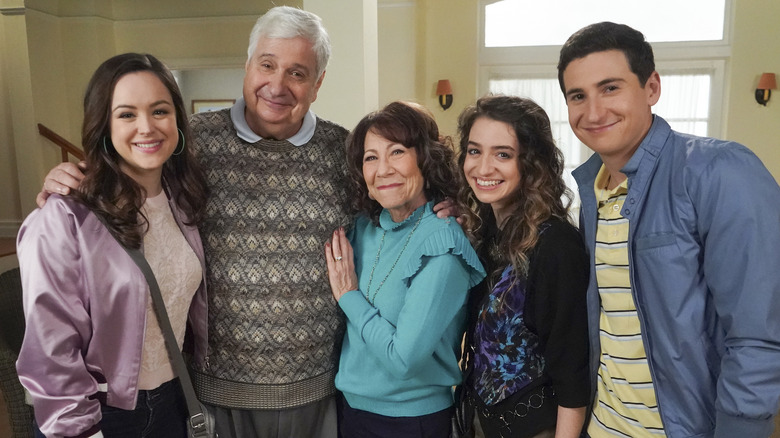 Richard Cartwright/ABC
You've been on "The Goldbergs" for almost a decade now. Do you have a favorite moment that sticks out in your mind from working on the show?
That's so tough because we're actually filming our 200th episode this week.
Wow!
I know, which is wild, because I was doing the math, and I'm pretty sure that's four years straight of being on set [Laughs], we've been doing this, which is nuts. So it makes it very hard to pick out one moment. But I would say one that always comes to mind, and it wasn't necessarily the actual filming of a scene, but during an episode where we were paying homage to "Dirty Dancing," there was a scene in the gymnasium where it's like the school dance. And in between filming the actual scene, I was sitting off on the side, on the bleachers with all of the — I call them "the kids," even though we're all grown adults at this point.
But like, the JTP, Sam Lerner, Troy [Gentile], Sean [Giambrone], all the kids of the show, were just hanging out, talking, laughing, playing card games. And to me, that's one of my favorite memories, just because I had such a blast with these people. They're some of my favorite people in the whole world. And just getting to work alongside them and bond in the way that we have is so special to me. So that's probably my favorite memory.
For being on a show for that long, you have to grow close. I mean, you see these people every day.
Yeah. Totally. I mean, we have become like family, as cliché as that is to say, but it's not just the cast. There's a lot of the crew that have been there since day one, and I mean, they're just a part of my day at this point. So it's going to be really hard whenever that horrible day comes that we're not working together anymore, that I'm going to need some form of therapy. [Laughs] Because these people are my every day, which I think, you know, it ends up sort of playing into the show. I feel like people resonate with it because they can see that we have a great time while we're working.
We'll get to see Erica get married on The Goldbergs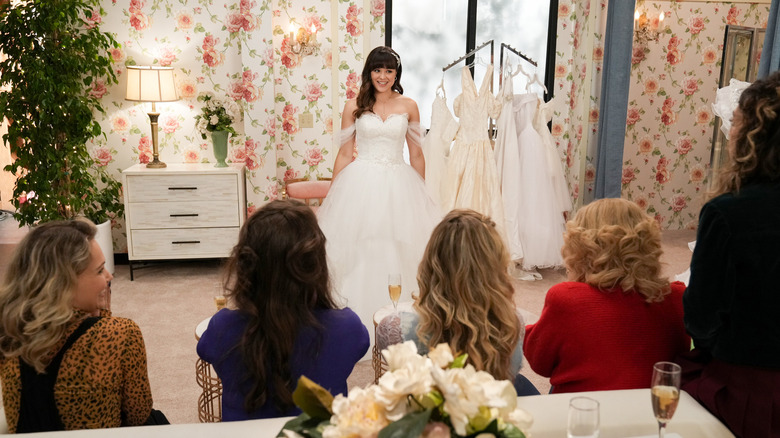 Scott Everett White/ABC
Are we going to see Erica's wedding this season?
You will. We actually just shot part of it. So we're filming it still, but I'm very excited for people to see it. There's a lot. I don't want to give anything away. But, of course, it's the typical Beverly Goldberg envisioning how she sees it rather than how everyone else sees it that's the big conflict of the episode. But it's going to make for, I think, a really hilarious episode because there are elements that I don't think anyone will see coming.
I saw the episode where you were trying on '80s wedding dresses, and I just think it's going to be so much fun.
I know. I'm really stoked for people to see it.
Here's how she got started flipping houses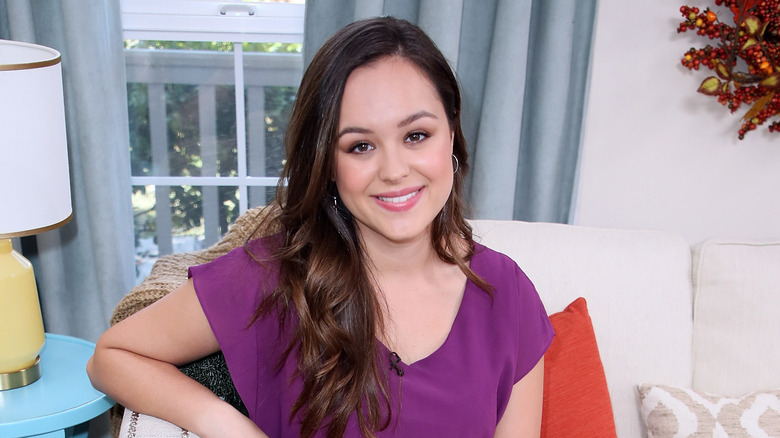 David Livingston/Getty Images
In addition to being an actor and a singer, you also flip houses. How did you get involved with that?
Yeah, so my dad has been renovating and flipping houses for as long as I can remember. Like, I think before I was even born. And he mostly did it back in his hometown in Montana. And then when I was growing up in middle school, I remember him having some in Texas where I grew up, and just here and there. It was always something that he's done. And it's because his father and grandfather did the same.
And so when I started going to Nashville to make music — You know, I don't know if you know, but Nashville is booming right now in real estate because everyone's just moving there. Whether they're working in the entertainment industry or not, the town is just taking off. And so in the last five years, we've watched, kind of, the real estate market change, and we thought it was a great opportunity to get involved.
So my dad originally was the one that was getting involved, and then I just fell in love with interior design. And as much as I love my dad, and he's a brilliant businessman, he is not necessarily the type [laughs] to pay attention to interior design trends. So that was something that I started giving my input in on, and eventually, we decided to just do the company 50/50. And so it's been really fun for me to kind of work that side of my creative muscle where I'm doing something that's physical, and it's more, like, stylized. And it's just so different from music and acting, but for me, it really is just another form of, like, creative outlet. And so yeah, we're working on flipping houses, and it's just been a really fun family project more than anything.
It looks like it's going to be something that we'll get to see on TV, too. When are we going to be able to see your house-flipping series "Legacy Builds"?
Yeah. Unfortunately, I think with everything going on in the market and with COVID, it's really affected how everything sort of looks for us. So right now we're sort of reworking what exactly that's going to look like. So there's no, like, specific platform or date, but when that time comes I will be letting people know.
What's next for Hayley Orrantia?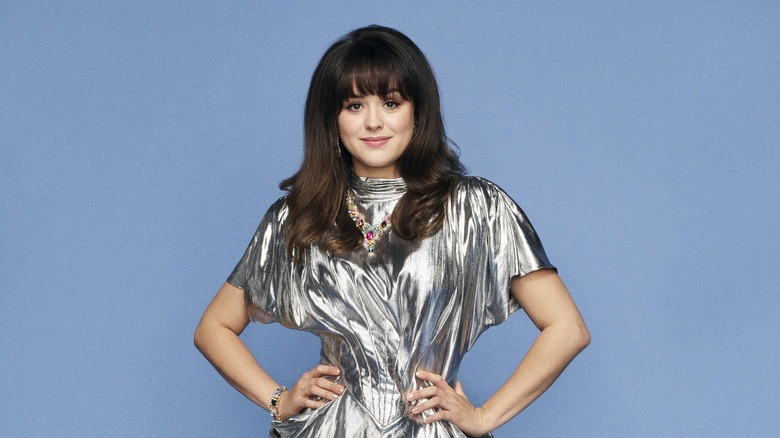 Art Streiber/ABC
You're doing interior design right now, you're acting, and you're also singing. What does the future look like for you?
I have been writing, songwriting, a ton by myself, which was such a great challenge for me because I've always sort of co-written with people, except for my last EP ["The Way Out"]. A lot of that was originally driven by just stuff I started on my own, that it's been really therapeutic, and I'm really excited to record another EP and put that out. So in 2022, that is the main focus.
But I'm also really excited to challenge myself in trying to do projects behind the camera. So shadowing a director on "The Goldbergs" this year is hopefully going to transition me into more opportunities to position myself for directing, but I want to also just produce. So my boyfriend's [Greg Furman] an incredible screenwriter, and we've been working on projects together that, in a perfect world, we could pitch and have shows of our own. So yeah, I'm just looking forward to [the] more development sides of things and kind of seeing what sticks.
That's awesome. You have a lot going on right now.
Yeah. I try to stay busy and challenge myself as much as possible.
New episodes of "The Goldbergs" air every week on ABC. Hayley Orrantia's new holiday movie, "Christmas Is Canceled," is available to stream on Prime Video Friday, December 17. Outside of the U.S., you can stream the holiday film on HBO Max or see it in theaters the same day.