What Did Hillary Clinton Have To Say About Kate McKinnon Playing Her On SNL?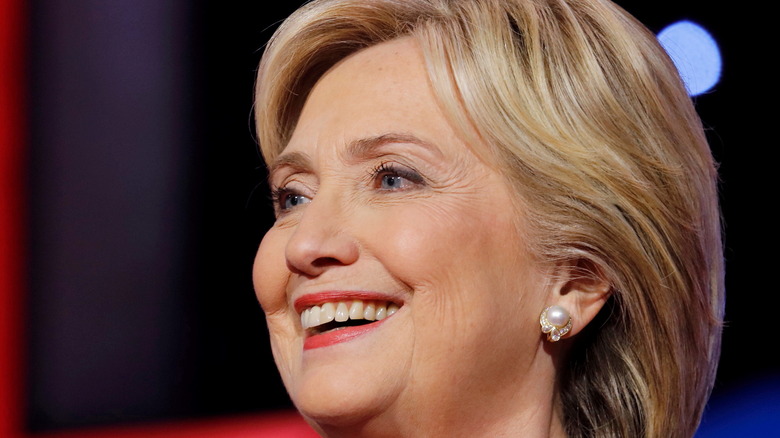 Joseph Sohm/Shutterstock
Since it first aired in 1975 with such comedic icons as Lily Tomlin, George Carlin, and Richard Pryor serving as hosts (via Far Out Magazine, "Saturday Night Live" has shared parodies of politicians with viewers. Starting with Chevy Chase's portrayal of President Gerald Ford as a forgetful, clumsy, and inept commander-in-chief, live caricatures of political figureheads have become a staple in the show's repertoire (via Washington Post). Some of the targets have loved their portrayals, while others have been less than pleased with the "SNL" cast's performances.
While Hillary Clinton never got to officially call herself the President of the United States, she did join ranks of leaders who came before her and got to see themselves appear on screen in the form of a seasoned comedian with a hot take on their personality and political prowess. In 2017, "SNL" cast member Kate McKinnon took on the challenge of representing the first-lady-turned-presidential-candidate (via Huffpost). McKinnon's performance won her tons of fans and an Emmy, cementing her status as one of the many comedy legends to come from the "SNL" stage over the decades. The performance was loved by many and respected by fans and comedians alike. How did Clinton herself feel about the way she was portrayed?
The performance brought Hillary Clinton to tears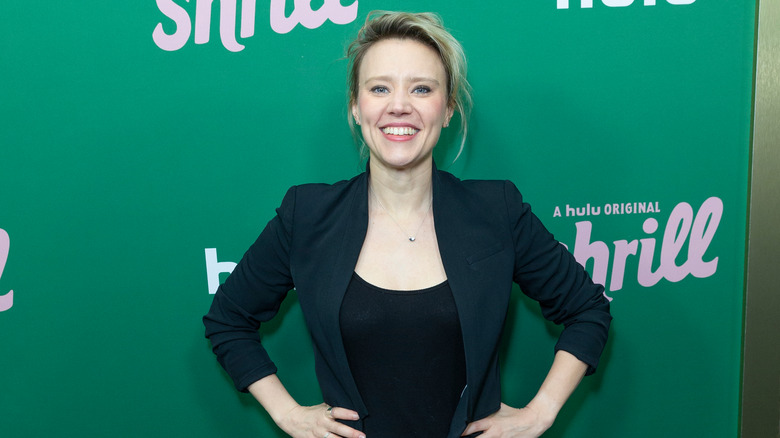 lev radin/Shutterstock
An Emmy wasn't the only thing that Kate McKinnon earned with her performance as former Democratic presidential candidate Hillary Clinton. The same week that McKinnon accepted her Emmy, Clinton released her memoir, titled "What Happened," in which she reflects on how she felt as she watched the comedian cold open an episode of "Saturday Night Live" with a musical performance in character as Clinton of Leonard Cohen's "Hallelujah." Cohen had died just days before the performance. "On the Saturday after the election, I turned on 'Saturday Night Live' and watched Kate McKinnon open the show with her impression of me one more time. She sat at a grand piano and played 'Hallelujah,' the hauntingly beautiful song by Leonard Cohen, who had died a few days before. As she sang, it seemed like she was fighting back tears. Listening, so was I," Clinton wrote (via Huff Post).
Following an election that was emotionally taxing for many Americans, Clinton and those who were disappointed by her loss found some solace in the powerfully somber performance from McKinnon. Still performing as Clinton, Mckinnon said to the camera at the end of the song, "I'm not giving up, and neither should you." Clinton, who served as Secretary of State in the Obama administration, also spoke highly of McKinnon's talents both comedically and musically, referring to her as an "amazing person," according to Rolling Stone magazine. With talent and a heartfelt dedication to the performance for Clinton, McKinnon managed to make an undeniably positive impact.