The Best Paper Clip Chain Necklaces For Less Than $50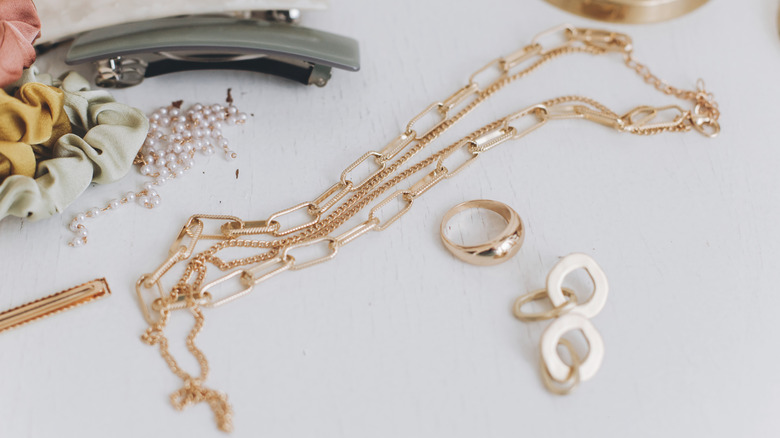 Bogdan Sonjachnyj/Shutterstock
After a year of flashy and questionable fashion trends — looking at you, Crocs — we've finally found a popular style that doesn't feel trendy. The beautifully classic-looking paper clip chains are having their moment this year. Don't be fooled by the name. These necklaces are much chicer than a paperclip. The name comes from the oval-shaped chain link that resembles the shape of the everyday office supply. The accessory is a welcome addition to your layered necklace look that feels effortless. There are also chunkier options that look great worn alone with some simple earrings. So whether your style is minimalist or bold, there's a clip chain necklace out there to match your style.
You won't need to reinvent yourself, or break the bank, to try out one of this year's top jewelry trends. Here are the best affordable paper clip chain necklaces priced under $50 and ready to update your next outfit.
Affordable and chic paper clip chain necklaces
So you're committed to trying out the paper clip chain necklace — well, at least committed enough to spend under $50, at least. Like most jewelry trends these days, we are loving this look in a gold-tone. Our top pick is by Madewell, our go-to online destination for quality-made affordable jewelry. The vintage-y gold plated brass Paperclip Chain Necklace is adjustable and perfect for layering with your other favorite necklaces or worn alone. For a bolder look, their larger, chunkier chain still stays within budget at $44.
Love supporting artisans and small businesses? Look no further than Etsy. We found a 14k gold-filled paper clip chain necklace that lays like a choker. One reviewer raved, "The necklace is beautiful, with a rich feel. The quality exceeded my expectations." For a bit daintier look, we also came across this 18k gold-filled style that comes in five different lengths to fulfill all your layering needs. Whichever you choose, handmade jewelry using gold-filled metals will surely last you many, many years.
No fashion jewelry list would be complete without mentioning Baublebar. The expansive bauble destination has now expanded to include semi-fine accessories, but we found an ultra-versatile paper clip chain under $50 called the Medium Hera Necklace. We insist you take a peek.