Long-Lasting Makeup For All Your Holiday Party Needs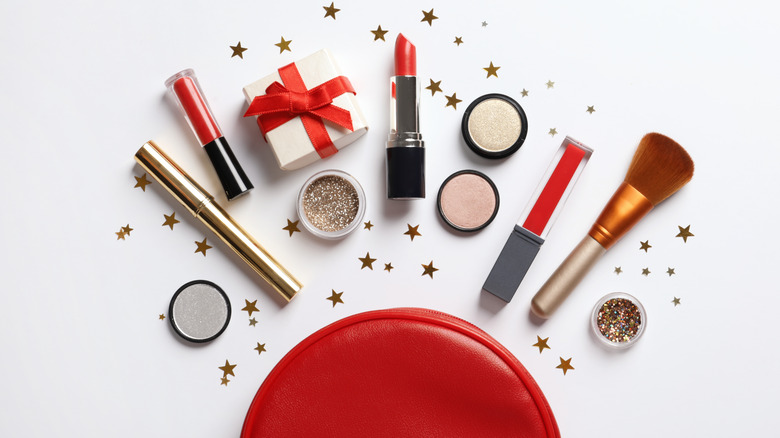 New Africa/Shutterstock
We may receive a commission on purchases made from links.
Long-lasting makeup can be hard to come by. Some products that claim to stay in place and remain radiant all day long simply don't (though some of 2021's best setting sprays may help), and sometimes you don't have the time to touch up your makeup every so often. This can be especially hard during the holidays, a time that's supposed to be relaxed but often turns into the busiest season. Work, family gatherings, holiday parties, Christmas shopping, and more can turn December days into the longest of the year.
As long as you're not falling into makeup mistakes that can fade your face, you shouldn't need to worry about your makeup while celebrating the holidays. This time of year is not only busy and festive but also colorful, which makes it the perfect opportunity to try new blushes and eyeshadow shades. It can be a time of experimentation because even if your makeup turns out less than stellar once or twice, it can be blamed on trying out a new makeup product you received as a Christmas present.
Woman & Home recommends trying twists on traditional looks this year. Instead of a typical red lip, why not try a berry red lip? The slight change in color will bring new depth to your face. You can also add some shimmer to your lip makeup so that the Christmas tree isn't the only thing shining. But which products can deliver all-day glam?
These makeup products will keep you jolly all day long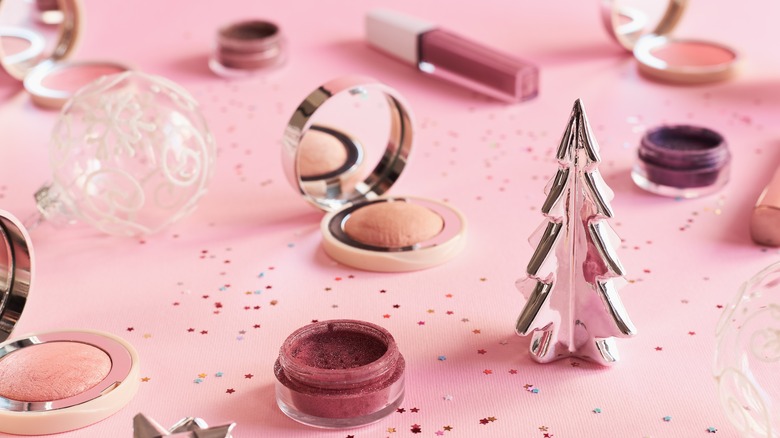 Veronika Smirnaya/Shutterstock
As the year nears its end, it's only right to reconsider the highest quality of products, as they become more important than ever with longer days and winter weather. According to HuffPost, you should consider Maybelline's SuperStay Matte Ink Lipstick. They offer both traditional and more unique shades, and they last all day long. Accent these with NYX's Slim Lip Pencil Creamy Long-Lasting Lip Liner for an even more stunning look (via Her Style Code).
When creating the base of your face, you should try Laura Mercier's Hydrating Foundation Primer (via Town & Country Magazine). Your base determines how well the rest of your makeup will hold up, so starting here will ensure you're set for a full day of holiday fun. Then, you can deepen your face contouring and brighten it up with Chanel's Joues Contraste Powder Blush and Charlotte Tilbury's Filmstar Bronze and Glow bronzer. Wintertime means everyone can use some shimmer and shine back on their face, after all!
For your eyes, look no further than Urban Decay's Eyeshadow Primer Potion (via InStyle). Like face primer, this will help keep your eyes in place, bright, and smudge-free all night long. Then, employ Almay's 16-hour Eyeliner Pencil to make your eyes pop, even when you wear makeup every day.
With these tools in hand, go forth and have a merry makeup moment all day every day!