Here's Why The RNC Is Covering Donald Trump's Legal Bills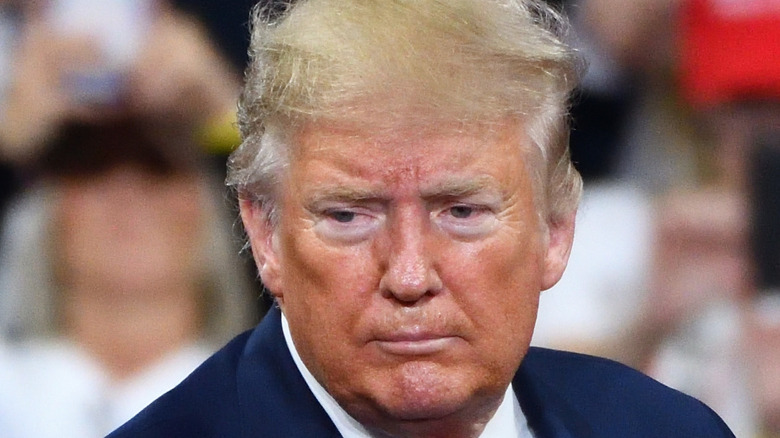 Evan El-Amin/Shutterstock
Even while Donald Trump was serving out his last months in office, many of us knew that there would be a time when he would have to face the lawsuits that were brought against him, and that the time would come sooner, rather than later. After all, Trump is under investigation in New York over accusations that he could have falsely reported property values to avoid taxes. He faces a defamation lawsuit; a fraud lawsuit; accusations that he misused inaugural funds; and a number of election lawsuits designed to support his claim that the 2020 elections were stolen from him (via Newsweek).
Yet there was one thing that publications like The New York Times reported, and which would have been left off our Bingo cards: That the Republican National Committee would agree to cover up to $1.6 million of Trump's personal legal bills, and that the first payments totaling $121,670 were already paid out to his lawyer Ronald P. Fischetti. 
This is not happening out of the goodness of the GOP's national committee's hearts. The Washington Post says that the GOP appears to be doing this because they feel Trump is good value. He is still seen to have solid fundraising power, and some officials feel they need him for the 2022 midterms and the 2024 elections.
The GOP reveal about Trump's legal bills had the internet talking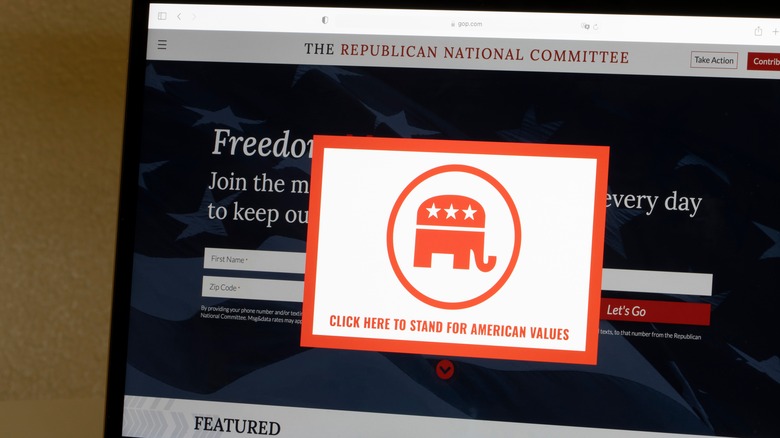 Tada Images/Shutterstock
News that the RNC was shouldering a portion of the former president's personal legal bills has shocked the internet, leaving netizens slack-jawed. "The Republican National Committee has agreed to cover up to $1.6 million of Donald Trump's personal legal bills. Yep, the RNC is using their constituents donations, to pay to defend the former president from ongoing investigations of his private business practices," one Twitter user commented incredulously. 
Another said, "RNC will pay up to $1.6 million for Trump's legal bills, all involving issues related to his business practices. He's not a public official, not a candidate, and this doesn't relate to his time as president. And this!"
Party spokeswoman Emma Vaughn is defending the action, saying that the committee "approved paying for certain legal expenses that relate to politically motivated legal proceedings waged against President Trump" (via The Washington Post). She added, "As a leader of our party, defending President Trump and his record of achievement is critical to the GOP. It is entirely appropriate for the RNC to continue assisting in fighting back against the Democrats' never ending witch hunt and attacks on him."
But publications like Insider have pointed out that biggest cases against him aren't, in fact, political in nature but relate to the way the former president ran his company during a period that predates his political career.
Not everyone in the party wants to pay for Trump's legal bills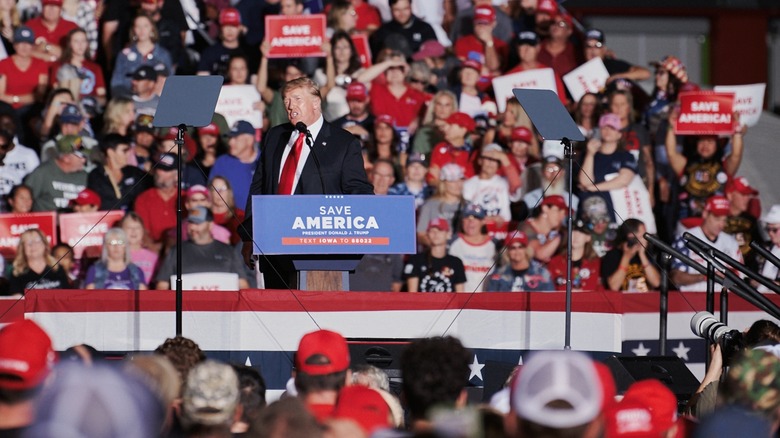 Bloomberg/Getty Images
There are still those who are unsure if the association is worth it, even if it means the opportunity to retake the Executive and Legislative branches. "The lesson is ultimately you don't make a deal with the devil, but if you're in for a penny, you're in for a pound," former GOP Spokesman Douglas Heye said (via The Washington Post). "They want their party to win, and they want to take back the House and the Senate. Having Donald Trump either on your side, or on the sidelines as a non-malicious, nonmalignant figure, is what you hope for. You know he could take you down at any time."
Still, the deal appears to be making observers and some party members uncomfortable, because the money isn't going into pushing the GOP's party platform or its priorities. As far as campaign lawyer Brett Kappel is concerned, "To pay the legal fees for someone who isn't a candidate, and isn't an employee — I've never seen that happen," he said. And while it might not be illegal, campaign law expert Paul Seamus Ryan calls this "an abuse of donor trust." He adds, "I've been following money in politics closely for more than two decades, and I'm unaware of any similar past abuse of donor trust and donor money to pay personal legal bills of private citizens."