These Are The Best ILIA Makeup Products Of All Time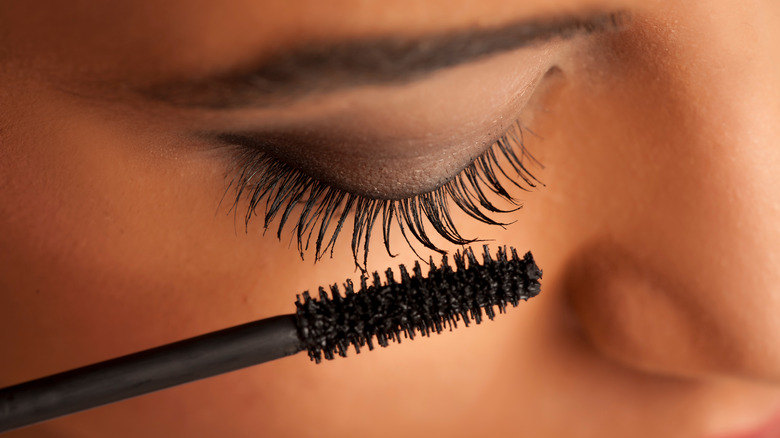 Vladimir Gjorgiev/Shutterstock
We may receive a commission on purchases made from links.
ILIA Beauty has gained immense popularity in a short time for its quality products, functionality, and sustainability. Launched by Sasha Plavsic in 2011, this clean beauty line uses certified chiefly organic ingredients from ethical and sustainable sources to keep the planet and our skin happy (via Forbes). When asked why Plavsic created ILIA Beauty, she told Vanity Fair, "It was important on a personal note, as I couldn't find many cosmetic brands that were truly open about being pure and natural."
Over the past few years, ILIA Beauty has gained a massive following and fanbase because its products are cruelty-free and multitasking (via Insider). This fun and functional line of beauty products takes pride in the fact that their makeup also has skincare benefits, and we love that. Their campaign has also been admired for using real women as models in the age range from the 20s to 70s (via PopSugar). ILIA Beauty chooses safe, effective ingredients with skincare benefits to truly showcase and accentuate your natural beauty. No wonder this brand has won multiple beauty awards at major beauty magazines such as InStyle, Allure, Glamour, and more. It is hard to choose one with so many brilliant products, so we have picked some of their best.
Celebrities and beauty editors are huge fans of ILIA Beauty
ILIA Beauty is so good that even celebrities like Kim Kardashian and Rihanna, with their own beauty lines, love using their products (via E! Online). Insider chose ILIA Limitless Lash Mascara as one of their best products because it is totally worth all the hype. One of their best-selling products, this mascara gives you super long lashes and has shea butter to condition the lashes. Their epic ILIA Multi-Stick Cheek & Lip was chosen by PopSugar because the hydrating, two-in-one product is excellent for adding buildable and blendable color to your cheeks and lips. No wonder it is also Allure's 2021 Reader's Choice Award Winner and one of actress Camilla Mendes's favorite products (via Us Weekly).
Senior Editor of Allure, Dianna Mazzone, loves their ILIA Super Serum Skin SPF 40 because this multitasking product is a tinted moisturizer, serum, and sunscreen in one. It has hydrating squalene and gives you a natural-looking glow. Glamour recommends ILIA Daylight Highlighter Powder because this non-comedogenic formula can add a luminous glow with just one swipe, and it comes in four gorgeous golden tones. Model Braina Laviena is a big fan of ILIA lipstick because it is sheer and easily buildable (via Byrdie). 
As you can see, ILIA Beauty products have such great quality and are totally worth the hype.