The Best Concealers With SPF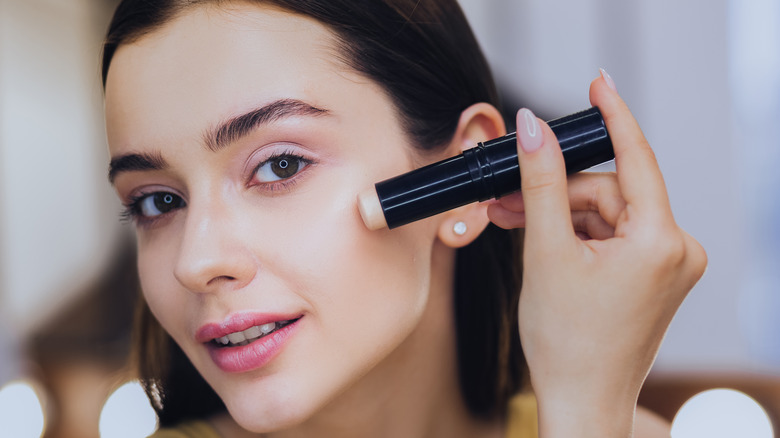 Dmytro Zinkevych/Shutterstock
We may receive a commission on purchases made from links.
Concealers are like God's gift because they can help cover dark under-eye circles, blemishes, and discoloration. Most people think a concealer is only to be used under your eyes, but in reality, it can be used on your entire face. Not only does a concealer hide any imperfections, but it can also contour your face and make you look more awake. And, who doesn't want to look bright and beautiful every morning even if you didn't quite get your eight hours of sleep?
According to the American Academy of Dermatology Association, sun protection is the most important skincare step. It helps prevent signs of aging, discoloration, and, most importantly, protects you against skin cancer, including melanoma. Since using skincare products with SPF (Sun Protection Factor) is essential and a concealer is vital for all makeup routines, why not invest in a concealer with SPF?
Rhode Island-based dermatologist Tiffany Jow Libby told Allure, "I see many patients come in with skin cancer on the eyelids and around the eyes, so if you have sensitive skin, stick with mineral SPFs in this area." Do we need more reasons to invest in a concealer with SPF?  Make sure to hydrate the area under your eyes with a moisturizing eye cream and add a primer so you have a smooth base to work on where your concealer can last all day without budging.
The right concealer can protect you from wrinkles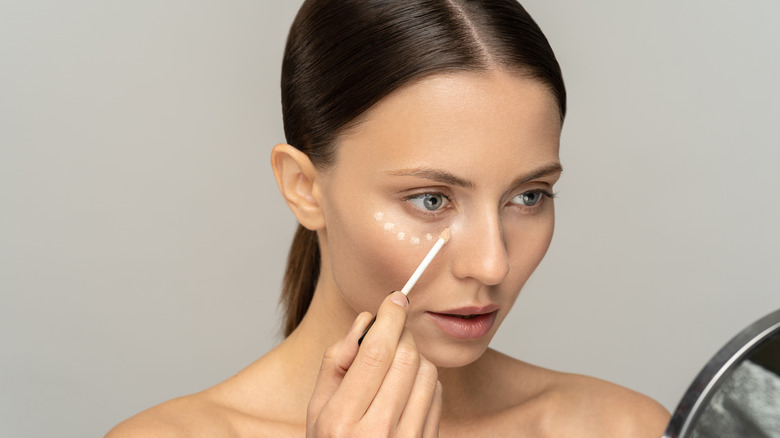 DimaBerlin/Shutterstock
Dermatologist Morgan Rabach told Allure, "There are great sunscreen formulations made for just for around the eye using ingredients that are more gentle as well as under-eye concealers and tinted powders with sunscreen in them." There you have it, choosing a concealer with SPF can delay the onset of crow's feet and keep the skin around your eyes healthy and hydrated. According to Southern Living, one of the best concealers on the market is bareMinerals Correcting Concealer SPF 20 ($18) because it provides medium-to-full coverage and decreases the appearance of dark spots over time. It is also free of parabens and synthetic fragrances.
The skin around your eyes is the most delicate part of your body so it is important to protect it from premature aging and photodamage. Colorescience Total Eye 3-in-1 Renewal Therapy SPF 35 ($74) comes highly recommended because it protects you from the sun's harmful rays and environmental stressors. Byrdie recommends Clé de Peau Beauté Concealer SPF 25 ($73) if you don't mind splurging a bit. This high-end concealer stick is long-lasting, hydrating, and effortlessly covers all imperfections with a radiant finish. Plus, it is available in 12 shades.
If you are looking for a more affordable option that provides the same level of protection and perfection, Southern Living also loves Revlon PhotoReady Concealer SPF 20 ($10.69). This drug store miracle has an angled tip for precise application, and it's great for those with sensitive skin — aka great for your eyes and your pocket.