Why You Need To Try Out A Crystal Nail File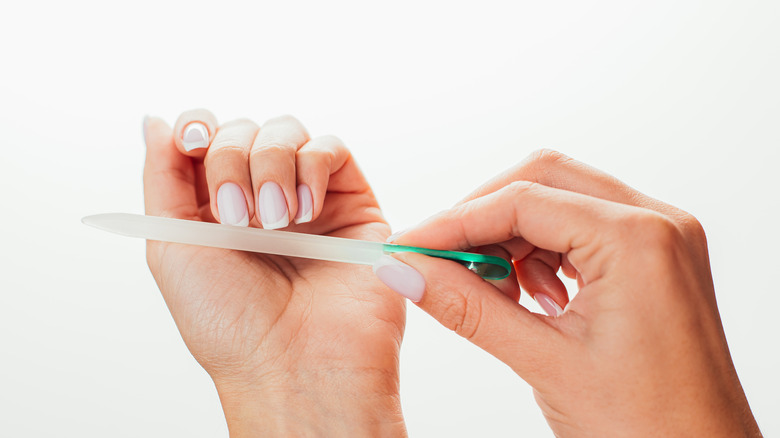 Stenko Vlad/Shutterstock
Nail files are a staple stocking filler, and if you're expecting to see one this festive season you may be pleasantly surprised. Crystal and glass nail files have become a total trend in 2021 and for good reason (via Byrdie). Gone are the days of emery nail files –- it's all about crystal. Crystal is much more gentler on the nail, according to Mind Body Green, as they produce a finer grit compared to emery.
If you're a little confused as to the difference between crystal and glass files –- don't be. According to Cosmopolitan, crystal and glass are used interchangeably when describing the material. Both relate to a "chemically treated and tempered piece of glass" that is heated up until "its sturdy and smooth" with a slightly gritty surface.
Crystal and glass nail files are perfect for those with weaker nails, too. According to Evelyn Lim, chief educator at nail brand Paintbox, this fine grit "closes and seals the keratin layers of the free edge of the nail," as she explained to Mind Body Green. Elle also notes that a glass or crystal file will smooth "rough edges without a downside" and "gently exfoliate" the nail.
Read on to find out what the other benefits are to using crystal or glass nail files.
Crystal and glass files are much kinder to the surface of your nails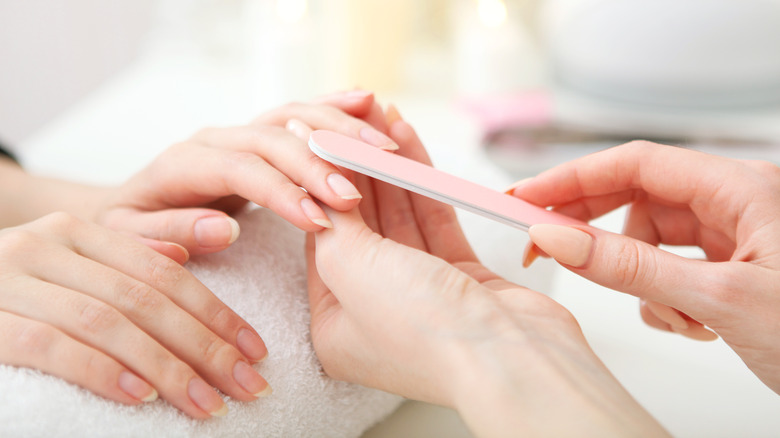 White bear studio/Shutterstock
In general, crystal nail files are kinder to any nail. They're also longer lasting, according to Cosmopolitan, and come in a variety of pretty designs which is always a bonus. You probably have seen a lot of ombré stained glass nail files on social media throughout the year, which are a total treat during a manicure session.
However, some nail stylists prefer to use an emery board to get "the right amount of impact", as Sarah Gibson Tuttle, CEO and Founder of Olive & June, told Byrdie. "Crystal files can be a great option for anyone who needs a softer file, but they often wear out quickly and lack the type of grit most people generally need," she explained. Tuttle went on to explain that an emery board is her file of choice for an everyday mani or pedi.
With that in mind, it still seems like crystal and glass nail files are the way to go. For the non-professional, they are the perfect item to file your nails in a way that doesn't carry the potential for damage later down the line.