Experts Say This Is What You Should Do If You Plan To Travel This Christmas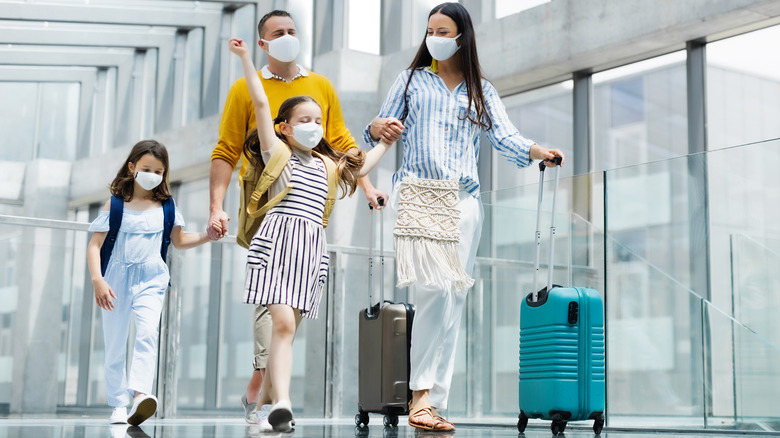 Halfpoint/Shutterstock
Christmas week is here, and for the second year in a row, COVID-19 is affecting holiday travel. The newest variant, omicron, is highly transmissible and has been causing case rates to spike. Daniel Rhoads, section head of microbiology at the Cleveland Clinic, told the Washington Post that he saw cases double in one week, with half of the samples being the omicron variant. As schools shut down and sports leagues cancel games, it's hard not to wonder whether traveling is safe this year.
"Once again [people] will have to make informed decisions," pediatrician Dr. Kathy Risse told The New York Times. "We know so much more about stopping transmission." If you're traveling this holiday season, experts want you to remember what we've learned this past year. "If you're doing any kind of group activity — worship, a party — wear a mask," William Schaffner, an epidemiologist at Vanderbilt University, told Bloomberg. "We have to go back to social distancing and really reconsider indoor gatherings...And rapid-test the day before you all get-together."
If you're planning on taking public transportation, you'll need to mask up (and that includes when flying). The New York Times notes that masks are still mandated by the Transportation Security Administration for passengers age 2 and up on planes, trains, and buses. Currently, there is no proof of vaccination requirement for traveling domestically, but you are required to "submit a negative virus test result taken within one day of the flight's departure" (via U.S. Department of State).
Being vaccinated and wearing masks make it safer to travel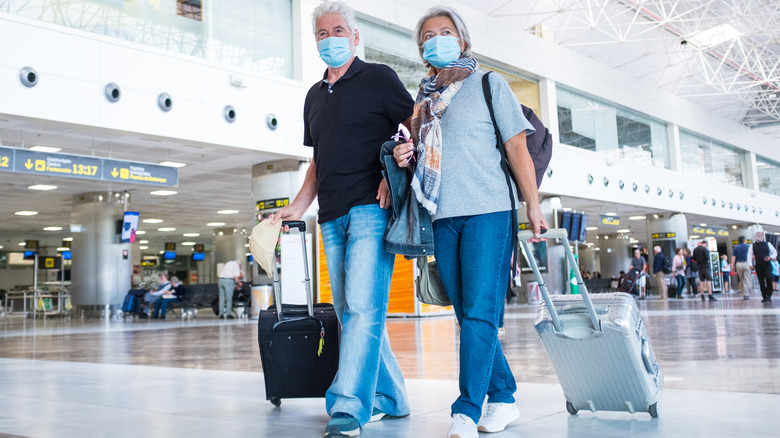 Perfect Wave/Shutterstock
Early data suggests being vaccinated still provides adequate protection against COVID-19. "Get the booster and go on your way," Monica Gandhi, an infectious disease expert at the University of California, San Francisco, told Bloomberg. It's only one layer of safety, however. If you're traveling this Christmas, you're going to want to check the local guidelines where you're traveling to. Different states and even cities within the same state can have varying rules about masks, testing, and vaccine requirements (via The New York Times).
Chris Beyrer, an epidemiologist at the Johns Hopkins Bloomberg School of Public Health, talked to the Washington Post about the safest ways to travel during the holidays. In his opinion, there is no "one-size-fits-all" approach for traveling safely. "Every individual and every family is different and has a different dynamic," he told the Post. He recommended taking an over-the-counter rapid antigen test before holiday events — especially if you're gathering with children under 5, seniors, or immunocompromised individuals. "We need to balance that people really do need to be with their loved ones with appropriate risk-mitigation strategies," he continued. 
We need to keep wearing masks, practice good hand hygiene, stay home if we're not feeling well, and get vaccinated and boosted. It's the best way to stay safe when traveling during this holiday season.