The Popular $30 Lamp That's Going Viral On TikTok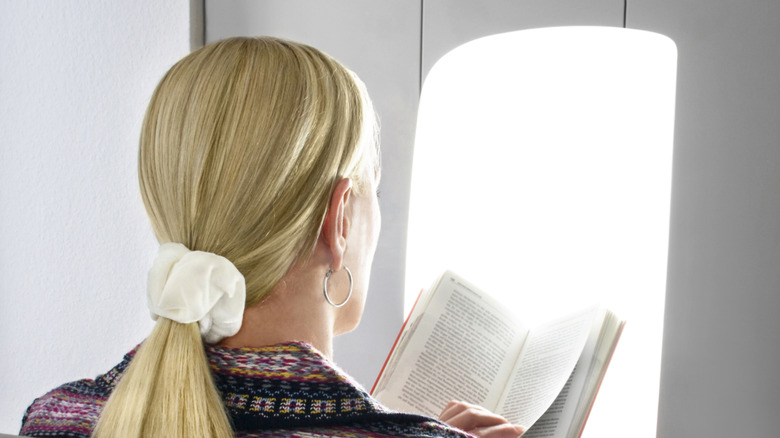 PhotoSGH/Shutterstock
We may receive a commission on purchases made from links.
For many of us, winter has arrived in the form of Mariah Carey's "All I Want For Christmas Is You," overloads of hot chocolate, and a sun that sets earlier than when the workday ends. While we welcome the holiday cheer and overplayed songs, we are constantly threatened by looming darkness.
Early sunsets and sudden seasonal changes are known to trigger a form of depression known as Seasonal Affective Disorder, or SAD (via the Mayo Clinic). Many people diagnosed with SAD use special lamps to cope with the symptoms. According to Healthline, exposure to artificial light can help compensate for the sunlight hours you're missing during the day.
But what if the sun didn't set at all? A discovery was made in the depths of TikTok that brought us a lamp to keep our homes in golden hour mode, even after 4:30 p.m. Read on to learn more about this aesthetically pleasing version of the standard SAD lamp.
This sunset lamp can be used for light therapy
Throughout the summer, the sunset lamp popped up in many "For You" pages via targeted ads. Now, it's finally time to click "Add to cart." Described by Byrdie's senior social media editor Star Donaldson as "kind of like a lollipop on a stand," the sunset lamp projects a gradient of colors that mimic a sunset. You can place it close to a wall to see its circular shape or point it upwards to bathe your room in all its glory.
The #sunsetlamp has over 150 million views on TikTok as of this writing, and most of the videos are positive reviews. One user captioned her video, "THE SUNSET LAMP IS HERE IM OBSESSED." As it turns out, the lamp does more than give you an aesthetic wallpaper. Therapist Kate Morris-Bates told Metro UK, "Light therapy lamps, such as a sunset lamp, can bring feel-good lighting into your home, helping our serotonin levels." Dr. Ross Perry agreed with her, telling the publication, "The impression of a sunset and warm glow makes us feel happier. The soft lighting can turn any room into appearing cozy, warm and inviting which in turn can make us feel more relaxed, happy and eases the feeling of stress and anxiety."
On Amazon, you can find the lamp for under $30, which is a bargain for (light) therapy.