The Surprising Gift Princess Anne Gave Princess Diana For Her First Royal Christmas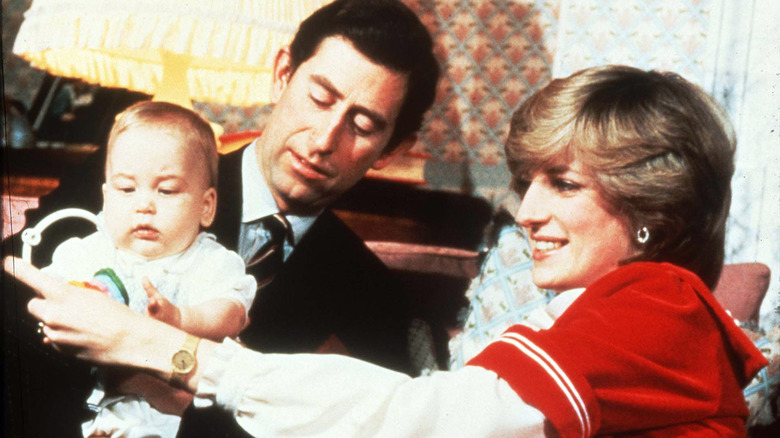 Anwar Hussein/Getty Images
It's no secret that the British Royal family takes their Christmas traditions seriously. In fact, the new film "Spencer" that follows a particularly eventful Christmas holiday that Princess Diana spent with the Royals at their estate in Sandringham, chock-full of intensely observed Christmas traditions (via People).
Like almost anyone else who observes the holiday, the Royal family decorates the Sandringham estate, exchanges gifts, and even sends Christmas cards (via Us Weekly). However, they do things just a tiny bit differently: For example, the Sandringham estate may be decorated, but "The Queen is not lavish, so the décor is minimal," the Queen's former chef once shared. "The royal family has a large Christmas tree and a large silver artificial tree in the dining room, which is about 30 years old."
The family also swaps gifts on Christmas Eve — instead of Christmas Day — and instead of writing around 30 cards to her closest friends, the Queen sends out about 750 holiday cards each year.
Perhaps the strangest Royal holiday tradition of them all is one that dates all the way back to Henry VIII — the Royal family weighs themselves before and after a hearty Christmas lunch, typically consisting of roast turkey and Christmas pudding.
Princess Diana's introduction to Royal Christmas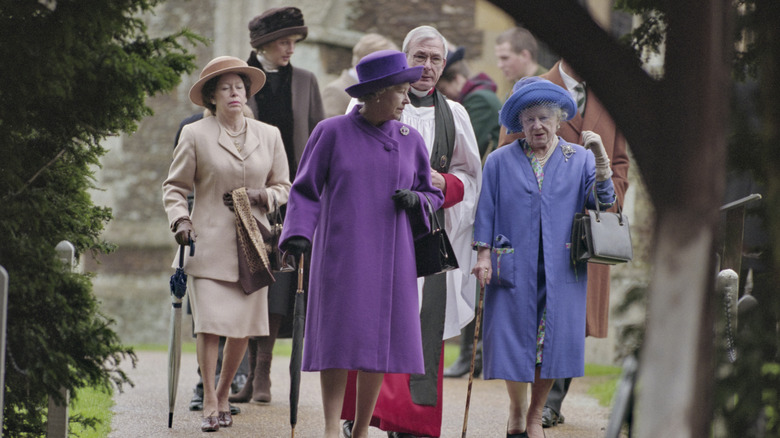 Princess Diana Archive/Getty Images
While the Royal family seemingly has no shortage of funds at their disposal, that doesn't mean they go all out when it comes to purchasing Christmas presents for the other adults in the family — perhaps because they have everything they could ever need (via Mirror).
For decades now, they've swapped gifts with the theme "cheap and cheerful," hoping to bring everyone a good laugh. In more recent years, Prince Harry gave a hat to his grandmother Queen Elizabeth that read "Ain't life a b****." Pre-Meghan Markle, Harry was given a "grow your own girlfriend" kit, courtesy of his sister-in-law, Kate Middleton. Apparently Markle herself made quite the impression at her first Christmas, giving the Queen a singing toy hamster.
The tradition dates at least as far back as the '80s, when Princess Diana was still a member of the Royal family. Prince Charles, apparently, did not mention this tradition to Diana prior to their first Christmas together in 1981. For her part, Diana bought her sister-in-law Princess Anne a cashmere sweater; meanwhile, Princess Anne gave Diana a toilet paper holder for the bathroom.
The next year, however, Princess Diana had caught on with the joke, and purchased for Fergie (aka Sarah, Duchess of York), a leopard print bath mat.
Royals — they're (sort of) just like us.