The Hydrating Sunscreen That Is Changing How You Moisturize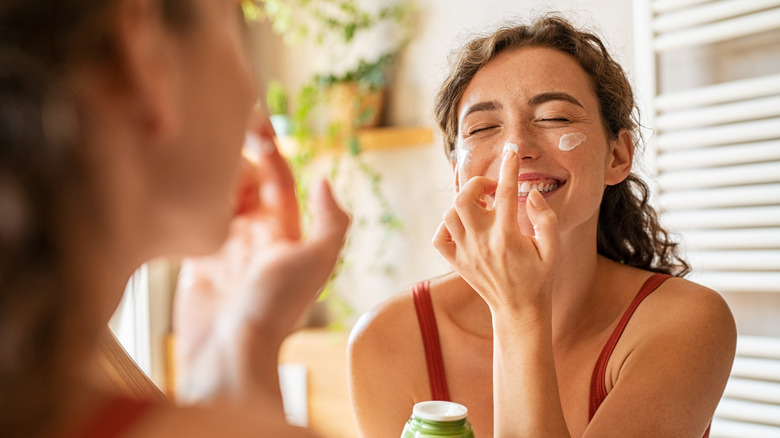 Rido/Shutterstock
We may receive a commission on purchases made from links.
Whether you're a skincare connoisseur or novice, moisturizing is an essential and arguably most vital part of any beauty lineup. In fact, the earlier in life you start moisturizing, the better since it can help maintain skin elasticity, delay signs of aging, and ward off the appearance of fine lines and wrinkles, as per Clevland Clinic. One of the biggest issues dermatologists see is the up and down battle with oily skin. While it may seem counterintuitive, even oily skin types can benefit from moisturizers because oil glands tend to overproduce when they're parched (via New York Magazine). 
It may seem like moisturizers can make your skin feel greasy, but one brand offers an alternative that feels weightless yet is still effective. Keep reading to see the water-based moisturizer changing the game to satisfy dehydrated skin. One of the best parts? It's made with 70% of organic ingredients that are vegan and cruelty-free, and is also eco-conscious (via Ulta).
This all-in-one cream is light, airy, and helps shave off minutes when getting ready
When it comes to making an efficient and effective beauty routine, products that can do double-duty can be a time-saver, and moisturizer is no different. With Coola's Full Spectrum 360º Refreshing Water Cream Organic Face Sunscreen, the multitasker offers sun protection and lightweight hydration, as per the brand's website. Ingredients like hyaluronic acid and coconut water leave skin with a dewy finish without being so heavy that it clogs pores. 
What makes the product stand out even more than other moisturizers on the market is its signature 360 complex which shields the skin from blue light and pollution in the environment (via Trend Hunter). Since its release, the product has been met with glowing reviews, scoring an average of 4.5 stars on Sephora's website and retails for $46. Although there are heaps of different options on the market, a multi-purpose moisturizer like Coola's is an excellent choice if you're looking for a product that can do it all and offer much-needed year-round sun protection.